Smok is a manufacturer that is gaining ground in the vape world. Their vapes are unique works of art and today's piece is no exception as we take a look at the Smok Guardian. This device is quite unique and styled after a pipe. But looks aren't everything, read on to learn if this unit is more than a pretty face. If you are new to vaping be sure to to check out our Vape Buyers Guide for useful information and beginner tips.
Review: Smok Guardian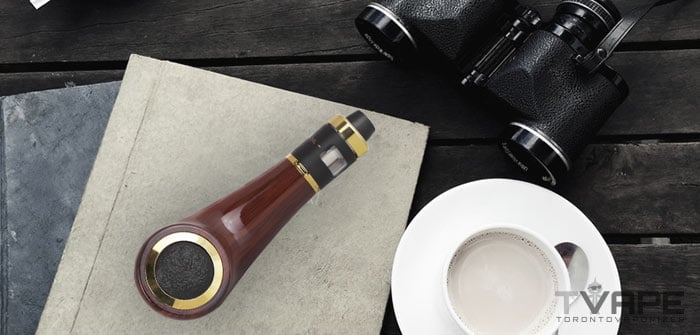 Manufacturing Quality
The Smok Guardian appears to be well constructed, the battery of the unit is contained in the "pipe" part of the unit and this is also where you can find the power button. All parts are free from defect and fit nicely together. The tank of the unit is also well put together featuring a 2ML capacity and a wide mouthpiece for decent cloud production. The unit does have a bit of weight to it which adds to the quality feel.

Flavor Quality
The vapor from this unit is a bit on the hot side, most likely because of the short vapor path. We found on more than one occasion that we felt like we were burning our tongue and lips on this unit. When we weren't experiencing these issues vapor was warm, pleasant and full of flavor. However because of the warm nature of the vapor some of my colleagues did experience quite a bit of irritation when using this unit. This is mostly due to the high fixed wattage that this unit vapes at which we will touch upon next.
Power Flexibility
As we briefly touched upon before this unit features a fixed wattage which is dependent on the OHM of coil in your unit. The stock coil in this unit is .4 ohm which vapes between 20 – 45 watts. The unit does not tell you the exact wattage it is vaping at, but I can tell you from experience it is definitely at the higher end. As we discussed in the section above the vapor put out by this unit is very warm and some may experience irritation in the back of their throat because of this. Unfortunately there is no way to adjust the wattage other than putting a coil in with a higher ohm. If you are looking for a unit that does have power flexibility we definitely recommend checking out the EVic VT.
Ease of Use
This device is designed to be very easy to use. This is due to the fact that it only has 1 button and a fixed wattage. This means you simply fill the tank with e-liquid, screw the tank back on the unit, 5 presses of the power button to turn it on and then press and hold to use. There is no requirements to learn voltage and wattage or any other settings you may run into on higher end units. The Smok Guardian is meant to be a simple and easy experience.
Portability
The device is not the most portable unit available; the battery of the unit that looks similar to the bowl of a pipe is quite large and will not easily fit in a pocket. If you want to carry this unit around with you, you will have to carry it in a bag. This is unfortunate because the device does look really slick and you will surely want to bring it with you to show your friends. However as we mentioned, it is a struggle to fit it in your pants pocket and will require a bag or perhaps a jack for it to sit in during transport.
Overall Experience
The Smok Guardian is a unique looking device that unfortunately put fashion before function. While the style of the device will draw looks, the functionality may leave you frustrated. Without any type of control over your wattage the vapor from this unit is hot and harsh on the throat. It is mainly meant for those who want to chase clouds and don't mind a little irritation. If you are a new user we recommend checking out the Ego One for a more user friendly experience right out of the box.
We hope you enjoyed reading our Smok Guardian review! We would love to hear from you! Feel free to leave a comment in the section below, you can do so anonymously 😉 Don't forget to follow us on 
Facebook
, 
Twitter
 or 
Instagram
 for contests, sales alerts and other fun stuff! Thanks for reading and as always, keep vapin'! 😉