When it comes to vaping, some people know exactly what they want while other people appreciate a little bit of variety. Regardless of where you stand, the wax pen we're reviewing today is worth checking out.
That's because today's review is of the Source Orb 3 Signature Kit, which has more accessories included in the box than any other wax pen we've seen by a landslide. There are EIGHT different atomizers, along with FOUR different mouthpieces. That's some crazy customization potential!
The best part is everything is really well made, and the Source Orb 3 really delivers when it comes to vapor quality. There is so much to like about this, and we'll go through it all in this review.
Review: Source Orb 3 Wax Pen Signature Kit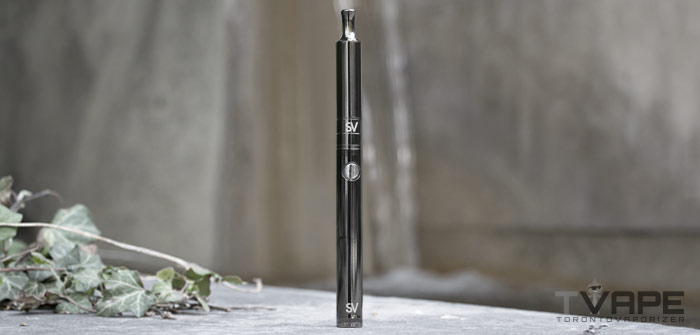 How It Works
The Source Orb 3 is pretty straightforward to use. 5 clicks of the single button will unlock it, then pressing and holding that same button will allow the device to begin heating. You'll be able to get a good draw within a few seconds, and there is an auto-shutoff that engages after 10 seconds to prevent the unit from overheating.
Like we mentioned in the introduction, there are a ton of different combinations you can choose to use while enjoying this vape. All of the atomizers and mouthpieces work together, so you just need to decide what combo you want to use and connect it to the battery.

Temperature Flexibility
This is a variable voltage pen vape. You can change the voltage by twisting the base of the unit, right below the battery. If you look closely you'll be able to see numbers there that correspond to the voltages. Options range from 3.2 volts all the way up to 4.8 volts, with a total of 8 different settings.
When choosing an atomizer, be sure to check your user guide because not all options can be used at the highest voltage. You don't want to make a mistake and accidentally ruin an atomizer, so pay extra attention to this when you first use the Source Orb. You can also check out our Buyers Guide to learn more about each type of atomizer.

Vapor Quality
The vapor quality is definitely very good. This is largely due to the fact that you get so many options when it comes to atomizers and mouthpiece combinations. Each one will be slightly different, with some designed for maximum flavor while others are great at delivering thick clouds. This means that you can experiment and find the perfect balance that meets your personal interests, which is a really cool aspect of this particular unit.
The vapor isn't just good because you have a ton of flexibility. Each atomizer performs exactly how you would want it to. Your options include single and dual quartz rods, ceramic and quartz dishes, a ceramic rod, and even one with silica wicks! Needless to say, you'll find something that works for your wax needs.
Manufacturing Quality
This is not an instance where quality was sacrificed in the name of greater quantity. This kit delivers both. All of the components feature high quality construction with a clean finish. The atomizers and mouthpieces fit seamlessly onto the base, and the battery even comes with a warranty. This should be a durable and long-lasting device.

Battery Life
Battery life appears to be relatively average. The exact time you extract from yours will ultimately depend on how you use your vape, as draw length and voltage setting will heavily affect how much juice each session will take. With that being said, you can expect about an hour of use per charge, with a full charge taking about 3 hours total.
Portability
One of the beautiful things about this kit is that you can make the pen as portable as you need it to be. While you probably wouldn't want a glass orb for use while on the go, you can choose a more durable combination that won't break as easy. The kit does come in a case, but there is no handle. If you want to take the whole thing with you, you'll need to pack it in a bag of some sort.
Ease of Use
The hardest thing about using the Source Orb 3 with this kit is making a decision about what atomizer and mouthpiece you want to use! Besides the plethora of options, this pen works just like any other wax pen on the market. You shouldn't find any difficulty at all. The one exception might be the voltage settings. The way this pen is designed, it's conceivable that you could change the setting without realizing it during a session. This will depend on how you hold your Source Orb, so just pay attention to it the first few times you use it.
Discreetness
Just like with portability, you can choose a specific combination of atomizers and mouthpieces that allow for more discretion. Some of the atomizers work very well at lower voltages, and you can have a great experience without creating noticeable clouds. Remember that longer draws will create thicker clouds, so you'll want to keep them short if you are trying to stay unnoticed while in a public situation. Your mouthpiece selection is also important, as the globes will be sure to draw more attention than the slimmer options.
Overall Experience
The Source Orb 3 Signature Kit is definitely worth checking out if you have access to waxes. You get so many options that it's hard to imagine you won't find some combination that suits your vapor preferences.
The extra atomizers and mouthpieces also make this a great choice if you are new to wax pens, because you'll get to sample all of the different styles and get a feel for their nuances. When getting started it can be difficult making choices between rods, halos and dishes, but you won't have that problem with this.
We have absolutely no problem recommending this wax pen, but if you're in the market you should know that there are other great options too. ZEUS recently updated their Thunder pen, and the Thunder 2 is worth checking out.
Compatible with ZEUS Iceborn
This vaporizer is compatible with the ZEUS Iceborn, a revolutionary new vapor cooling system engineered by Canadian vape manufacturer ZEUSArsenal. The Iceborn is designed to produce cooler draws and bigger clouds when connected to your vaporizer. The vapour produced is ultra smooth and crisp and because of ice cooling, instead of water filtration, there is no loss of efficiency. The ZEUS Iceborn adds an additional 2 points to the vapor quality score of this vaporizer and is a highly recommended vaporizer accessory.
We hope you enjoyed reading our Source Orb 3 Signature Kit Wax Pen review! We would love to hear from you! Feel free to leave a comment in the section below, you can do so anonymously 😉 Don't forget to follow us on 
Facebook
, 
Twitter
 or 
Instagram
 for contests, sales alerts and other fun stuff! Thanks for reading and as always, keep vapin'! 😉