In the winter there's nothing nicer than spending time with friends and family in the comfort of your home. Pull up your favourite blanket and put on some hot cocoa. You're ready to vaporize the winter doldrums away! Whether vaporizing alone or with friends, these three vaporizers would be perfect for snuggling up with on a cold winter's day.
Cozy Winter Vapes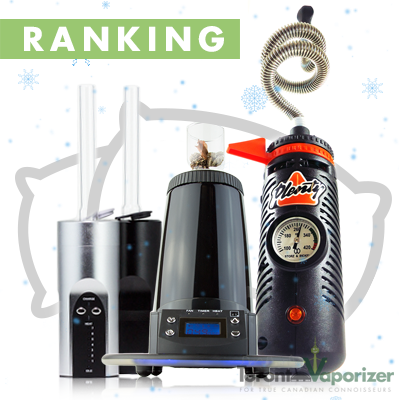 The
Solo
is the only portable vaporizer on this list, earning its spot because of the excellent vapor that this unit produces. It has the quality of a stationary unit in a small portable package. This is one of the ultimate vaporizers to snuggle up with because you don't have to worry about cords. It has a very powerful battery and it runs for 90 minutes with a full charge. You can lie on the couch, pull your blanket over and vaporize to your heart's content. It's not a luxury that you can enjoy with other units that need to be plugged in!
This unit comes with a straight tube and a bent tube. For indoor relaxing purposes, the bent tube is preferred because of its ergonomic design. You can easily recline with the bent tube and take draws even when leaning back on a cozy easy chair. Take a look at our
Arizer Solo Vaporizer Review
for more information on this top portable vape.
2. Plenty
The
Plenty
by German manufacturer Storz & Bickel is one of the best at-home vaporizers on the market. It comes to us from the same people that make the Volcano, and it has many of the same wonderful qualities of that famous vaporizer.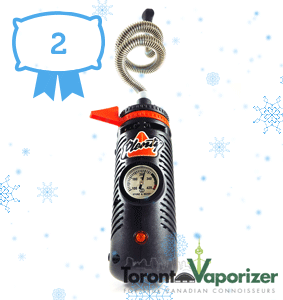 One of the main features the Plenty has is the very large botanical chamber. The chamber is designed to have lots of surface area, giving you very efficient vaporization of your botanical. Rather than filling balloons, the Plenty's vapor is delivered to you through a classic "whip-style" mouthpiece. It's a great vaporizer to cozy up with on the couch – just find a place for the power cord to safely rest.
The Plenty's unique design makes it look like power tool, and it is certainly a powerful vaporizer. A neat feature is its auto shutoff. When you're holding the Plenty, it re-heats every 90 seconds to maintain the temperature you've selected. When you put the vaporizer down it will automatically shut off at the next 90 second cycle rather than continuing heating. This is a great feature if you're forgetful about shutting your units off at the end of a session! Just make sure if you fall asleep on your cozy couch to place the Plenty down on the floor safely. It's a sturdy vaporizer but you wouldn't want to drop it!
The Extreme Q is the ultimate vaporizer to have on a cozy winter's night. It's a versatile unit, giving you the option of enjoying the standard "whip-style" system or the more portable balloon option. 

If your favourite couch is next to a table you can enjoy the Extreme Q's whip for the most efficient vaporization. In a whip your vapor travels through a short tube to you, leaving little room for the loss of essential oils. It's a great method, but isn't the most convenient option for vaporizing in groups (or if you're a few feet away from the table your Extreme Q sits on).
The ideal way to relax with the
Extreme Q
would definitely be with the balloon option. Nothing is more convenient than vaporizing with balloons, giving you the liberty to move around your whole house with a bag filled with delicious vapor. The ExtremeQ fills up bags very quietly; in fact this is the origin of the Q in the unit's name. Most bag units have a very noisy fan, but the Extreme Q is Extremely Quiet!
With a bag you get all of the portability of a unit like the Solo, with all of the high-powered vapor quality of a plug-in unit like the Plenty. It's advised to consume the contents of the bag within 30 minutes, as vapor can condense over time and will stick to the inside of the bag, coating it with residue. This is plenty of time though, so you shouldn't feel rushed. If you ever fill up a bag with too much for you to finish, you can just squeeze the bag, pushing the vapor out of it. For more information about the EQ check out our
Extreme Q Vaporizer Review
.
Winter can be a boring time, but all of your time spent indoors can be made entertaining with a new vaporizer! We would love to hear from you! Let us know what your favourite winter vaporizing ritual is in the comments section below. Don't forget to follow us on
Facebook
,
Twitter
or
Google+
for contests, sales alerts and other fun stuff!
Thanks for reading and as always, keep vapin'!