About Me
Hey guys my name is Kyle, I am 20 years old going into third year. This summer I decided to backpack across Canada and end up in BC for a bit with a tree planting gig we arranged for August. The four of us have been best buds since grade 10. I got an
MFLB
a couple years back as a present and was the first of us to switch from smoking to vaping. The boys still smoke but vaping saves me money and is best for my "discreetness needs". When we planned this trip I started wondering how I could take my vape seeing as I would need to carry a tone of batteries with me. I wasn't too keen on switching back to smoking just for the summer, so I started looking into other portable options that were battery free. I saw the Iolite, but wasn't too crazy about it. I heard some chatter about
the Vapman
on a forum and was actually really intrigued by it because all you needed to make it work was a torch lighter. I thought that was pretty badass and it looked mad small, so it seemed like a winner. I did lots of research on it and when I found out it was made in Switzerland, I was pretty much sold. I've got a couple of Swiss Army knives that I use when we go camping and they've been life savers. So, I decided to order the cheaper one because I'm always on a tight budget. Anyhow, here is my summer vaping travel experience with the Vapman:
Vapman Basic Experience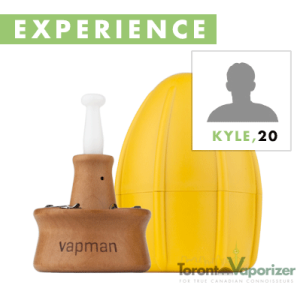 Likes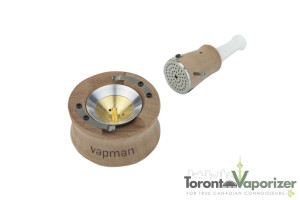 I don't think I've ever been so excited about anything. The simplicity but elegant purity of this unit is really something that can't be fully understood until you hold and use it. My dad was a carpenter and he used to make a lot of things for the house, so anything made of wood fascinates me. It's really a piece of art when you have a look at it. I'm sure a lot of people will agree with me when I say this is an "organic" unit and experience. Now, I don't want to sound all hippie but there is a real connection between a man and his Vapman that I just never had before with any other smoking device I owned. I carry this little bugger around with me everywhere.
The Vapman
is ridiculously small so it easily fits in my cargo shorts with the lighter, case and all – there's no problem transporting it. The vapor quality is also pretty awesome and the vapor has this natural wood like flavour, which I really love. To say the Vapman is efficient is an understatement. The tinniest bit of botanical can be transformed into thick concentrated vapour that is quite effective I must say. I wasted so much money before I had it. It's also a great conversation piece that has created quite a few new friends in hostels so far, just because it's so different and out of the ordinary.
Dislikes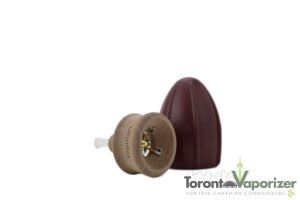 It definitely took me a couple go's before I got the hang of working with this unit. If you start using it with zero knowledge of how it works or what to do, I can see it being a dissatisfying first time experience. I had done quite a bit of research but the first time my buddy tried it he was angry that it "didn't work for him." The Vapman makes for a very "hands on" learning experience for sure, so you need a little bit more time and patience to get a handle on things. It's not the best vape to pass around when you've got friends over, unless you give them a mini tutorial. I also found getting the case open the first time to be hard work. It's shaped so odd and hard to get a handle on. At first I also found the bowl for botanicals a bit too small. You're basically sprinkling your stuff in there. When you realize how little you need it's all good, but man was it awkward the first few times. It's also a pain in the butt if you're going to vape with a group of friends because you definitely have to reload it a few times. It's just not really a group unit. More of a one man show.
Tips & Tricks
You really have to do your research with this. I would definitely say watching the instruction video from TorontoVaporizer and reading the Swiss Guide that comes in the package.
Vapour quality can also be changed depending on how you hold the unit. There are these 3 little air holes at the top just below the mouthpiece, and if you don't cover any of them, the vapor is really thin because it's mixing with all this cold outside air. The more holes you cover the warmer and thicker your vapor is. I usually cover two, and if I can finagle it, 3 for an almost smoke like vapour. I also recommend getting a tiny glasses repair kit so you can use the screwdriver for maintenance. I found the screws on the unit naturally loosened with time – which doesn't affect the functionality, but it's good for cleaning to be able to take off the filter screen and such.
Speaking of cleaning, this unit is so low maintenance. The only parts that need any real up-keep are the heating pan, filter screen and mouthpiece. The filter screen and pan can just be swiped with a Q-tip with organic cleaning solution and the mouthpiece is good to be soaked overnight. I have a pipe cleaner that I run through it to remove nasty buildup. Avoid getting any water or moisture on the wood though.
Another thing I noticed and was then told was completely normal, is that the unit's underbelly will start to blacken and harden over time because of the heat. This is what actually increases the wood-like vapor taste, so don't freak out like I did at first thinking that your unit's toasted. I won't say this unit is fool proof but it's a ritualistic experience that becomes pretty easy with time and there are very few aspects that can go wrong because it's so low tech.

All in all this unit is bringing daily joy to my summer travels and the amount of people I've converted to vaping on the way is unreal. If you are debating between this and the MFLB take it from me first hand-
Vapman Vapman Vapman
! This vape is the way to go!
We at TorontoVaporizer want to thank Kyle for his valuable insight and hope this Vapman Basic Vaporizer Experience post has shed some light on the vaping experience with the Vapman. For an in depth
review of the Vapman vaporizer
, follow the link. If you'd like to become part of our Experience Network, feel free to sign up to our newsletter below.
Amazing things are coming…..Stay up-to-date:
We periodically send out requests to our newsletter members to submit personal experience reviews of popular vaporizers. Only one submission is accepted per vaporizer, based on how relevant and honest the experience is. The winning submission will get freebies or discounts on future purchases! As always, thanks for reading and from one connoisseur to another, keep on vapin' :).