VaporBlunt has released several cheap vaporizers in 2012, but unfortunately the price / quality ratio was too low for us to carry the product. Luckily, there are still companies out there that make it their mission to offer excellent quality products at affordable prices. So, if you're on a budget and don't think it's particularly fair to sacrifice quality, have we got the vaporizer for you. Introducing the Vapman from Element Medical, the Swiss company that wants you to be 100% satisfied with what you buy and how much you buy it for! Here's the difference between the cheap, plastic Palm 2.0 ($109) and the precision crafted, Grade A quality inexpensive
Vapman Basic
($89) portable vaporizer. The Palm is mass produced in China, and the Vapman is made by hand in Switzerland. Let's get on and compare these two low cost portable vaporizer in today's Vape SHOWDOWN!
Comparison Review of Vapman Basic vs Palm Vaporizer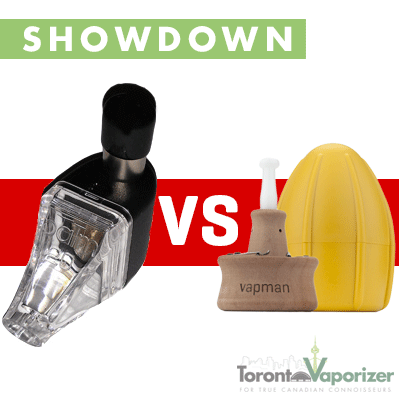 Popular Blog Posts: Best Portable Vaporizers under $150 , Top Portable Vaporizers, Vaporizing vs Smoking
Vapor Quality
Palm 2.0
The Palm 2.0 has a ceramic heating chamber, but the rest of the unit is made of food grade plastic. The air path ends in a plastic mouthpiece, which can be artificially flavoured. This unit has a similar mechanism to the MFLB in that it operates with a small NiMH battery. But, unlike the MFLB there is no "push-back-ring" to ensure that the battery does not get stuck once engaged. As a result, the vapour quality can get particularly bad because it is much, much easier to burn your botanicals. So, plastic, plastic and more plastic and burnt botanicals…. fantastic. So, we think the vapour quality of the Palm 2.0 is well, to put it nicely: low.
Vapman
The Vapman Basic is made of pear tree wood, gold-plated copper and stainless steel. It's these high quality materials with the use of a torch lighter (offering temperature control) that produces smooth and great quality vapour. Even better is the Vapman Complete, which offers the added benefit of convection vaporizing because of its Complete heat protection sheet around the heating chamber. Keep in mind that convection vaporizing is superior to conduction, typically only found in premium units like the Volcano.
Manufacturing Quality
Palm 2.0
The Palm has a plastic outer shell and ceramic and metal heating elements. It's as durable as plastic can get. The design is also very strange and incredibly awkward to use. There also seem to be small manufacturing flaws in the fit of the pieces (specifically the batteries and screens). It just doesn't look like a lot of thought went into making this unit. Once you hold a palm in your hand, one can easily tell that the cost of making the unit in china cannot be higher than 10$.
Vapman
The
Vapman Basic
is handmade in Switzerland of the finest quality materials. It's precision crafted to ensure each screw and bolt are perfectly in place. The craftsmanship is just mind blowing. It boasts an elegant design, which may look peculiar at first sight, but actually fits perfectly between your thumb and index finger, where it is meant to sit. The design and access to the gold-plated heating chamber was also well planned, as it is optimal to focus heat.
Winner: Vapman, gold, pear tree wood, stainless steel vs food grade plastic, ceramic
Temperature Flexibility
Palm 2.0
The temperature flexibility with the Palm 2.0 is minimal. Essentially, it's based on how long you hold in the battery and how hard you draw. Pushing in the battery while drawing is a tad inconvenient, but after a few uses, you will get the hang of it. The Palm comes with additional challenges though because the battery does get stuck and can be hard to remove. This results in easily burnt botanicals if you don't completely remove the battery after each draw, which is a bit of a pain. Since the battery does not disengage by itself you have to essentially use both hands to do so. The one advantage that the palm has over the Vapman, is that it can be operated by one hand. However, disengaging the battery manually after each draw does substantially diminish this advantage, since you need both hands to do so.
Vapman
The Vapman's temperature control depends entirely on how long you keep the flame near the heating chamber before draws. So, you heat first and then draw (as opposed to the multi-tasking method of the Palm 2.0). This lets you see clearly what you're doing and prevents the botanical from burning. There is a lot more flexibility with the torch lighter, despite the fact that neither unit has accurate temperature control. This way of using the
Vapman
makes it much more of a laid back experience.
Portability
Palm 2.0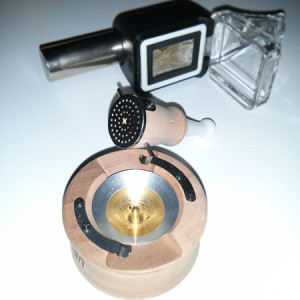 The Palm is small and fits in the palm of your hand. It was designed for portability, but you do need to carry around spare batteries and the mouthpiece. If you're out and about for an extended period of time you will also need to charge a lot of batteries, given that one battery only lasts for a couple of batches at most. It's either that or you will need to add an additional item to your pack: the battery charger.
Vapman
The Vapman is tiny and light. It fits perfectly in a coat pocket or purse, and the lighter holds more than enough fuel for a few day long trip. It also comes in a hard-shell case to ensure its secure travel, which is conveniently also smell proof! There are also no extra pieces to carry around other than your torch. Probably the best feature though is the fact that you don't have to worry about pre-charging any batteries. As a result, it is exceptionally portable, especially for the adventurous and/or spontaneous types.
Winner: Vapman, the batteries of the Palm deplete far to quickly (1 battery per two vape sessions) since they are basically being short circuited into a screen.
Discreetness
Palm 2.0
The Palm 2.0 looks just like the original Palm portable vaporizer, just without the pipe stem. Since the lid is made of clear acrylic, you can see everything inside the heating chamber, so that takes a few notches off points in discreetness. Also, it has a tendency to overheat, so odour eminence is higher with this unit. You can close your fist over it though, which in that sense, does contribute to the unit's discreetness.
Vapman
The Vapman is quite discreet when not in use. It can also fit into a closed fist. It does however take two hands to operate, so when using it with a torch lighter, is not as discreet. That being said, it does not look like a vaporizer and comes in a smell proof, hardshell case.
Winner:
Draw – while the Vapman has a smell proof case, it does need to be used with a torch lighter. The palm works with a battery which will make it less visible. It is hard to call this one. If you prefer not to bother people around you with odour, the Vapman is far better. But if in contrast you prefer discreet usability and less visibility, the palm might be a better choice.
Vape SHOWDOWN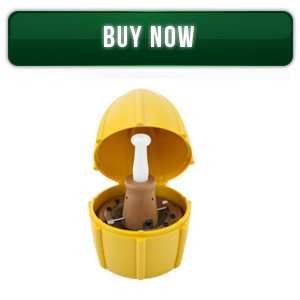 The Vapman is made of higher quality materials than the Palm 2.0. It is also more functional, offers better vapour quality and far better manufacturing quality. Ironically, it is also less expensive. This only goes to show that you don't need to spend a lot of money to get a great quality vaporizer. It seems that the palm has been created to be more of a disposable vaporizer, especially since the plastic components can't be cleaned. The Vapman, on the other hand, is an amazing portable and we are still trying to figure out how Element Medical can price this vape so low for the quality that it offers.
Thank you for reading this edition of Vape SHOWDOWN with the Vapman Basic vs Palm vaporizer. You can leave your comments or questions in the section below.