When you first look for a new vaporizer, you realize that there are dozens of options available. There's no such thing as
the best vape
for everyone, so you need to find out which vaporizer is best for you. But where do you start? Fear not, we have a guide to help you find the best vaporizer for any situation. Start by deciding if you need a
stationary
or
portable
unit, and then just pick the feature that is most important to you.
Buyer's Guide: Choosing a Vaporizer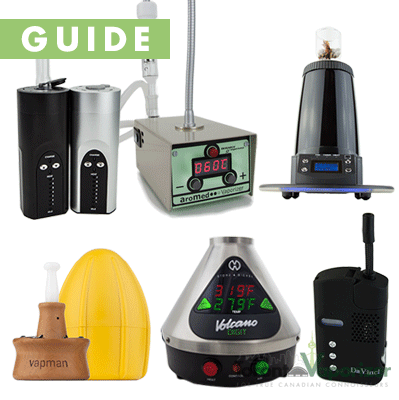 First of all, you need to know whether you want a portable or a stationary vaporizer. If you vaporize mostly at home, then a stationary will give you better vapor quality and probably be a good choice. If you vaporize outside the home a lot, though, you'll want a cordless portable vaporizer to take with you. Portable vaporizers tend to heat up faster, and, of course, they're smaller and more discreet than stationary vaporizers. If you vaporize outside more than 30% of the time, keep reading to check out portable vaporizers. If you plan on vaporizing at home more than 70% of the time, scroll down to the Stationary section.
Portable Vaporizer?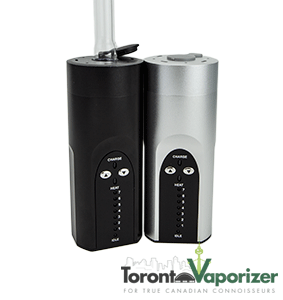 Vapor Quality


Vapor Quality describes the flavour and density of your vapor. A good vaporizer gives you large quantities of thick vapor that you can customize to your personal tastes. Because portables have to be pretty small, there isn't always enough space to provide good vapor quality. If vapor quality is the most important feature for you, and you want a vaporizer you can take with you, your best choice will be the
Arizer Solo
. The Solo has vapor quality comparable to the best stationary units, because of its controlled airflow and convection heating. It uses glass aroma tubes, for the purest vapor possible, but this also makes it less portable. We recommend getting a
case
with your Solo for increased portability.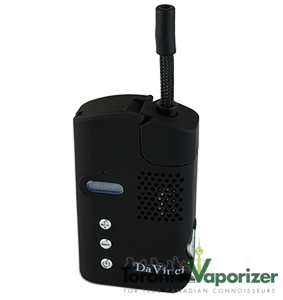 Temperature Flexibility


Temperature Flexibility increases the vapor quality of a unit, since it gives you the ability to completely control your vapor. Units with large temperature ranges are more efficient, and allow you to extract more vapor from your botanicals. Digital vapes, like the
Da Vinci
, usually have the widest temperature ranges. The Arizer Solo also has seven individual temperature levels. These are the best portable vaporizers in terms of vapor quality so far.
Since you're carrying your portable vaporizer around with you, you want it to be as small and discreet as possible. However, for the best vapor quality, you need enough space for the vapor to cool, and ideally a separation between the botanical and the heating element for
convection heating
. This means that there's always a trade-off between portability and vapor quality. Some vaporizers are small enough to fit in any pocket without compromising vapor quality. We recommend the
Vapman Complete
, which is about the size of an egg. It works with a
torch lighter,
making it even more portable because you never have to recharge any batteries. The Complete version of the Vapman has a mineral protection layer that offers you more convection heating for better vapor quality.
Stationary Vaporizer?
Vapor Quality is what stationary units are best at providing. The best ones give you the right setup for perfect convection vaporization, with the most even heating possible. The best vapor quality we've ever seen belongs to the
AroMed
by Research and Experience from Germany. This unit has all glass parts, and a built-in water filter for amazingly smooth vapor. If you're concerned about breaking the glass, you can look to the
Volcano
, by Storz and Bickel in Germany, one of the most well known units in the vaporizing community. The Volcano, available in Digital and Analog styles, gives amazing vapor in large balloons. The
Plenty
by the same company lets you draw vapor out through a long metal whip, which cools the vapor as you draw.
The above units may all sound great, but they also put a big dent in your budget. But you can still get excellent units for a lot less. One of the best is the
Extreme Q
by Arizer. This Canadian vaporizer has quality we'd expect from a unit twice the price, and it's best for you if you want flexibility and great vapor quality at a surprisingly low price. Its little brother the
V Tower
is similar, but it doesn't have the balloon option so it's even more affordable. Both of these units have convection heating and glass parts for the purest vapor possible.
If you are interested in learning more about the units mentioned in today's blog post, check out our reviews on them:
Arizer Solo
,
Davinci
,
Vapman
,
Pinnacle
,
AroMed
, Volcano,
Arizer Extreme Q
and
Arizer V Tower
.

We hope we've helped guide you through the maze of potential options to the right unit for you. You can also figure out which style of vaporizer is best for you, and pick one out of that category. If all else fails, our sales representatives are always ready to help you find the perfect unit 😉

Don't forget to like us on facebook and follow us on twitter to be updated on vape news and for a chance to win great prizes!
Take care & keep vapin'