Not all vaporizers are created equal. Some units can easily outperform their competition despite being in the same price bracket and competing against a unit with a better or longer standing reputation. Today, we'll be putting two pen vaporizers up against each other to see which one is truly the superior unit. In one corner, we have the
ZEUS Thunder
, a portable pen from
ZEUS Arsenal
, the makers of the
ZEUS Smite
,
ZEUS Bolt
Grinder and many more awesome accessories. In the other corner is The Game Jesus Piece G pen, a unit that's the result of Grenco Science working with rapper The Game to make a unit that suits his style. Let's get into the showdown to see who'll come out the winner!
ZEUS Thunder vs The Game Jesus Piece G Pen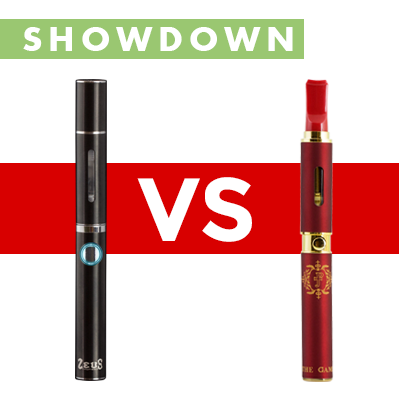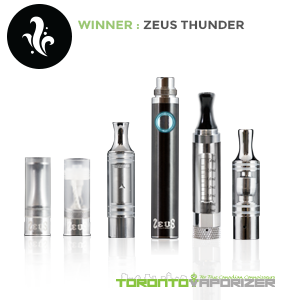 Vapor Quality
The Jesus Piece pen is really only capable of one thing, combustion. This pen can only combust dry botanical and is otherwise unable to function. As a result, there is no vapor to be had from this unit.
The Thunder also combusts dry botanical, but it does so in a little capsule so that you can use it for that in a convenient way if that's your aim. Besides this, you can also use the unit to vaporize oils and concentrates right out of the box! This means you can still enjoy vapor if you're not looking to combust dry botanical.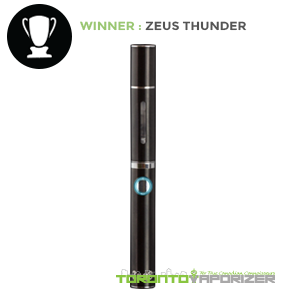 Manufacturing Quality
The Jesus Piece pen is made from decent quality materials, favoring metal and glass in most of its construction. The pieces are pretty well machined but the mouthpiece is made from a cheap-looking plastic and does leave something to be desired.
The Thunder is made from great quality materials, especially the luxurious feeling PVD coating on the outside of the whole unit. The mouth piece of this unit is a much higher quality hard plastic and the parts feel like they were much better machined.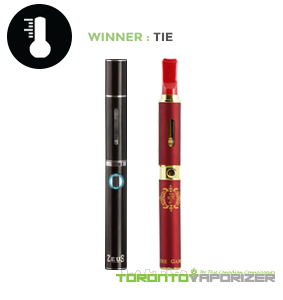 Temperature Flexibility
This is one area where these units are, for the most part, evenly matched. Though the Thunder is capable of getting much hotter than the Jesus Piece pen, they both are only capable of reaching one temperature, which gives them the same amount of flexibility in their temperatures.
 
Portability
Being the same general size and shape means they're both pretty portable. The one thing that sets these two units apart is the Thunder's cap for the mouthpiece. This protects the mouthpiece and keeps it from getting dirty or damaged while in transportation. This is a small thing, but it makes a big difference when they're so evenly matched.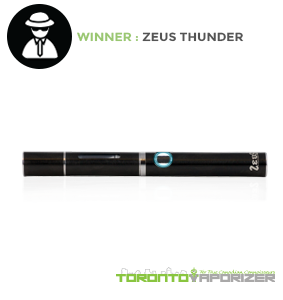 Discreetness
The Jesus Piece does what it can to be discreet, but being red with red glowing LED's doesn't help its case. It also combusts your botanical and the smell alone with be enough to keep this unit from being stealthy.
The Thunder is not only able to vaporize extracts and oils, but the unit is completely black and even has a shield to cover the tank and keep it stealthy. This makes for a really discreet experience that definitely puts the competition to shame.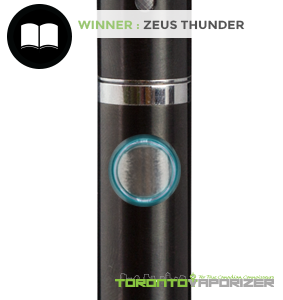 Ease of Use
These two units are pretty easy to use, both of them being 1 button pen vaporizers. Despite that fact, the Thunder still takes the cake as reloading the tanks, especially when using the unit with the Pro tanks, is extremely easy. Beyond that, the Thunder can also actually be used to vaporize with extracts, unlike the Jesus Piece pen which wouldn't take too kindly to the same treatment.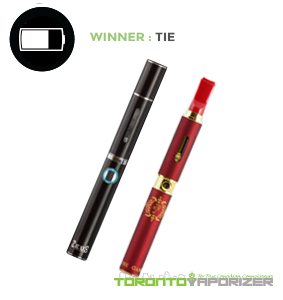 Battery Life
Both these units have very similar batteries, which lets them both have pretty similar battery lives. As a result, this section is a tie.
WINNER: ZEUS Thunder!
This might have looked like it would have been a closer match, but the Thunder is a clear winner. It's got superior capabilities and a much higher quality than the Jesus Piece G pen and that let the Thunder win this battle by a landslide
 Don't forget to follow us on Facebook, Twitter or Instagram to keep up to date with all our contests, sales alerts and other fun stuff!
Thanks for reading and as always, keep vapin'! 😉