Despite the release of the
Arizer Solo 2
, the Arizer Air is still Arizer's most portable vaporizer and a fan favorite among the vaporizer community.  Even with the launch of the
Arizer Air 2
, the original Air is still very much a viable vaporizer option, especially if you are looking to purchase your first unit, offering 5 temperature settings, an all glass vapor path, and a removable battery. Arizer's reputation was grown on the backs of this little guy as well as the ever popular original
Arizer Solo
, so let's dive right in and see why so many people still love the Arizer Air
.
Editors Note:
Be sure to check out our comparison between the original
Arizer Air & Arizer Air 2
to see what has changed and if its worth the upgrade.
Review: Arizer Air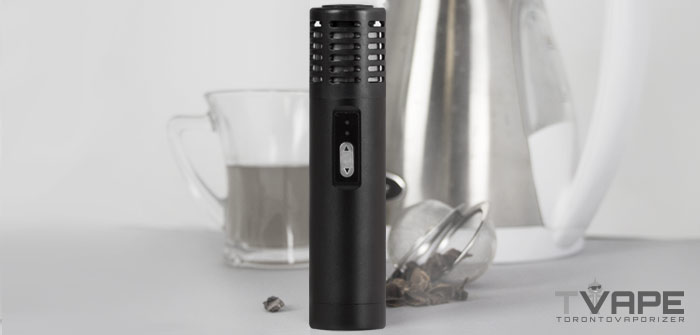 How It Works
The Air is a pretty straightforward unit to use. It has 1 button on it that they've used for 3 functions. To turn it on or off, simply hold the whole button down for about 3 seconds and the unit will beep to let you know it's turning on or off. Once it's on, use the button to change the temperature by pressing the top to increase it or the bottom to decrease it.The LED on the unit will change color to indicate that you've changed the temperature and flash until the unit has heated to the selected temperature. Once the unit is fully heated, the LED will turn a solid color and all you need to do is load your botanical into the stem, and turn the unit upside down and place it fully on the stem before flipping it back over. Now that it's loaded, you can enjoy until the unit's auto shutoff engages in 10 minutes.
What's up Youtube? This is Keagan for TorontoV TV. Let's have a look at the Arizer Air portable vaporizer, the newest portable vaporizer to be released by Arizer, the Canadian manufacturer of the well loved Solo vaporizer. First I'll tell you what's in the box then we're getting to how it works.

Inside the box you'll find the Arizer Air portable vaporizer, one charger, two glass diffuser stems, one glass aroma dish, one carrying case, one silicone skin, and one stainless steel stirring tool and if you order with us you can also choose to receive a free Zeus Bolt Grinder made of aircraft-grade aluminum.

The first thing you're going to want to do with the unit is sterilize it. To do that press and hold the button until the unit turns on then use the up arrow to reach the units highest temperature setting. Once you've done that let the unit sit and run through a full cycle. After about ten minutes the auto shut-off will engage and turn the unit off. Simply repeat the process in order to complete the sterilization. This will get rid of any manufacturing oils that may have gotten inside the unit as a result of putting it together. Once you've done that you're ready to load your unit.

To load your unit you're going to need two things. The first thing is freshly ground botanical. To grind up your botanical we always suggest using the Zeus Bolt Grinder. The Bold Grinder has been calibrated to grind up your botanical to that perfect consistency. That means it's fine enough to be properly vaporized inside of your unit but not so fine that it falls through the screens. The second thing you're going to need to do is load your glass diffuser stem. Simply put the botanical inside your glass diffuser stem then hold it upside down, turn your unit upside down and place it on top of your glass diffuser stem. Once the stem has been fully inserted into the unit u can turn it all right side up again and you're ready to vaporize.

Arizer Air has 5 temperature settings as indicated by th color changing LED on the front of the unit. These temperatures can be cycled through using the up and down arrows on the front of the unit. When the LED on the unit is blue it means the unit has been set to a 180°C, when it's white it means the unit has been set to 190°C, green means the unit is set to 200°C, orange means the unit is set to 205°C and red means the unit is set to 210°C. For best results we suggest vaporizing between 190°C and 210°C, that's between white and red. Once you've selected your temperature the units LED will flash to indicate that the unit is heating up. Once it has reached the temperature the LED will turn to a solid color. This unit heats up really fast and should be ready within one to two minutes. Once the unit has reached the temperature all that's left to do is take smooth draws from the mouthpiece to enjoy your vapor. The unit also has auto shut-off that engages after ten minutes of use. To continue your session simply press and hold the power button for three seconds to turn the unit back on again and then select the appropriate temperature to continue your session.

To wrap this video up I'd like to tell you guys about some of the impressive features of the Arizer Air portable vaporizer that make it such a great unit. The first is that it's fast. Because it only takes a minute or two to heat up you don't have to wait long to start your session. The moment you're ready to get started the Air is ready to deliver with Solo quality vapor. The second is that this until is durable. This unit's made by Arizer and they're know for making very high quality, durable vaporizers and the Air does not fall short of EQ,V-Tower or Solo in that regard. The last thing is that this unit is easy to use. Because the Air is sold in two different designs, you're not going to have to second guess yourself when you try to start a session so you can get to vaporizing quickly and easily.

The Arizer Air vaporizer is a great vaporizer for any kind of Sir who's looking for amazing Solo quality vapor but in a smaller package that's easier for on the go use.

I'm Keagan for TorontoV TV. We hope you enjoyed this video and we hope you find it useful. And for all you connoisseurs out there: "Keep vaping!"
Temperature Flexibility
This unit has great temperature flexibility via its 5 temperature settings: 180 Celsius, 190 Celsius, 200 Celsius, 205 Celsius, and 210 Celsius. The temperatures can be easily scrolled through using the top and bottom of the button on the unit that acts as an up and down button.This is a great range of temperatures for a portable! The Solo, which was and still is huge despite its slightly outdated form factor has 7 temperature settings. That being said, I think that 5 is almost just as good as 7 and it is good that Arizer simplified it. For more information about the differences between the Air and Solo, which is cheaper follow the link.
Vapor Quality
The awesome temperature flexibility contributes to the great vapor quality you get from this unit. The Air's ability to cover a lot of ground with temperatures lets the unit generate vapor that can satisfy connoisseurs who like it thin and flavorful or thick and satisfying. The materials used in the heating chamber and diffuser stems.There may be plastic in the tip of the mouthpiece, but the plastic is very heat resistant and doesn't add any unwanted flavors to your botanical and the glass stem provides enough distance for the vapor to cool before it gets to you. Lastly, Arizer did everything they could to create a unit that heats botanical using convection heating, which leads to a superior flavor and very efficient vaporization. The Air even made it into the top of the Vapor Quality Vaporizer Ranking, which is impressive for a portable.
Manufacturing Quality
The Air is made from great quality materials. The shell is made from a high-quality durable plastic that's been well machined so that all the pieces fit together seamlessly. The botanical chamber is stainless steel and the heating chamber is ceramic.The diffusion stems are glass with a heat resistant plastic tip that can be easily unscrewed and top of the unit features venting to quickly whisk heat away from the unit and cool it faster. They also include a silicone shield that you can wrap around the unit to keep it safe while you carry it around or to make it more comfortable in your hand as you use it.
Battery Life
Battery life is one of the few areas where the unit isn't totally amazing, but even that isn't as simple as it sounds. The unit uses an 18650 to power the unit, and this battery can power the unit for just under an hour.This isn't exactly the best, but that battery can be easily removed and swapped out for another 18650 over and over again to keep the party going. Better still, you can use the unit while it's charging so you aren't out of luck if you want to enjoy a session while it's charging. It may not have the longest battery life, but at least it's not all bad.
Portability
This unit is nice and light and very slim. That makes it really convenient to carry around with you and they also made a cool carrying holster that can carry both the unit and either 2 batteries or 2 loaded stems while on the go.This is a great way to increase the portability of a unit that might otherwise suffer for the glass stems. The added fact that you can charge a bunch of 18650's and take them with you so that you're never left wanting when you're ready for a session while you're away from the house is great for people who like to enjoy sessions while far from chargers and wall sockets!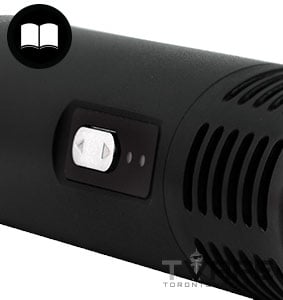 Ease of Use
Using the unit is pretty easy. The use of only one button on the unit is a great way to keep things simple and this unit makes it simple to get to your session. Turning it on and off or adjusting the temperature is all done via the 1 button that acts as an up, down and power button.You might have to turn the unit upside down to load the stem on, but it's a very simple process and only takes a second. Speaking of speed, the unit heats up in 1-2 minutes so you can get started pretty quickly with your session.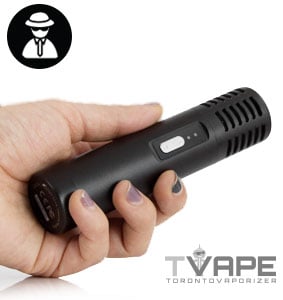 Discreetness
The unit's size lends it a great advantage when it comes to discreetness too as you can hide the unit in your hand pretty easily. You can also keep the stems pretty well hidden because the stems aren't too long and the tip is black.Arizer did a great job designing this unit as it doesn't suffer from odor leakage, which makes it much easier to keep your sessions unnoticed. If you need to, you can also quickly holster the unit to make it disappear from sight.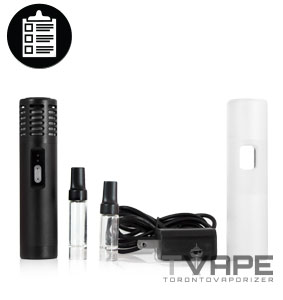 Overall Experience
It's probably safe to say that Arizer has a hit on their hands. This unit is portable, well manufactured, well designed, has great vapor quality and is really convenient. It may not have the best battery life, but it makes up for that issue in no many ways that it's almost unfair to dwell on it in the slightest.If battery life is important to you, I would recommend you look into this vaporizer. For all you connoisseurs out there, you now have yet another unit to put on your wish list!
Now if you're looking to get the best vaporization experience possible with the Arizer Air we'd like to recommend pairing your unit with the new vapor cooling device from ZEUSArsenal, the ZEUS Iceborn. This revolutionary device actually increases the vapor quality of your Air by 2 points, dramatically cooling it down for smooth frosty draws. It's also much more efficient than other filtration devices that use water, so you can get even bigger vapor clouds! Take a look!
If you like the Arizer Air, you can purchase it by going to this product page and check out the quantitative performance specs in the process. Don't forget to follow us on Facebook, Twitter or Instagram to keep up to date with all our contests, sales alerts and other fun stuff!
Thanks for reading and as always, keep vapin'! 😉