The newly released Furna vaporizer is as interesting as can be. With pre-loadable and quick-swap chambers, it promises excellent compatibility with dry herb and waxy concentrates.
Not to mention a 3500mAh battery and some other neat engineering tricks, our Furna vaporizer review will go over all the important details to know.
Review: Furna Vaporizer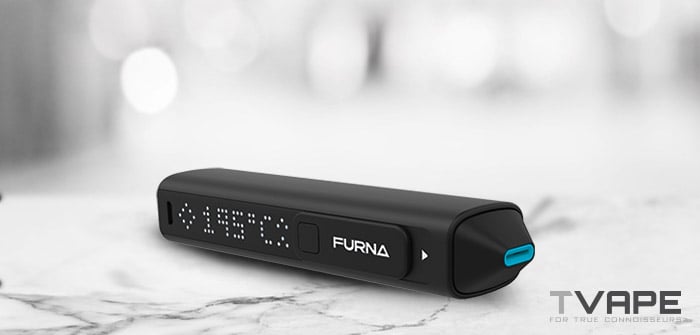 How it Works
You can load up each of the removable chambers with your material of choice; dry herb for the herb ovens and waxes for the concentrates chambers.
Once it's loaded up just slide it into the device and power it up. 5 clicks to power up the unit and then you can adjust the temperature in 5-degree increments.
After ~30 seconds the Furna will have warmed up and it ready to hit. Slow and deep draws will do the trick.
It's advised to power off the unit briefly before inserting a new oven if you want to swap between them.
Temperature Flexibility
You get a wide range of temperatures to choose from at 320 – 420°F (160 – 215 C°) which can be bumped up in 5-degree increments. For all intents and purposes, this is perfect for dry herb though it's lacking when it comes to concentrates mode.
Waxes are better vaporized at temperatures between 230-270°C which the Furna didn't account for in its design. This shows up when it comes to vapor quality.

Vapor Quality
The conduction heating element was a bit disappointing to see. While effective and it certainly gives okay hits, the implementation of a hybrid heating element would've bumped up the device a few notches.
The hits at low temperatures are tasty, while high temperatures put out high amounts of vapor at the expense of flavor – traits you'll find with any conduction heating element.
Just like the G Pen Dash, the spiral cooling unit on the Furna does a decent job at conditioning the vapor before it reaches your lungs. Unfortunately, the draw is fairly restricted and it's not easy to rig up to a water pipe.
In terms of concentrates, the temperature doesn't get high enough for those thick hits. On the other hand, the flavor from the glass oven is very nice though we find the performance from a dedicated wax pen vaporizer to be far superior in hit density.
Unfortunately with how much we love the concept of the device, it just doesn't perform as well as other units in its price range like the Utillian 722.

Manufacturing Quality
Clearly, there was a lot of thought and proper engineering that went into the device.
Though we're not going to lie, the idea has already been done, if anyone remembers the now out of production V2 Series 7 or the Prohibited in the 5th Degree vaporizers which offered the same functionality and ultimately failed.
The LED display is attractive and the entire unit feels well constructed.
What you get in the box is an okay deal and we have no major complaints about build quality. It's hard to judge reliability and longevity without using the device for a long time, though with our experience with the V2 Series devices we don't have the highest of hopes. Multi-material devices tend to be jack of all trades and masters of none.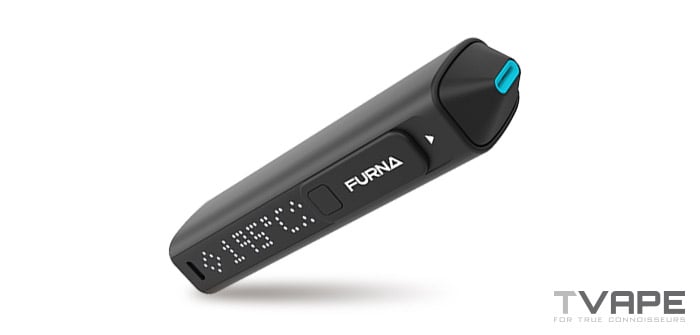 Battery Life
They did a good by going for a 3500mAh cell just like the very popular Zeus Arc GT. Unfortunately, this battery isn't removable which hurt our hype. To add to that it uses a MicroUSB port which while common isn't a step in the direction of USB-C.
Though you'll easily get a dozen sessions per charge due to the cell's capacity, it takes a backseat to units which a removable battery and anything with Type-C charging.

Ease of Use
The loading funnel simplifies that process which is nice and the quick-change oven system works great. The LED display offers full and easy control of the temperature settings and overall the unit is simple to get the hang of.
Cleaning however is a little more complex. There are a lot of little screens and pieces which need to be cleaned frequently in order to keep the performance in tip-top shape. While the instruction manual explains the process clearly and easily, the frequency of which you need to clean is a bit annoying.

Discreetness
Vapes, in general, are becoming more and more common and e-juice vapes are everywhere. The Furna doesn't raise any eyebrows and its sleek, matte-black design is fairly stealthy.
Still, conduction ovens put out quite a bit of smell and the Furna is no exception to that. Expect the unit to put out enough odor to alert anyone in the room and the unit itself carries smell with it fairly well.
Overall Experience
They've done many things somewhat right with this vape from the design, engineering, and execution. The accessories and overall experience are very pleasant.
How practical is this interchangeable oven system though? Well honestly, it's not our favorite. It's much more efficient for a battery to use a capsule system as the Crafty+ uses and the fact the vapor quality on the Furna isn't great holds it back.
No removable battery and MicroUSB brings it back down and it's hard to think of any places it really excels at. It's a lovely design and the execution is terrific, but we're not entirely convinced unless a firmware update brings the concentrates performance up to wax pen level.
We can see a version 2 to be a real winner but until then, it's just alright for the time being. Anyways, thanks for reading our Furna vaporizer review – any questions or comments please reach out and we'd be glad to help out!
If you have questions about our review or just want to let us know what you think, feel free to drop us a comment below! Also, don't forget to follow us on Facebook, Twitter, or Instagram to keep up to date with all our contests, sales alerts, and other fun stuff! Thanks for reading and as always, keep vapin'.