The VapeDynamics Hera 2 is a new portable vaporizer designed for both dry herbs and concentrates. It boasts a slim profile and a touch screen, as well as a removable 2680mAh battery. This all looks and sounds incredible, but how well does it actually perform? Also if this is your first vaporizer be sure to check out our Vaporizer Buyers Guide.
Review: VapeDynamics Hera 2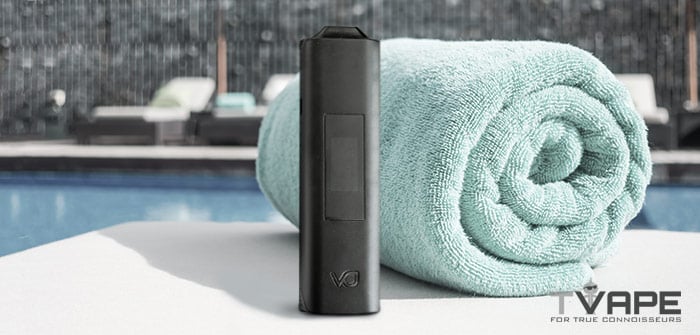 How it Works
The Hera 2 has refreshingly simple functionality. There are only two movable parts on the entire thing, and they're the mouthpiece and the battery.
The battery has a 2680mAh capacity and you can easily remove it. You can get a replacement for around $22 from their website, but the batteries have to be charged inside the Hera 2, unfortunately. It would have been nice to have the option of getting an external charger.
The touch screen part of the vape is very easy to use. The screen controls pretty much everything except the power. You can choose between dry herb mode or extract mode, and setting the temperature is as easy as tapping the up and down arrows on the screen. There are other settings as well, and the touch screen makes it very easy to navigate to them.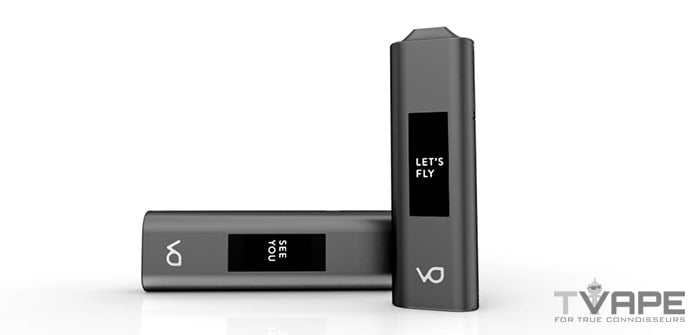 There are four different mouthpieces that are included with this. You have to use different mouthpieces for dry herbs and concentrates because the mouthpiece is where the wax chambers are located. There are also two different styles for each mode, one that is flat and one that is raised a bit. These are exactly like the mouthpiece styles for the Pax 3.
The heating chamber is located directly below the mouthpiece. It is a combination of stainless steel and ceramic. There is a divider in the middle of the chamber that separates it into two different compartments. Again, you can only put dry herb directly in the chamber. Concentrates have to be put inside the canisters located beneath two of the mouthpieces.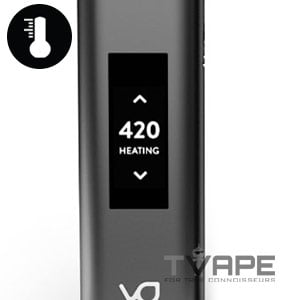 Temperature Flexibility
The temperature flexibility is good, but not great. You can set it to any degree you want, as long as the temperature you want happens to be between 350F and 450F.
For the most part, this fully captures the range you may want for dry herb. Some people like to start even lower than this, but the vast majority of people vape between 355F and 430F.
When you set it to concentrate mode, it locks you in at 450F. This is a bit low when compared to where most people like to vape waxes, but it will get the job done.
You can actually go even lower, it just takes a good deal longer when compared to normal wax pen temperatures. I would have liked to see more flexibility here for sure.

Vapor Quality
The vapor quality is also good. I got good flavor and excellent vapor production from this with dry herbs. Just like with any vaporizer, the lower the temperature you use, the better the flavor is going to be. Higher temps will give you bigger clouds.
The one downside is that the vapor from this is warmer than the vapor you get from most premium vaporizers on the market, and the mouthpiece does get a little warm towards the end of a session. This is because they have the heating chamber located directly beneath the mouthpiece.
The performance of this with wax is adequate, but I definitely wouldn't recommend buying this to primarily use as a concentrate vape. This should be viewed as a vaporizer for people who like vaping dry herbs that want the option to occasionally vape concentrate as well.
Warning: Not Compatible with ZEUS Iceborn
This vaporizer is not compatible with the ZEUS Iceborn, a revolutionary new vapor cooling system designed to produce cooler draws and bigger clouds when connected to your vaporizer. The ZEUS Iceborn adds an additional 2 points to the vapor quality score of compatible units, so we highly recommend considering a whip-compatible vaporizer to take advantage of this stellar ZEUS accessory item. All compatible vaporizers will have a compatibility notice.

Manufacturing Quality
The manufacturing quality is above average, though there are areas that leave room for improvement. The things I really like are the simple yet sleek design, the touchscreen, and the removable battery.
On the other hand, putting the mouthpiece directly over the chamber wasn't a great decision. Like I mentioned above, this leads to a hot mouthpiece and vapor that can be slightly irritating to the back of the throat.
And while I listed the touchscreen as a pro, there's a part of me that also wishes it would have been nicer. The one on this isn't very big and the graphic quality is relatively low.
Battery Life
The battery life is good. Like I've mentioned throughout the review, this has a battery with a 2680mAh capacity, which is pretty good.
You can get an extra to double the performance, but remember that there's no way to charge the batteries outside the device, at least not yet.
With just one battery, this should be plenty to get you through a full day of vaping.

Portability
The portability of this is excellent. It's extremely thin, which is the most important thing in regards to pocket carrying and comfortably. It can also be easily stored in a vaporizer case.
To be specific, this is only 20mm thick, which is about ¾". The height is a little over 4-½", and the width is about 1-½". For comparison, this is just a hair thinner than the Pax 3, but the Pax 3 is smaller overall.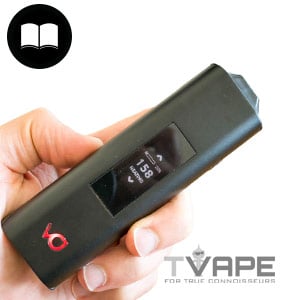 Ease of Use
The ease of use may be one of the best features of the Hera 2. There is very little to fuss with, and the touch screen controls makes everything very intuitive.
Fill up the chamber, turn the device on, set your temperature, then press the button again to get it to heat. That's all there is to it.
A complete beginner would be able to use this with no problems.

Discreetness
The discreetness is good. There are indicator lights on the side to let you know when the oven is fully heated, but these can actually be turned off in the menu.
The touch screen isn't very bright, so you won't have to worry about that attracting attention either. If you use the flat top mouthpiece, it really doesn't look like a vaporizer at all.
It could easily be mistaken for some sort of old MP3 player or something else like that.
Overall Experience
The VapeDynamics Hera 2 is a good vaporizer.
It's not perfect by any means, but there's a lot to like about it. The touchscreen is cool, even if it is relatively dated by touchscreen standards.
It delivers good vapor from two different types of materials, although it is primarily a dry herb vape in my opinion. The removeable battery is also nice, but I would have liked it even more with an optional external charger.
Obviously I'd also like to see more cooling of the vapor before it gets through the mouthpiece and the vapor itself is still conduction based. If you are looking for a convection based unit that costs a bit less than the Hera 2, check out the Utillian 721.
And for a less expensive alternative to the Hera 2 check out the Smite Plus, it may not have a touchscreen but has precise temperature control and over 2 hours of battery life.
If you have questions about our Hera 2 review or just want to let us know what you think, feel free to drop us a comment below! Also, don't forget to follow us on Facebook, Twitter or Instagram to keep up to date with all our contests, sales alerts and other fun stuff! Thanks for reading and as always, keep vapin'!