The Vaporesso Target Mini is a unique looking mini-mod that can pack a big punch with 40 watts of available power. This unit takes the name "mini" seriously; it is very small for a mod style vape, which is great for portability. Let's take a closer look at this mini monster, but before we do that be sure to check our vape buyer's guides for important information to consider before making your first purchase.
Editors Note: For those who are looking for the easiest and most efficient way to make the switch, we suggest checking out the Bo One, a pod-based vaping system that offers a hassle-free approach to vaping, no settings, no ohm law, just vapor.
Review: Vaporesso Target Mini Review

Manufacturing Quality
For such a small unit we are very impressed with the manufacturing quality of this vape. The mod is small, sleek and fits nicely in the palm of your hand.  The tank is beautifully crafted and actually places the air intake ring at the top of the tank as opposed to most vapes which have it at the bottom.
This is not done just to be different; it actually greatly helps combat e-liquid leaks. As many have experienced with bottom air intakes like on the Kanger Topbox Mini, gravity seems to take its course and liquid tends to leak to the bottom and into the air intake holes and when you put your unit down or tip it sideways liquid leaks for the air intake onto whatever may be in its path.
This can be beyond frustrating and you can try many things to fix the leak with no avail. We are happy to see that this issue is being addressed by newer manufacturers and it is what helps the Vaporesso shine as a unit and makes it frustration free.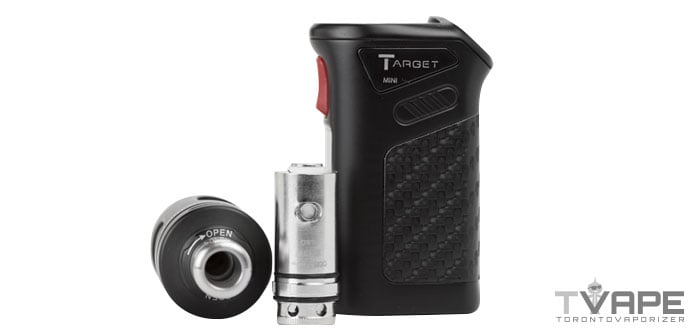 Another unique feature to this unit is the child lock tank. To access your tank to refill you have to first unscrew the locking mechanism at the top of the tank just below the drip tip, once this is removed you can unscrew the top of the tank to access the e-liquid. This is a thoughtful feature for those who are making the switch to vaping and are concerned about their kids getting their hands on their unit and accessing the sometimes yummy smelling e-liquid inside.
The mod is also a work of art; it is very small but has a little weight to it and feels very nice in your hand. The mod has 4 buttons total and menu navigation is very intuitive. This unit does include a temperature control mode which is a welcome addition and something we will touch on next.

Flavor Quality
Having tested units from big brands like Joytech and Kanger, we were expecting a step back in vapor quality with a lesser known vape company like Vaporesso but we quickly learned to never count out the little dog.
The vapor from the Vaporesso is impressive, to say the least, the vapor is smooth and full of flavor. There was no detectable influence from the tank, coils or cotton wick, just the pure flavor of our liquid.
Another useful feature that helps you blow big clouds without having to be concerned with burning out your coil is the units temperature control. Essentially temperature control allows you to set a certain temperature you wish to vape at, the unit then adjusts the wattage and voltage to maintain the temperature of the coil. If the heating exceeds the set temperature power is cut off to the atomizer to preserve the coil and to prevent burning and dry hits.
This also helps if you have let the juice run a little low, usually in most units if you fire it you will burn out the atomizer, with temperature control the unit will not allow that to happen and will cut power to the coil. This is great because it extends the life of your coils whiles providing you with great tasting vapor from start to finish.
Power Flexibility
The Vaporesso Target Mini gives you up to 40 watts of available power, which for the average user is more than enough. This is also an impressive amount of power available in such a small unit and can even satisfy some cloud chasers.
The unit includes 2 coils, one that is .5ohm and one that is 1.4ohm for different vaping styles. The .5 ohm coil is for those looking to blow larger clouds and will require more wattage to operate. The 1.4 ohm coil is for those who prefer a mouth to lung inhale and slightly thinner clouds and will require less power.
It is great to see a range of coils included as it gives the user the ability to decide the type of vaper that suits them best.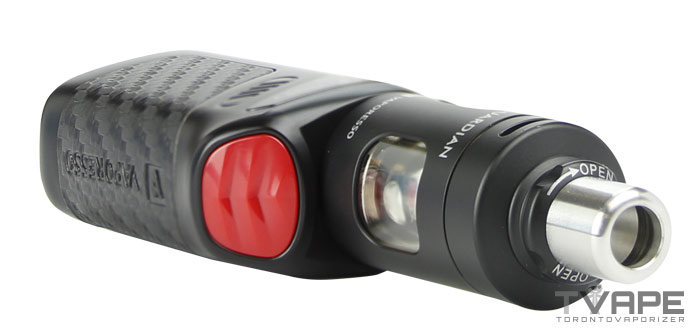 Ease of Use
As we briefly touched upon in the intro, this device is very user-friendly right out of the box. The child lock makes refilling your e-liquid a little harder but it is not a deal breaker because the rest of the tank is very easy to use and fill.
The mod is fairly straight forward, just 5 clicks to turn it on and press the left and right selection button to change wattage. To flip between wattage and temperature control mode just press and hold the bottom selection button for 3 seconds.
The temperature control mode is a great tool for newbies and bypasses the need to set your wattage. Instead just set a temperature you wish to vape at and the mod does the rest of the work to control the watts and voltage to maintain your set temperature.
The result is a hassle-free and smooth vaper experience making it great for newbies or those looking to step up from pen-style vapes.
Portability
This mod is deceptively small, it is hard to tell from the photos but it stands just about 3.5 inches tall. It is definitely the smallest mod we have used to date.
Unlike normal mod units that leave a bulge in your pants and may have people asking if you are happy to see them, the Target Mini is small enough that we did not notice we were carrying it half the time.
With the smaller size comes a smaller internal battery which is something we were concerned with when we first started using the unit, however from our tests this small but mighty battery lasted us nearly a full day of moderate vaping.
People who are heavier users may need to recharge it more often, but we found the charge time to be quite short, only about 1 – 2 hours for a full charge and the unit can be used while charging which is a plus.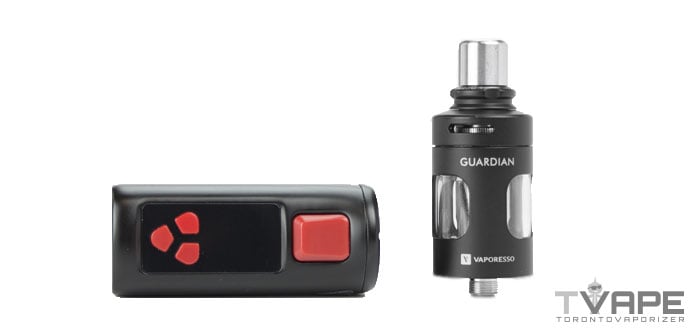 Overall Experience
When we first looked at the Target Mini we were quick to judge, we figured it would be a run of the mill vape with the gimmick of being super tiny.
Boy, were we wrong, teaching us a valuable lesson to never to judge a unit without testing it. This mini unit packs a monster punch providing smooth and abundant vapor production.
Battery life also exceeded our expectations providing almost a full day of tasty vapor. For those looking for a small mod unit that is perfectly portable while remaining full functional. It's hard not to love the Vaporesso Target Mini. If you are thinking about picking one up, be sure to stop by our store.
If you are looking for a larger unit that offers a bit more power be sure to check out the Coolfire IV 100W.
We hope you enjoyed reading our Vaporesso Target Mini review! We would love to hear from you! Feel free to leave a comment in the section below, you can do so anonymously 😉 Don't forget to follow us on 
Facebook
, 
Twitter
 or 
Instagram
 for contests, sales alerts and other fun stuff! Thanks for reading and as always, keep vapin'! 😉