Today we'll be reviewing the Bolt Pro, a portable e-nail made by Dabado. If you're familiar with Dabado's lineup, you may be a bit confused about what exactly this is. Dabado already has the Bolt and the Bolt M Pro mod attachment, so what's the Bolt Pro? Essentially, it's what you get if you take the Bolt and the Bolt M Pro and combine them. And if you aren't familiar with any of these, this simply means that the Bolt Pro looks to replace a traditional wax rig with a battery powered, cylinder-shaped unit with giant nails and a simple, straight-glass bubbler on top. And if this is your first wax vaporizer be sure to check out our Wax Pen Buyers Guide for helpful info and tips.
Review: Dabado Bolt Pro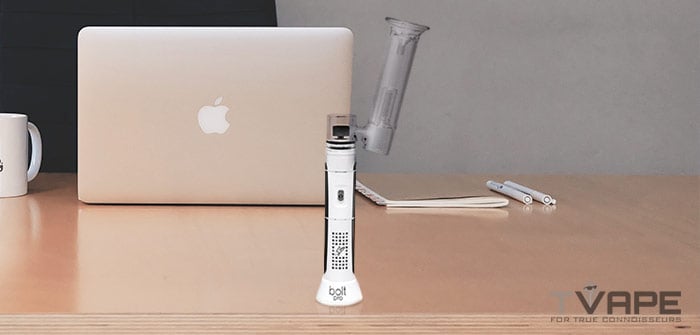 How it Works
The basic functionality of the Bolt Pro is a lot like most of the other portable e-nails on the market. You've got the base, which holds the battery and heating elements, a nail that goes on top of the base, and a glass attachment that provides water filtration.
The Bolt Pro runs off a removable 18650, and there are three nails included in the box. They're all huge, especially compared to the regular Bolt's nails. The three materials used are titanium, quartz, and ceramic.
The glass attachment slides right over the nail, and taking a draw is as simple as engaging the heat and putting your material on the nail and capping it. A tool is included that serves as both the wax tool and the cap.
Everything you need to start is included in the box, but there are more advanced glass pieces that you can buy as well. These look a little cooler and provide more filtration, but what you already get is more than enough to get the job done.
Temperature Flexibility
Of all the things I noted about the Bolt Pro, this is the area where I think there is the most room for improvement. There are just two temperature modes on this, one for low temps and one for high. This would be fine if the temperature levels were reliable or consistent, but in my experience, they're not.
For example, if you take a look at their website, the product page only mentions a max temperature of 980°F. If you go to the support page for the Bolt Pro, you'll find that they list ranges for each mode. If you choose the low temperature setting, the range is 500°F-650°F. The high temperature mode reaches between 650°F-900°F.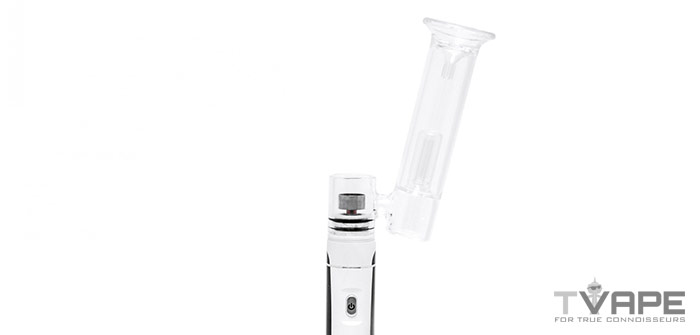 So right off the bat, you don't really know what temperature you're drawing at. On top of this, Dabado mentions that if you "cycle" the Bolt Pro, the temperature will increase by "about 100° degrees". This means that if you try to use it twice in a row, the temperature will be even hotter.
If I had to guess, there isn't actually any temperature regulation at all. The temperature modes likely just refer to two different voltage outputs, thereby causing it to heat up at different speeds.

Vapor Quality
The vapor this puts off is good, but it can also be pretty harsh. I personally prefer lower temp draws because you get all the good stuff along with better flavor and a less harsh experience.
If you use this on the low setting and just do one draw, then the flavor and smoothness of the vapor is great. My favorite nail was definitely the ceramic one, and the water filtration obviously helps a bunch no matter what level you use.
The high temperature setting starts off a little harsher than I prefer, but people who prefer large ample clouds from their concentrates may find this setting more satisfactory.

Manufacturing Quality
There's a lot to like about the Bolt Pro. It's very sleek, the nails are huge, and the setup is portable and easy to use. The additional glass attachments you can buy are also very cool.
What we really like is that the heating rod is actually replaceable this is something that separates the Bolt Pro from units like the Dr. Dabber Boost, which features a fixed heating rod.
Essentially this means that if the heating element ever gets damages or one of the leads shorts out, you can purchase an additional to keep  your Bolt Pro running as opposed to replacing the entire unit which is a big plus.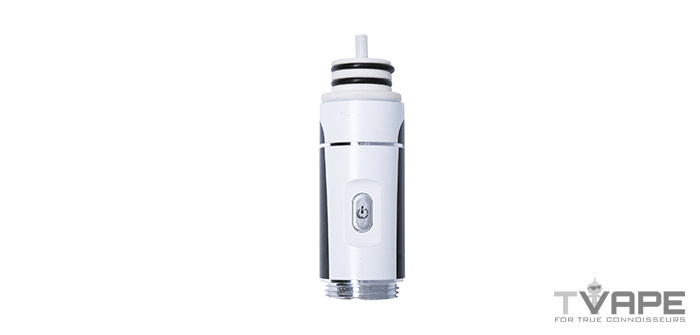 Battery Life
The battery life is very good, but not as good as you'll hear some people claim. There are some reports of it lasting over 150 sessions on a single charge! In reality, you'll get anywhere from 20 to 30. This will depend on what temperature mode you use and how you charge it.
Charging the battery on an external charger will get you between 5 and 10 more sessions compared to leaving it in the unit and charging via micro usb. That really is not the fault of the unit itself but more so the charging behavior of an 18650 with a low amp circuit like USB.

Portability
The portability is good for an e-nail, but that doesn't necessarily make it truly portable, if that makes any sense. I think these are great for being able to easily move around your house, or even to take with you on trips where you'll have a home-base once you get there.
But this isn't something that you can just carry around all day with you. It certainly is too large to fit in a travel case like the Zeus Armor. If you want to vape concentrate throughout the day, get a wax pen like the Thunder 2.

Ease of Use
This is very easy to use. All you have to do is set it up, turn it on, and wait for it to heat up, then you're ready to dab. There is only one button.
Three clicks gets you to low temperature mode, while five clicks will engage high.
There's also an automatic shut off, so you don't have to worry about forgetting to turn it off. Cleaning it is also easy thanks to the large nail size.
Overall Experience
The Dabado Bolt Pro is capable of delivering very tasty draws, but there's also a lot left to be desired.
The things I like the most about this are the giant nails, the battery life, and the overall ease of use. The vapor quality when taking a single, low-temperature draw is also very good. The flavor was excellent when using the ceramic nail.
If you read the whole review, you already know what my complaint is. There isn't any real temperature control. The temperature levels are only approximate, and it gets hotter the more times you use it in a row. This is a problem because it translates to diminishing vapor quality and harsher hits, especially if you try to use it with a group of people.
If you are looking for a portable e-nail that has temperature control and the bonus of having a herb attachment as well, we would encourage you to check out the Focusvape Tourist.
In other words, this is a very good e-nail, but there is always room for improvement.
If you have questions about our review or just want to let us know what you think, feel free to drop us a comment below! Also, don't forget to follow us on Facebook, Twitter or Instagram to keep up to date with all our contests, sales alerts and other fun stuff! Thanks for reading and as always, keep vapin'!