The Dipstick Dipper is a portable concentrate vaporizer that can be used with a traditional atomizer or as a straw. When using it as a straw, you can simply dip the end into your concentrate and take a draw with no preloading required. Let's check it out now. And if this is your first wax vaporizer be sure to check out our Wax Pen Buyers Guide for helpful info and tips.
Review: Dipstick Dipper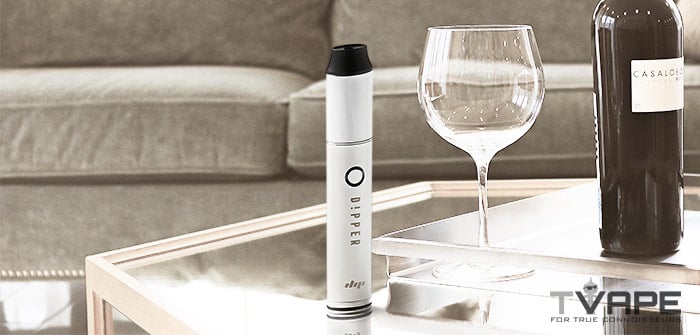 How it Works
The thing that everyone is going to be most interested in is the straw feature. The basic idea is that the heating element is exposed and located on the opposite end from the mouthpiece, allowing you to just dip it into your concentrate and take a draw. This isn't the first vaporizer to do this, but it is a cool setup. If I'm not mistaken, the style is referred to as a 'honey straw'. Another vape with this design is the Linx Ares.
The really cool thing about the Dipper is that you can also use it like a normal wax pen. Instead of putting the vapor tip atomizer on the battery (the one for the straw), you put on the quartz crystal option which has two rods and coils in it. The mouthpiece then goes over the top of the atomizer instead of on the other side of the battery. Both atomizers are replaceable.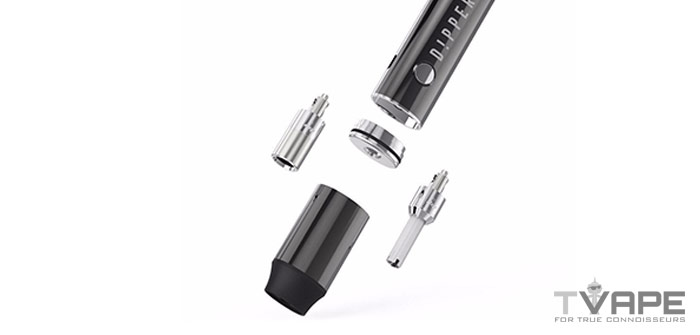 There is just one button on the entire unit. Five clicks turns the unit on and off. Three clicks changes the temperature level. Clicking and holding will engage the heat for up to 15 seconds. That's really all there is to it.
Temperature Flexibility
The temperature flexibility is pretty good for this style of vaporizer, although there's still room for improvement. On the positive side of things, you do get to adjust the temperature between three presets. A lot of concentrate pens don't have any options at all, and three is typically plenty if they are spaced well.
The downside is that they don't actually tell you what those levels are! They're just marked as low, medium, and high in the user manual. You can tell what level you are on based on the color of the lights on the vape. Blue is low heat, green is medium heat, and red is high heat.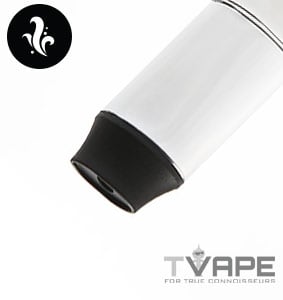 Vapor Quality
The vapor quality is good. Using either mode I was able to get very satisfying draws that were both flavorful and fairly dense. I could also taste the differences between different varieties of concentrate, which is ideal if you are spending money on good material.
With that being said, the performance isn't as good as you would get from a newer-style atomizer. I'm specifically talking about the ceramic chambers that avoid the need for traditional rods and coils. You can get something with a ceramic atomizer like the Thunder 2 for cheaper than this, but you won't get the straw feature.

Manufacturing Quality
The manufacturing quality is good. It obviously took some design work to get a versatile unit that could be used in two different ways like this, and I'm really glad they took the time to make sure there was an internal air path and that air doesn't just go over the battery.
I'd really like to see them make a new atomizer for the Dipper that doesn't rely on coils. I think that would allow it to deliver outstanding performance as far as flavor goes. At the very least, I'd like to see the coils updated. They seem to be made of kanthal, while titanium is a much better choice.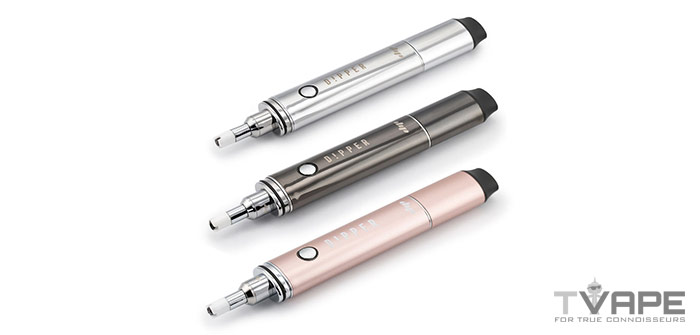 The only other downside is that this is a fingerprint magnet. I really don't care that much, but I know a lot of people can't stand it when their devices look dirty and smudged.

Portability
The portability of this is also good, although there are a lot of wax pens out there that are smaller. This sacrifices on size a bit to be able to have the straw functionality.
It is still relatively comfortable to carry around in your pocket, and the battery life is good enough that you won't have to worry if you start your day with a full charge.

Ease of Use
This is easy to use as a wax pen, although it is a little demanding to use as a straw.
The problem is that you have to have it at a good angle, and the exposed hot coil can be a bit dangerous if you aren't careful. It can also melt what your wax is in if you aren't very careful, so I recommend using glass.
Once you get the hang of it, it's not too bad. Like I mentioned above, there is only one button on the whole thing. Five clicks for power, three clicks to adjust the temperature level, and click and hold for heat.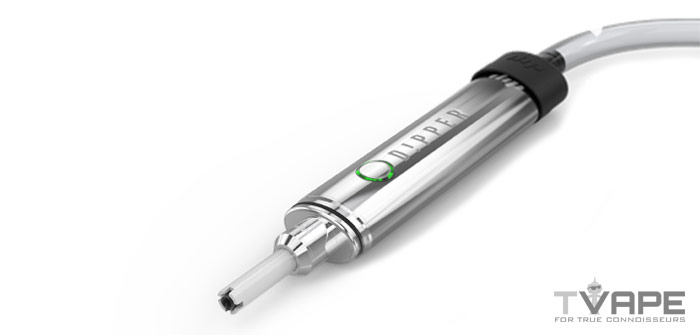 Discreetness
I'm not sure how I feel about this for discretion. On one hand, there are smaller units out there that are easier to keep hidden with your hand. At the same time, this could help if you vape a lot of material in a day because using it as a straw means you wouldn't have to stop and load your chamber.
You could just pull this and a storage container out for a few seconds and be done. I think that this could be pretty discreet, but obviously it's up to how and where you are trying to use it.
Overall Experience
I like the Dipstick Dipper, it offers a unique and hassle free experience for waxes.
It works well as a wax pen too, but so do many other units that cost significantly less. You're obviously paying for the straw feature, and it's up to you how much that's worth.
The one time where I see it having a lot of value is at a party. This would be a great way for a group of people to quickly vape without having to stop and keep refilling the atomizer.
Basically, get this is you think that the straw is cool and you'd use it. If not, you're better off going with a cheaper wax pen that has better atomizers.
If you are looking for a portable e-nail that has temperature control and the bonus of having a herb attachment as well, we would encourage you to check out the Focusvape Tourist.
If you have questions about our review or just want to let us know what you think, feel free to drop us a comment below! Also, don't forget to follow us on Facebook, Twitter or Instagram to keep up to date with all our contests, sales alerts and other fun stuff! Thanks for reading and as always, keep vapin'!