The Fez Vaporizer is a portable vape pen designed for use with dry herbs. It has three different temperature settings and a rather large heating chamber. They also advertise up to 2000 puffs per charge. I'm not so sure this is worth buying though. Also if this is your first vaporizer be sure to check out our Vaporizer Buyers Guide.
Review: Fez Vaporizer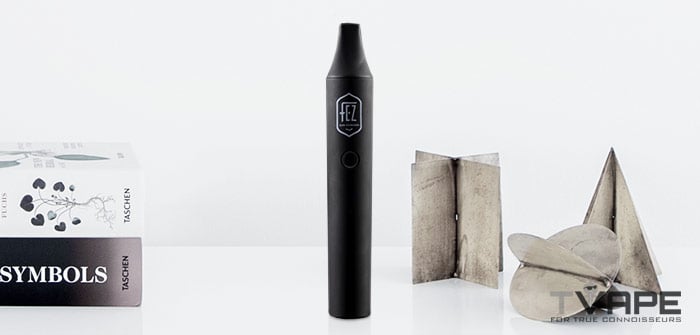 How it Works
The functionality of the Fez is very straightforward. It has a big chamber that you access by removing the mouthpiece, an internal battery, and a single button for turning the unit on and selecting your temperature.
There are three temperature settings, but they aren't spaced out well. This is something I will go over in the next section.
There really isn't much else to say here. It's a simple pen vape for dry herb. You load your chamber, turn it on, let it heat up, then take a draw. The only somewhat advanced features it has are a motion activated battery light (you shake it), and it will also cool down a little if you aren't actively using it.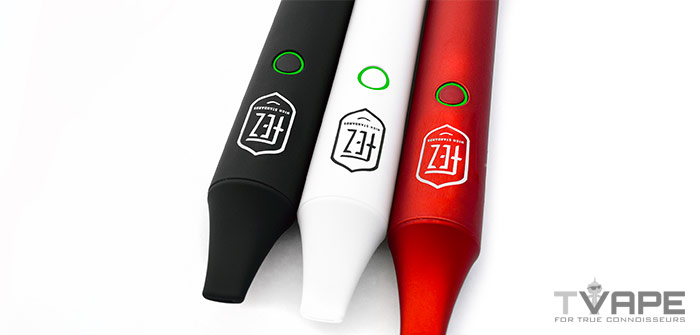 There's also a sleeve that fits inside the chamber that you can use to vape concentrates. They advertise this as a convection vaporizer, but there is definitely conduction happening as well.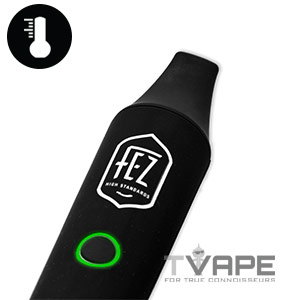 Temperature Flexibility
The temperature flexibility is not good. There are three levels, but they are way too hot.
Before I explain the temperature levels, I want to point something out that is going to be a recurring theme. The information that Fez gives you on the website and instruction books are extremely inconsistent.
Here's an example. If you look at the temperature range they give you in Fahrenheit, it says 300-464F. Seems like a nice, big range, right? If you look at the specific temperature levels you can choose, they are 200C, 220C, and 240C. That equates to 392F, 428F, and 464F. So the lowest temperature available is 392F, not 300F. Confused yet?
The 464F option is too high for vaping dry herbs. Only use this if you are trying to use this with concentrates.

Vapor Quality
The vapor quality is average. The flavor is fine at first, but drops off relatively quickly. One of the problems is that the temperatures are just too hot, like I mentioned above.
The chamber is also made out of aluminum, at least according to the product page on their website. I've never seen this on another vaporizer. You typically will see either stainless steel or ceramic for dry herb because they're proven to deliver good flavor.
Maybe the aluminum is just the insert for concentrates, but I can't tell.
Compatible with ZEUS Iceborn
This vaporizer is compatible with the ZEUS Iceborn, a revolutionary new vapor cooling system engineered by Canadian vape manufacturer ZEUSArsenal. The Iceborn is designed to produce cooler draws and bigger clouds when connected to your vaporizer. The vapour produced is ultra smooth and crisp and because of ice cooling, instead of water filtration, there is no loss of efficiency. The ZEUS Iceborn adds an additional 2 points to the vapor quality score of this vaporizer and is a highly recommended vaporizer accessory.

Manufacturing Quality
The manufacturing quality is average at best. For example, I'm not so sure about using aluminum in the heating chamber and definitely feel more comfortable with the standard stainless steel or ceramic.
The entire top and mouthpiece also get very hot, and there doesn't seem to be an auto shutoff feature.
Other than that, this is a rather ordinary vape pen.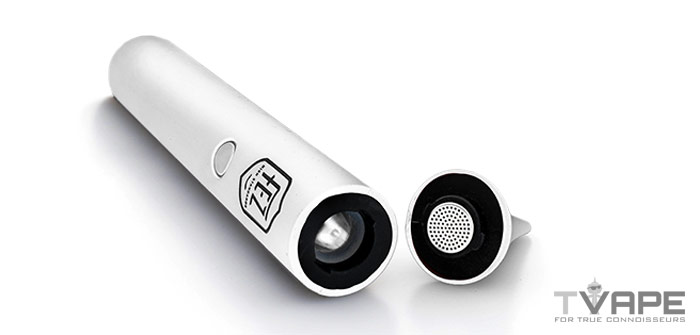 Battery Life
The battery is another place where the materials are extremely confusing. Their website and the people who are selling the device all seem to say that this can last for 2000 puffs.
That would be great if it were true, but that would equate to about 200 sessions of 10 puffs each, or 100 sessions of 20 puffs. There's just no way that is happening.
As far as the actual capacity of the battery, I honestly don't know what to say based on what they've published. Here are the different ways the battery is described just on their website alone: 2600 mVh, 4000 mVa, and 4000 mVh.
So there are two numbers on the website that directly contradict each other, 2600 mVh and 4000 mVh. Then there is the fact that I've never heard of either mVh or mVa, and a Google search didn't turn up anything related to battery size. I'm not sure what to say about that.

Discreetness
The 7" height isn't just bad for portability, it's also not great for discretion. No matter how you hold it, you can't fully conceal it in your hand.
Its appearance is also very similar to what the "typical" vaporizer looks like, at least in the eyes of the non-vaping population who have only seen cheap ones in stores.
Overall Experience
I do not recommend buying the Fez Vaporizer.
There are just so many better ways to spend your money. This isn't getting you anything special, and the inconsistencies on their website are concerning.
What does mVh and mVa stand for? How did they figure 2000 puffs? Why was aluminum used in the heating chamber? Is the entire heating chamber aluminum, or just the insert?
At this price, you could get a brand new Smite Plus, one of the all-time most popular vapes. If you are interested in portability, you could grab the Utillian 420 and save a little money. Either of these would be better investments in my opinion.
If you have questions about our Fez Vaporizer review or just want to let us know what you think, feel free to drop us a comment below! Also, don't forget to follow us on Facebook, Twitter or Instagram to keep up to date with all our contests, sales alerts and other fun stuff! Thanks for reading and as always, keep vapin'!