Cleaning your vaporizer is as important as brushing your teeth! You wouldn't go to the dentist without getting a new toothbrush, but many people make the mistake of picking up a new vaporizer without a cleaning kit. You can enjoy the brand-new quality of your vaporizer for a few weeks, but after a while your vapor quality will decline. To keep the performance of your unit in tip-top condition it's important to clean it frequently. Here are a few general rules in maintaining your vaporizer!
Before you continue and if you are more interested in
cleaning a specific Vaporizer
, we did a bunch of cleaning videos for a ton of vaporizers on our YouTube channel, just follow the link. And we also have a guide if you need to know
how to clean a wax pen
.
Vaporizer Cleaning Tips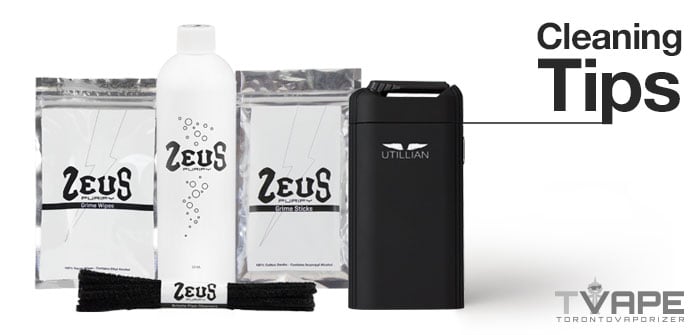 1. Cleaning Solution
There are three main options; Isopropyl alcohol, acetone based solution and alkaline cleaning solutions. There are pros and cons to each:
99% Isopropyl Alcohol: This is readily available in any major drug store. Shoppers Drug Mart or Walmart are your best bet in Canada and, unless you are somewhere in the northern part of Yukon or Nunavut, probably even in driving distance. Alcohol is awesome. It is cheap and does the work if you soak your grimed up stuff in there long enough. It can also be used for a variety of other stuff. That being said, I have a big problem with it. Once it runs out, it takes me a year to remember to get another bottle. I like things to be convenient, but I can't order alcohol online, because it is highly flammable. Cons: It's important to remember that you should NOT use isopropyl alcohol to clean any plastic parts, as it will dissolve them. Unfortunately it's so powerful that it's also a skin irritant, leading to minor burns if it comes in contact with skin for a prolonged period of time.
Acetone Based Solutions: Most cleaning solutions you find for glassware are acetone based. These solutions worth phenominally fast, but they are incredibly bad for your skin. You do not want to have any of this stuff left over before you start vaporizing again. They work awesome, but the risk is not worth it to me. Besides, i can't order this stuff online either, becuase it is even more flamable than the alcohol above. Randy's Cleaner I like a lot, but the shipping to Canada is just too risky because of the "dangerous goods" classification. They will slap you with a massive brokerage and duty fee if they let it through. Cons: It's important to remember that you should NOT use acetone to clean any plastic parts, as it will dissolve them.
Alkaline Based Solutions: As wikipedia puts it "Alkaline cleaners can dissolve fats, oils, and protein-based substances." These are generally not as harsh on your skin and you can water it down and it actually activates the solution to clean better. Also you dont need to through it out right away and reuse it instead. These types of cleaners are harder to find for vaporizers and the formulation is more unique to the brand and what it is used for. Since we have an online shop, we generally only sell this one so people can have it shipped. Cons: Using this on some colored metals will strip the color away from it, so you should be careful on that front.
The ZEUS Purify multipurpose vaporizer cleaning solution touts all of the cleaning power that isopropyl alcohol does without the harshness.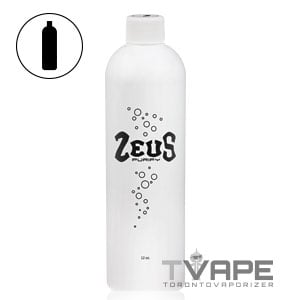 After a quick soak your vaporizer screens and other parts will be like new. A great thing about the ZEUS Purify Cleaning Solution is that it contains no alcohol, poison or fumes, so you can use it with your plastic parts too. It's strong enough to blast away any dirt, but it doesn't degrade plastic. The perfect solution!
2. Let It Soak
When you're soaking your screens, tubes, or other vaporizer components in cleaning solution patience is important. A good portion of residue will become dislodged immediately, but even more dissolves over time. It's suggested to put the parts you want to clean in a glass jar with your solution and leave them overnight. Your solution works around the clock at a microscopic level, removing the dirt and grime from your components. If you're very impatient you can always rinse your parts off and put them in a fresh jar of cleaning solution, speeding up the process (but wasting some of the solution's cleaning power). Generally I find acetone based solutions need the least amount of soaking, but then again you will feel it on your hands that it is probably not the best cleaning solution to have around. If you want to get something that is available at local stores, alcohol is better.

3. Useful Accessory that Save You Time
Pipe cleaners,
grime stix
(cotton swaps with internal cleaning solution reservoir),
grime wipes
(pre-soaked ethanol wipes), and paper towels are great little things to have on hand when cleaning your vaporizer. Cleaning solution will loosen up any residue, and you can quickly wipe it away.
Pipe Cleaners: Pipe cleaners are ideal because they do such a good job of fitting into the nooks and crannies of some parts (such as the Solo's bent aroma tube or the Air's glass aroma tube). The bristled pipe cleaners are best in our opinion and there are many brands that have them. We just found it a bit hard to find these online for purchase without buying a box of 1 000 000 pipe cleaners and let's be honest we like them, but not that much. In fact you get enough to last a long time, when you purchase a ZEUS Purify cleaning kit.
Grime Stix: These are basically cotton swabs that have an internal cleaning solution reservoir. It is pretty cool and we were pretty impressed when we saw them. In fact, my vaporizers have been much cleaner since I took the sample batch of 20 home. You basically clip off one end of the grime stix and the cleaning solution, which is alcohol based, flows into the other end. Swipe the inside of the heating chamber and you are done.
Grime Wipes: These cleaning wipes pre-soaked in 70% ethanol are great for quick maintenance and cleanup, especially for quick wipes of a heating chamber or mouthpiece. They are also great for adding a finishing touch especially when used with glass surfaces like the vapor path of the Firefly 2.
Paper Towels: These are just required with any cleaning job. After all is done, you just wipe the vape off and you are ready to start a new session with a clean vaporizer.

Wood and Other Fine Surfaces
Some vaporizers with wood components like the US made
MFLB
or the handcrafted
Vapman
from Switzerland may collect a little dirt or grime over time. You definitely wouldn't want to soak any wood parts in cleaning solution or water as it would damage the wood which has been dried and treated! To clean these surfaces, use a damp cloth or old toothbrush. Simply wipe away what residue you can and thoroughly dry the unit after. Be careful not to apply too much moisture to these components!
Cleaning Pen Style Vaporizer
Pen style vaporizer generally break down much faster than vaporizers intended for dry botanical. Our post is mainly geared towards those vaporizers, but if you need to clean your pen style vaporizer and prefer not to buy the component that is in dire shape, James from Smokazon has a nice post on cleaning pen style vaporizers.
Rinse it off
After you've cleaned your components in alcohol or cleaning solution it's important to rinse them off with water. This ensures that your parts won't have any lingering cleaning solution. Once all is done, run the unit through a heating cycle and it should be in tip top shape!
Cleaning Saves you Money
If cleaning still doesn't seem important to you, consider how much money you'll save. If you could double the life of your screens by cleaning them once before you throw them away, you will spend 50% less on screens! Over the course of  two year, which is the life of a high end vaporizer, this really adds up.
Thanks for reading and as always, keep vapin'! 😉