The Vapium Summit portable vaporizer has gained a lot of recognition and popularity lately, exploding onto the market as a "rugged, reliable and refined" portable for outdoors-folk and modern adventures who like to vape on the go. The co-creator of the Summit, Michael Trzecieski's background is in robotics and he is also passionate about clean energy. So his vision with the Vapium Summit was to create an 'off the grid vaporizing experience', coupling vaporizer tech with the ability to charge the vaporizer with a Vapium portable Solar Panel. As such this unit has been reviewed by not only vaporizer enthusiasts, but also featured in more tech-savvy publications. But as we learned with the Herbalizer, if a vaporizer's claim to fame stems from its founder's impressive background, we have to take the inventors qualifications with a grain of salt when reviewing the actual functionality and performance specs of a portable vaporizer. So, read on for our objective review of this unit!
Review: Vapium Summit Vaporizer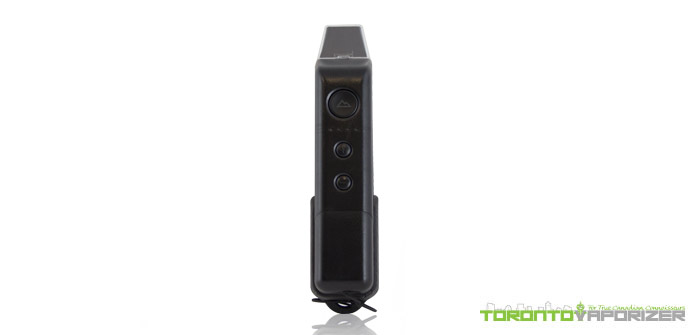 How it Works
So, to turn on the Vapium Summit all you have to do is press and hold the 'Go' button. The Summit will vibrate to indicate the unit is on, the Summit logo on the go button will glow blue and the 4 LED lights located just under the button will light up to indicate the battery level. Immediately after turning the unit on, the Summit will begin heating and the LED associated with the last temperature set (or the new temperature you chose) will begin blinking as the unit heats up. When the Vapium Summit's 'Go' button logo glows green, the Summit is heated and you are ready to vaporize!

Temperature Flexibility
The Vapium Summit has 8 temperature settings, which is actually quite good for a portable of this size and at its price point. The temperature settings are displayed by the 4 LED lights and are indicated by 'half-lights' or dimmer and brighter LED colors. So temperature 1, indicated by a dim blue light in the first LED is 160° C ( 320° F). Temperature 2 is the same LED light, a brighter blue and is 170° C ( 338° F ). Temperature 3 is a half yellow light on the second LED ( 180° C/ 356° F) and the full yellow light, temperature setting 4 is set at 190 °C ( 374 °F). Temperature setting 5 is the third LED lit 'half orange' at 200 °C ( 392 °F ) and level 6 is bright orange indicating 210° C or 410° F. When the last LED is lit half-red, the Summit is heating at 220 °C ( 428 ° F ) and the full red LED indicates the Summit's highest heat setting, 230° C or 446° F. This is a really good range of temperatures for a portable unit, although we still recommend sticking in between the temperature settings 4-6 for best results. At the top two temperature settings the vapor is very, very hot and under level 3 vapor production is very light and almost non-existent. Another great thing about the temperature settings is that it only takes 10 seconds for the unit to stabilize at a new temperature, so if you decide to vapor step with this unit and get the most out of your herbs; it's a quick and easy process.
Vapor Quality
The vapor quality of this unit is on par with the likes of the V2 Pro Series 3 – hot and a bit irritating but satisfying none the less. It is by no means terrible and it doesn't have the plastic taste we were expecting from the unit, but it's a bit 'unrefined'. When we reviewed the Prima Vaporizer, which is remarkably similar in shape, size and overall design (due to its horizontal vapor path), the vapor quality blew us away. Yes, it was hotter than we would have liked, but it was oh so pure, robust and flavourful. We can't say the same about the Summit unfortunately. Even with flexible temperature settings and seemingly good quality materials used for the heating chamber and vapor pathway, the vapor causes coughing from the first draw and the thick quality fizzled out after a couple draws leaving a chalky ABV ( Already Been Vaped ) tasting vapor. Furthermore, the inability to fully clean the vapor pathway, because it is not removable, means that over time the built up residue inside the vapor pathway will distort the vapor flavour and decrease its pretty good air flow.
Manufacturing Quality
One of the Vapium Summit's key selling points is that it is rugged and durable, built for adventurers. As such it should use durable but lightweight materials. Now the body itself is made from hard plastic, which is durable enough, however the seams are not 100% flush, and indicate that a couple good drops could crack the unit open. However, the rubberized grip under the heating chamber helps insulation, keeping the unit just warm to the touch and the buttons and LED's appear and feel well made and wiggle-free. One major downside we did notice on this unit, which was a great idea in theory, was the magnetic heating chamber lid. Although the lid is attached to the unit with a string, our experience indicates that the heat from the battery and actual heating chamber will dramatically reduce the strength of the magnet over time, thus leaving your heating chamber vulnerable to spilling its contents. Now the vapor pathway itself is made from PAI ( or Polyamide-imide and stainless steel ), however as previously mentioned, it is not removable like other units like the Prima or Ascent which makes cleaning and maintenance tricky.
Battery Life
To charge the Vapium Summit, just plug in the charging cord to either your computer ( via USB ) or connect it to the included wall adaptor. When the unit is recharging, the white LEDS's will blink and when all LED's are solid white, you know your unit is fully charged. This unit has a super-fast re-charge time, of just about an hour. As mentioned, the LED lights will light up when the unit is first turned on to indicate the battery level before you start your session. When all 4 lights are glowing white, the Summit has 75% battery, 3 lights means 50% battery, 2 lights means 15% ( aka time to recharge ) and just one light means your unit only has 5% battery. This is not super intuitive because you would think each light represents 25% of the battery life, but as long as you know what they stand for, you won't be caught off guard when your unit shows one light and then dies half-a-session later. It's nice to note that as long as the unit is not 100% dead, or as long as it has one battery light showing, the Summit can be used while charging. The Vapium Summit has a 90 second cycle, and will enter standby mode after a minute and a half. The actual battery life of this unit is an hour of use (depending on the temperature setting) and as previously mentioned, you can technically Solar-charge your unit if you were to also purchase Vapium Spring Solar Charger which connects to the unit's micro-USB charger. An hour of battery life isn't impressive by any means, but because it only takes 1 hour to fully recharge it's more convenient than other units which pump out only an hour of vaping for each 3-4 hour battery charge.

Portability
When we review a unit on portability we're looking at a few things: size, shape & weight, ease of use on the go and battery life. The size and shape of the Vapium Summit is pretty good for a portable unit. Measuring in at just less than 5 inches in length, about 1.5 inches in height and an inch in width, it's comparable to a rectangular glue stick or a bit bigger than a snickers bar. It also weighs in at 88 grams, which is pretty light, meaning it won't weigh down a jacket pocket while you're on the slopes or hiking. Because this unit was made with adventurers in mind it has a few other features that make it extra portable friendly: haptic feedback ( or vibration ) that tells you when the unit is on, or done heating without looking at it, an ergonomic design for fast and easy sipping and an included carrying pouch to ensure you keep all the necessary components of the unit in one place, easily clipped onto your jacket or back-pack with ease. The design of the heating chamber means it is also easy to access for loading, emptying and reloading on the go. Simply flipping open the magnetic led and turning the unit upside down with a light tap will empty the chamber. In terms of battery life, an hour is OK and if you are out and about with the additionally purchased solar charger, it will still take a full day's worth of solar power to re-charge your unit. In our expert opinion, if you're a true adventurer who is likely to be away from power for days on end and want more than an hour of vaping a day, other units like the butane operated IOLITE or torch powered Vapman would be far more convenient and portable.
Ease of Use
If we're speaking honestly, you will need the instructions when you first get this unit. Not because this is a complicated portable by any means, but because it's designed slightly differently from most. Instead of pressing the button 3-5 times to turn it on, you press and hold the button for 3 seconds. Also, because the lights each stand for 2 temperature settings and indicate battery life, you'll need to familiarize yourself with what each light means. Now loading and re-loading of this unit is a cinch, especially because the bottom screen comes out for easy heating chamber cleaning too! But overall this unit is pretty simple considering the 'Go' button just turns the unit on and off, the plus and minus buttons control the temperature and the haptic feedback lets you know when the unit is turned off, heated up and entering sleep mode (after 30 minutes).

Discreetness
This unit is just about as discreet as the Prima. It is small enough to be mostly covered in your hand however the lights are not as discreet and are recommended to be covered if you're in a public place to avoid suspicion. Furthermore because this unit is horizontal, and drawn from as such, it is more difficult to pass it off as an e-cig like other similar shaped units which stand upright when in use, like the Arizer Air. Another important thing to note about discretion with this unit is because the vapor is very hot and harsh; it is likely to cause a throat tickle and some coughing which can certainly call attention to your session. Mind you, we can assume that because this unit was designed to be used 'off the grid', discretion wasn't a huge concern for manufacture their target audience.
Overall Experience
The Vapium Summit Vaporizer occupies an interesting market segment. It's priced affordably alongside units like the Davinci and has a few things going for it, like 8 temperature settings, haptic feedback and the ability to be solar-charged. However, considering the majority of those looking to vape 'off the grid' would be turned off by its limited 1-hour battery life, we are left wondering the true strength and key-selling factor of the Vapium Summit. It's really just average in most categories and for just a few doubloons more we'd be much more inclined to go for a unit with three times the battery life, precise temperature control and an LED display, like the ZEUS Smite Plus. So with all that said and done, we're certainly not bashing the Summit by any means, but we think that it's a bit over-marketed for what it is and the vapor quality it produces.
Warning: Not Compatible with ZEUS Iceborn
This vaporizer is not compatible with the ZEUS Iceborn, a revolutionary new vapor cooling system designed to produce cooler draws and bigger clouds when connected to your vaporizer. The ZEUS Iceborn adds an additional 2 points to the vapor quality score of compatible units, so we highly recommend considering a whip-compatible vaporizer to take advantage of this stellar ZEUS accessory item. All compatible vaporizers will have a compatibility notice.
If you have questions about this vape or just want to let us know what you think, feel free to drop us a comment below! Also, don't forget to follow us on Facebook, Twitter or Instagram to keep up to date with all our contests, sales alerts and other fun stuff! Thanks for reading and as always, keep vapin'! 😉