The Yocan Pandon Wax Pen is the first wax pen that we know of to feature quad-core technology. What this means is the Pandon uses 2, dual coil atomizers to create an extremely potent and punchy vapor experience. This wax pen is not for the faint of heart and is geared towards providing a rig style experience in the palm of your hand. So let's jump right in and see if the Yocan Pandon will knock our socks off!
Review: Yocan Pandon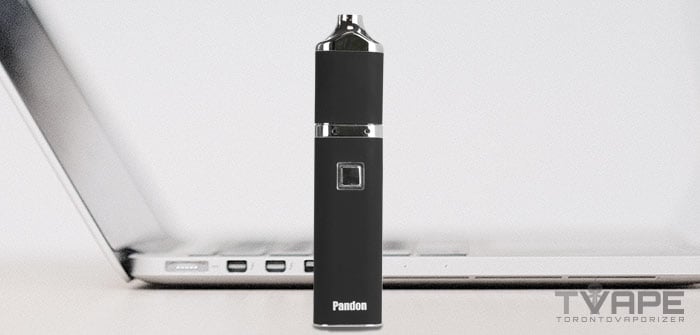 How it Works
To load the Yocan Pandon first pull on the magnetic mouthpiece to remove it from the wax pen and expose the 2 atomizers. Next, unscrew the coil caps to expose the 2 dual quartz coils.
Use the loading tool to place a bit of wax (about half a grain of rice) on each coil, making sure not to touch the coils with the loading tool as it may damage them.
Once the wax is loaded, snap the mouthpiece back into place and you're ready to vaporize.
To turn the Pandon on, press the power button 5 times quickly. To toggle between the 3 available temperature settings simply tap the power button twice quickly.
When at your desired temperature simply press and hold the power button while drawing from the mouthpiece to enjoy your vapor.
Temperature Flexibility
We are happy to see that Yocan programmed the Pandon with 3 available temperature settings. Green is the lowest temperature and fires at 3.5V, blue is the middle temperature and fires at 3.8V, White is the highest settings and fires at 4.2V.
Lack of temperature control was a bit disappointing when we tried the Yocan Magneto, so we are happy to see a bit of flexibility introduced in the Pandon, especially with 2 atomizers. With 2 atomizers you can expect draws to be a bit more intense than what you might expect from a normal wax pen.
Having some temperature flexibility at your disposal will allow you to fine tune your preferred type of vapor.

Vapor Quality
The vapor quality on the Pandon is not going to be for everyone. It is specifically designed as a way to maximize draws, using 2 atomizers simultaneously to drive it.
If you prefer to sip on your wax pen and really taste all the subtle notes within your wax you may want to check out of a unit like the Zeus Thunder 2.
If you are a person who is used to using traditional rigs and prefers large thick clouds of vapor, then the Pandon may be the wax pen for you.
It is capable of producing some serious vapor, especially when set to its highest temperature, however, because of the output the vapor can become harsh quite quickly, so be warned and keep a glass of water handy with this unit. Or better yet, attach the Pandon to an Iceborn for a massive cloud of smooth cool vapor. 

Manufacturing Quality
We have tested several Yocan products over the years and one thing we can say with certainty is for the price, Yocan products are very well made.
The atomizers fire properly without any hot spots and the magnetic cap snaps easily on the body and forms a tight seal.
The power button is responsive and the light around the button is bright and easy to read.
We like that Yocan includes coil caps with their atomizers, this helps cut down on splashes, leaks and also results in a more efficient draw. 

Battery Life
The Yocan Pandon features a 1300mah battery, which, if this was a single atomizer wax pen, would be impressive. However because this unit features 2 atomizers, it is going to draw double the power, which will give roughly the same battery life as a standard single atomizer 650mah wax pen.
The battery life is still decent, just don't expect it to last more than a day or 2 of use before needing to charge it, especially if you are using this unit at the highest temperature.
Luckily the Pandon battery accepts a micro-USB so topping up this little monster on the go is surprisingly easy.

Portability
The Yocan Pandon is a perfectly portable wax unit and will fit easily in a pocket or bag for easy transportation.
However, loading the Pandon on the go is another story all-together. Loading 1 coiled atomizer when out and about is already a hassle, so loading 2 coiled atomizers when trying to quickly get a session in can be a little frustrating and will have you desperately fumbling over your wax, loading tool, cap, and pen.
We really recommend pre-loading your Pandon to avoid this type of hassle.

Ease of Use
The Yocan Pandon is a fairly straightforward device to use. Just like almost every other wax pen on the market, 5 clicks within 2 – 3 seconds turn the device on. 2 clicks toggles between the 3 available temperature settings and you simply press and hold to take a draw.
2 clicks toggles between the 3 available temperature settings and you simply press and hold to take a draw. 
Overall Experience
The Yocan Pandon is a great unit for a niche group of people who prefer super-dense rig-like vapor that would have most of us rushing for a glass of water.
If you are one of these warriors than you are sure to be satisfied with what the Pandon can do. But for the average user, the Pandon is a bit excessive and the 2 atomizers force you to use more wax than you normally would for a session.
If you are looking to get big clouds but in a smaller, more efficient package we would highly recommend checking out the Pulsar APX Wax. This tiny little unit boasts a triple coil atomizer and is almost a stop-gap between a normal wax pen and the Pandon's quad power. It provides a powerful punch of vapor but is less intense overall than the Pandon.
Compatible with ZEUS Iceborn
This vaporizer is compatible with the ZEUS Iceborn, a revolutionary new vapor cooling system engineered by Canadian vape manufacturer ZEUSArsenal. The Iceborn is designed to produce cooler draws and bigger clouds when connected to your vaporizer. The vapour produced is ultra smooth and crisp and because of ice cooling, instead of water filtration, there is no loss of efficiency. The ZEUS Iceborn adds an additional 2 points to the vapor quality score of this vaporizer and is a highly recommended vaporizer accessory.
If you have questions about our review or just want to let us know what you think, feel free to drop us a comment below! Also, don't forget to follow us on Facebook, Twitter or Instagram to keep up to date with all our contests, sales alerts and other fun stuff! Thanks for reading and as always, keep vapin'!