Back in the day bigger was always considered better, but in today's world we put priority on portability and because of this technology has strived to make gadgets smaller and lighter. We have seen the same trend in the vaporizer industry, which started with units like the Volcano but have evolved into pocketable gadgets like the Pax 2.This is a long way of saying today we will be taking a look at the Pulsar APX Wax, a mini wax vaporizer that packs a huge punch. When we say mini, we mean mini, it stands just 3.5" tall making it extremely low profile. Read on to learn how good things can come in small packages. Also be sure to check out our wax pen buyers guide for everything you need to know when buying a wax vaporizer.
Review: Pulsar APX Wax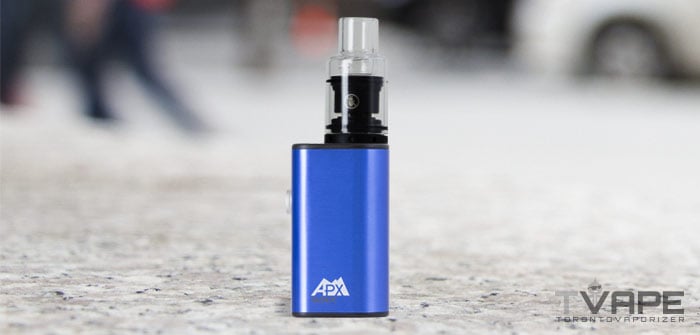 How it Works
First, remove the glass cover/mouthpiece to expose the heating chamber and carefully load your concentrate directly to the coil of the unit. If your concentrates are stickier APX recommends pre-heating the unit for about 4 seconds to allow your wax to easily melt onto the coils.
Once loaded replace the glass cover and turn the unit on. To do this click the power button 5 times quickly, the LED's will flash as the device turns on. Next press and hold the power button to engage the heating element.
The logo on the unit will turn from red to green when the unit has reached drawing temperature and you can begin to draw from the unit while still holding down the power button. When you're finished with your draw release the power button and clear the rest of the vapor in the mouthpiece with the end of your inhale. And that's it; this unit is really simple and straight forward.

Temperature Flexibility
The Pulsar APX Wax, like a lot of other wax pens, is a fixed wattage unit meaning you cannot adjust the temperature that this unit heats up to. Instead, you press the single button to engage the heating element and release it when you are satisfied with your draw.
This unit features 3 Quartz coils giving it a little more power compared to the standard 2 coil setup we see on most units.

Vapor Quality
As we touched upon above, what sets this unit apart for other popular wax units is the 3 Quartz Coil atomizer. 3 coils packs an extra punch to the draw providing denser vapor and larger clouds.
We would describe this unit as a "puncher" wax unit, meaning it's meant for really quick potent hits. It is not designed to be a session unit like the Thunder 2, which you can sip on for 5 minutes, we believe it to be more intended as a hit it and quit it style unit, which is great for those looking to get quick sessions in.
The quartz coils help maintain the flavor on your wax, however because it is a higher temperature flavors may be more muted than will lower temperature pens.

Manufacturing Quality
We were impressed with the manufacturing quality of such a small unit. It feels solid in your hand, buttons are responsive and the LED lights are bring and easy to see. The glass fits nice mouthpiece is nicely designed, free from defects and fits snugly on the atomizer.
The atomizer itself is a quartz dish with 3 quartz rods wrapped with metal coils. Coils are nicely wrapped and heated evenly on the device we received. Overall we couldn't be happier with the manufacturing quality of the unit, especially for the cost of the unit. 

Battery Life
Battery life is decent for such a small unit, we found we could get about 2 days of moderate use without needing to recharge the unit.
What we liked about this unit is the LEDs on the front of the unit actually display the unit's current battery life. This means you always have a good idea of how much battery you have left and when you will need to charge the unit.

Portability
As we mentioned off the top the APX Wax Vaporizer is just 3.5" tall and about 1.5" wide giving it an extremely low profile.
The device can easily slip into your pocket and chances are you won't even notice it once it's in there. This unit is perfect for those who want a small unit to carry around for quick stealthy sessions when out and about.

Ease of Use
Like most wax units available, the Pulsar APX wax functions with the use of one button. This makes interacting with the APX Wax very simple and just a matter of turning the unit on with 5 clicks and pressing and holding the power to engage your heating element. You can't get much more straight forward than that.
Overall Experience
We enjoyed our time with the Pulsar APX Wax and were surprised by the big hits we could achieve from such a small unit. In our opinion we would describe it as a "puncher" unit, meaning that we feel it is more intended for quick potent sessions, just hit it and quit it.
Vapor quality was dense and maintained a decent flavor profile.  The tiny size of this unit means it is extremely portable and easy to conceal. It is perfect for the on the go connoisseur who is looking for a simple unit to get in a speedy session.
If you have questions about our review or just want to let us know what you think, feel free to drop us a comment below! Also, don't forget to follow us on Facebook, Twitter or Instagram to keep up to date with all our contests, sales alerts and other fun stuff! Thanks for reading and as always, keep vapin'!