Sleek, well designed portable vaporizers get a lot of attention, for obvious reasons. One of the ones you hear a lot about is the PAX by Ploom. Beyond the hype, though, this unit has some serious warranty issues and until those are cleared up, unfortunately the product won't be sold up here in Canada. Now this is a huge downer for all you PAX lovers, but fret no more – a new vape has come to town. Meet PAX's little brother from another mother: the Pinnacle. Super simple to use and very well put together, this unit is becoming more and more popular as the days pass. Here's a comparison review of the PAX vs Pinnacle. Find out exactly why PAX's little brother might just be the better brother!
Popular Blog Posts:
To read more about these units, check out the the PAX Vaporizer Review and/or the
Pinnacle Vaporizer Review
, follow the link.
Vapour Quality
Pax
The Pax offers pretty good vapor quality for its size. You do get pretty dense vapour on any of the heat settings, but the temperature of the vapour was a tad too warm. This didn't make sense at first considering where you load your botanicals is a ways away from the mouthpiece. But after some more in depth analysis we discovered that the air pathway up to the mouthpiece is all stainless steel. Now this sounds awesome, but it really isn't. Stainless steel is a strong heat conductor – so this all now makes sense.
Pinnacle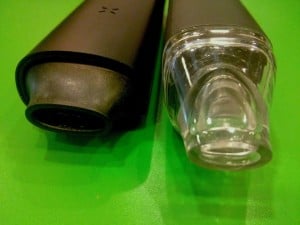 The Pinnacle
produces pretty good vapor for a unit its size. Why is it so good? It's all in the heating chamber design. Not only does it offer an element of convection vaporizing, but good airflow management makes it easier to take the perfect draw to extract the best vapor. Since the heating chamber is right under the mouthpiece the vapor can be a tad warm, but no where near the heat we're talking with the PAX. Also, since the unit is well sealed, no vapor is lost on its way to you. For the serious connoisseurs out there the Pinnacle offers a serious vapor quality upgrade with its Hydro Tube accessory. This mini water filter kicks up the vapor quality of this unit by a couple of notches – pretty darn good to say the least. This is an excellent option for home use, which is great because you can get more out of this unit.
Winner:
Pinnacle – vapor quality is good on its own and taken to the next level with the Hydro Tube.
Manufacturing Quality
Pax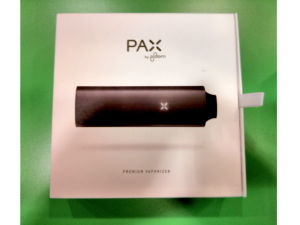 The Pax definitely boasts a beautiful design. It looks super stealthy and even the packaging is well, beautiful. Quoted the "Apple" of vaporizers, Ploom really got the visuals down with this unit. This would be awesome if the most important feature of a vaporizer was looks. But as we all know, performance is kind of important – well, really important. Let's face it, you're not investing $200+ in an electronic device just because it looks nice. So, where does the PAX fail on the performance front? First, the mouthpiece catches a lot of sticky residue during use, so because of the design this means that you will need to clean it after every single use to ensure that the piece doesn't get stuck and keeps working. Second, the heating element is so close to the battery that it significantly lowers the battery life due to the heat. Third, the PAX has some serious vapour leakage. About 20% of the vapor that this unit produces escapes from the poorly sealed oven lid at the bottom of the unit. So every time you take a puff think: ka-ching! And there is goes, lost precious botanical vapor – gone, just gone. Talk about waste! Connoisseurs, this is definitely not the most efficient way to vaporize your botanicals. So, the only great thing about the manufacturing quality of this unit (apart from how pretty it looks) is the warranty – they give you 10 years! This was a shocker in the vaporizing world simply because offering such a long warranty has been unheard of until now. All we can say to this is: 10 years – you'll need it!
Pinnacle
The Pinnacle
has a nice, sleek design. On a snazzy, stealthy scale we have come to a consensus that it's only a point lower than the PAX and that's only because it doesn't have the anodized aluminum exterior. But the operation is much (MUCH) easier and the unit is set up to have zero problems. It's also very durable and self-contained, and incredibly low on maintenance.
Winner:
Pinnacle – looks just as good without all of the manufacturing problems.
Temperature Flexibility
Pax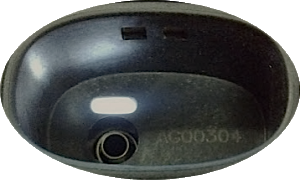 The Pax has three heat settings: 190°C, 200°C, and 210°C. Having three different heat settings is a definite plus – giving you the ability to adjust the vapour density to your liking. It can heat up in only thirty seconds and to change the temperature, you have to pull out the mouthpiece and use the little white button underneath it. A lot of people find this super cool, but we honestly find it a bit of a pain – who wants to interrupt their vape session to pump up the temperature!?
Pinnacle
The Pinnacle has two heat settings: 190°C or 200°C. To switch between the settings, all you do is press the power button once, changing the indicator light from white to orange. That's it. It takes ninety seconds to heat up to the first temperature setting.
Winner:
Pax – three settings instead of two, but keep in mind it's harder to change.
Portability and Battery Life
Pax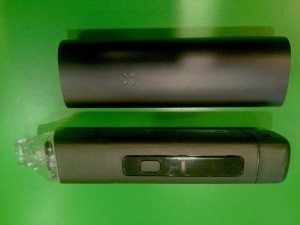 The Pax is 10.5 cm tall, 3.5 cm wide, and weighs 95g. It has the perfect shape and size for portability, there are no breakable parts, and it is 100% self-contained. Where we found it lacking on the portability front was with the battery life and the loose oven lid. Unfortunately, while it claims to offer up to two hours of battery life, but our tests have shown that it actually needs recharging after a mere 30 minutes (and that's on the low to medium heat setting). With regards to the oven lid, as it is magnetic it looses its hold after a while, so we've heard of customers having this part fall off completely, which is not cool.
The Pinnacle is 14 cm high, 2.5 cm in diameter, and it weighs exactly the same as the Pax. It will give you 45 minutes of battery life on a full 3 hour charge. It is also quite self-contained and has no loose parts that could get lost in transit.
Winner:
Pinnacle – better battery life, slimmer, no loose parts.
Discreetness
Since discreetness is mostly a matter of size and shape, these units are tied in this category. They're both pocket sized, stealthy looking, light weight and easy to carry.
Ease of Use
The Pax comes with a lot of extra features. You can shake the unit to see the remaining battery power and it has an auto-sleep function when you put it down. It's more complicated to operate, though. The temperature button is underneath the mouthpiece, so you have to stop vaporizing and take it apart to change temperatures. It has features which seem to make it easier to use, like the retractable mouthpiece and the easily accessible heating chamber, but the way Ploom implemented them makes them liabilities. The Pax requires so much maintenance just to function that it really can't win in this category, since it requires daily cleaning and sometimes even extra work, like lubricating the mouthpiece.
The Pinnacle's one button operation and simple design really make this a prized unit. It has a few less extra features than the Pax, but sometimes less is more. A few nifty features: it tells you when the battery is low and also has an auto-shutoff. A definite bonus is the separate canisters, which make the unit super easy to clean.
Winner:
Pinnacle – foolproof design and operation.

SHOWDOWN
So who's the winner? We're going to go with
the Pinnacle
. PAX is beautiful, we won't deny Ploom that, but we've seen that the unit just doesn't deliver on a number of fronts. The Pinnacle looks a bit more basic, but it actually works much better, without the maintenance and complications. It's amazingly simple and super efficient. So Canadians, don't be upset that the PAX still isn't available in Canada, because a newer, better vape has come to town.
Thank you for reading today's PAX vs Pinnacle vaporizer SHOWDOWN post. As always, if you have any questions or comments, feel free to leave them in the section below.
Take care for now and keep on vapin'!