The Eleaf iKuun i200 is a budget-friendly mod offering up to 200W of power from a 4600mAh internal battery. It can do everything from standard wattage mode to temperature control, and it comes with the popular MELO 4 tank. Let's take a closer look now… Also be sure to check our vape buyer's guides for important information to consider before making your first purchase.
Review: E-Leaf iKuun i200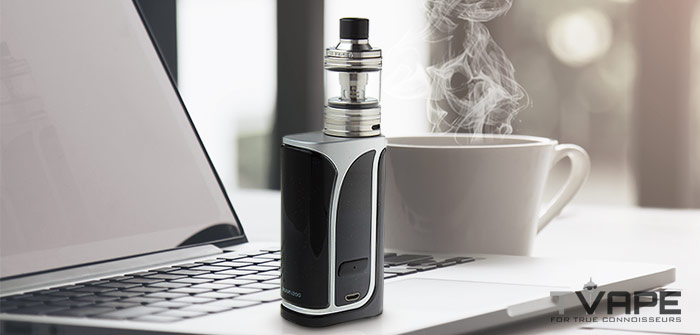 Manufacturing Quality
The manufacturing quality of the iKuun i200 mod is very good. There are a couple of things that I feel are especially worth talking about though.
The first is the built-in 4600mAh battery. I'm not sure if it's a custom battery or just two 18650s, but it's nice to see such a high capacity. Another thing that I like is the temperature regulated charging feature.
This will actually stop charging if the temperature gets too high in order to protect the battery and other components from being damaged. Speaking of, this even has 2A charging.
I mention all of this because this is how you do an internal battery correctly. I've seen a lot of poorly designed mods with internal batteries. The stuff mentioned above is what you should be looking for if you want a good experience with one.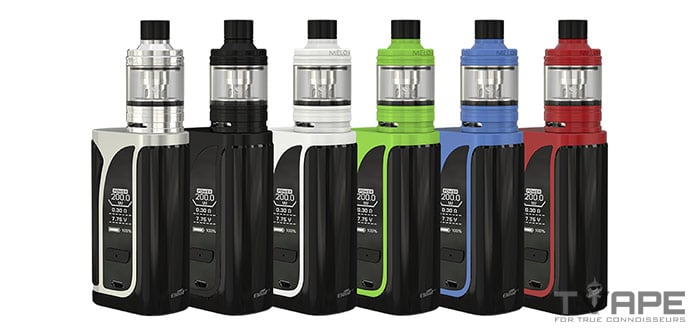 The screen is nice and bright, and the menu has a typical Eleaf configuration. There really wasn't anything updated there. The button layout is a side fire trigger and two buttons for up and down below the screen.
The only downside is that there is a lot of plastic on this, and it feels that way too. It's still very well made, so this shouldn't be a deal breaker.
The MELO 4 tank is also nice. It's got everything you would want from a modern tank, including dual air flow slots that are adjustable and a top-fill design. It has a 25mm diameter and holds 4.5ml of juice. There is also a smaller version for the EU.
My one critique of the MELO 4 is the coils, which I'll go over more in the next section.

Flavor Quality
The MELO 4 tank performs well. The flavor is good and so is the vapor production. With that being said, I am extremely confused by the coils designed for it.
According to Eleaf, the MELO 4 works with their new and improved EC2 coils, which are supposed to be improvements over the original EC coils. Here's the thing, the EC2 coils use a standard design and kanthal. The original EC coils had unique designs and I know at least one had a SS316 wire in it.
While kanthal can work very well, most people will tell you that they prefer stainless steel (or nickel/titanium) over it because the flavor is better. Once you try stainless steel coils, you may even notice a metallic taste with kanthal that you didn't realize was there before.
I just don't get this decision. Why would you go backwards in coil technology on a "new" and "upgraded" coils?

Power Flexibility
The power flexibility for this mod is great, especially for the cost. You're getting up to 200W of power, along with temperature control modes for stainless steel, nickel, and titanium, plus TCR.
The minimum resistance for wattage mode is 0.1ohm. For the TC modes, the minimum resistance is 0.05ohm. The temperature range is the standard 200-600F.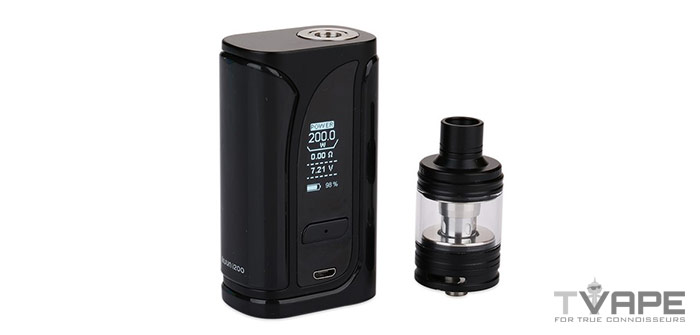 For anyone that has used an Eleaf product before, this should be very easy to use. The menu configuration hasn't really changed at all, so you'll be able to pick this up and know exactly how to use it.
If you're new to Eleaf or vaping in general, I'd say the setup is right around average for vapes as far as how easy it is.
It's no where close to how easy some of the new touch screen mods are, but it's also much simpler than some of the options out there that have gigantic menus and still just three buttons. This one shouldn't be hard to learn.

Portability
The portability is good for a 200W mod. It's debatable whether or not you could comfortably carry this in your pocket. It should definitely fit, but it's not something I want to carry like that for long periods of time.
The mod measures 78.5mm x 45mm x 30mm.The tank adds an additional 52.5mm on top. The 4600mAh battery should last you long enough for plenty of adventures too.

Overall Experience
I think the Eleaf iKuun i200 is an excellent mod for the price.
If you are looking for a high-powered mod with an internal battery, this is one of the best options out there. From the 4600mAh capacity, 2A charging, and overheating protection to the overall power flexibility, you're getting a very versatile mod. It's a great blend of features and affordability.
I'm not sold on the MELO 4 though. Like I mentioned above, the coil choice just seems odd to me. There are better tanks out there, and the iKuun i200 is more than capable of powering just about any of them.
With that in mind, my personal recommendation would be that the iKuun i200 is more than worth the money, but you may want to get just the mod and have some fun picking out the perfect tank for your vaping preferences.
Those just starting out may feel this is too much vape for them and for you I would say check out the Coolfire IV 100W. And for those who want a portable vape that doesn't sacrifice power, I'd highly recommend the Vaporesso Target Mini.
We hope you enjoyed reading our E-Leaf iKuun i200 review! We would love to hear from you! Feel free to leave a comment in the section below, you can do so anonymously 😉 Don't forget to follow us on
Facebook
,
Twitter
or
Instagram
for contests, sales alerts and other fun stuff! Thanks for reading and as always, keep vapin'! 😉