The G Pen Elite is the newest vaporizer from Grenco Science, offering many improvements over previous versions of the G Pen. As we have pointed out in other reviews, G Pens have not always lived up to their vaporizer name, often combusting dried material even when the unit is branded for herbs. The Elite is in a league of its own at Grenco, offering significant design improvements that make this unit a good option when shopping for a portable vape. But with any product, pros are inevitably accompanied by some cons, so let us give you the 411 on the highs and lows of the Elite.
Review: G Pen Elite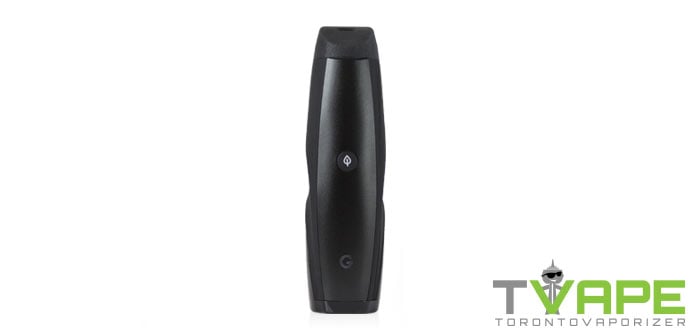 How it Works
The G Pen Elite turns on with five clicks of the power button, just like previous versions of the G Pen. Once the vape is on, a digital LED display illuminates along the side, and there are two buttons that give precise control over the temperature. The heating element is engaged by pressing and holding the power button, and the unit only takes 30 seconds to fully heat. The chamber is accessed by removing the mouthpiece, which easily pushes back into place.

Temperature Flexibility
The temperature flexibility for the G Pen Elite is very good and in an appropriate range for the vaporization of dry herbs. The digital display gives you complete control over what temperature the device heats to, from 200º F to 428º F (93ºC – 220ºC). It is very easy to adjust up or down while in use and you can even toggle between seeing the temperature in Fahrenheit or Celsius by holding the power button and either the up or down temperature buttons. The G Pen Elite vape really puts the user in complete control of their vapor, whether thin or thick is your preference! If we could suggest an improvement to Grenco in this category, it would be to have the power button or 'G' change color when the unit has reached temperature. It would just be a slightly more convenient alternative to looking at the all-blue display on the side to see if the unit is hot and ready to go

Vapor Quality
The vapor quality for the Elite is quite good. In general, the unit puts out smooth and flavorful vapor that is consistent. The precise temperature controls makes it easy to get the exact vapor you enjoy most, but some users may find that the vapor does not cool enough when vaping with hotter temperatures. With the heating chamber set directly below the mouthpiece, there is not much time for the vapor to cool before reaching the user's throat, leading to a warm or dry feeling for some people. The ceramic heating chamber is very similar in design to the Ascent, however the Elite does not feature the long glass vapor pathway which made the Ascent's vapor a force to be reckoned with. A solution to the issue of hot vapor in other vapes is the ZEUS Iceborn, which filters vapor through Ice for chilled draws and frosty clouds. Unfortunately the mouthpiece design of the Elite is not compatible with the Iceborn, so users must grapple with its irritating warm vapor, despite its tasty flavour.

Manufacturing Quality
Aside from putting the heating chamber so close to the mouthpiece, the design and materials for this vaporizer are good. The unit is very small and ergonomically designed, with a slick all black exterior. It's clear that a lot of attention was put into the shape of this vape, as it fits very nicely in the hand and even has an indented grip area in the middle that is meant for your index finger. The all-ceramic heating chamber is massive, measuring ¾ of an inch deep, fitting a considerable amount of dry ground herbs. Some people find that a large chamber in a portable is actually more of a hassle than a blessing because the need to fill it entirely or risk uneven vaporization. So depending on your personal preference, you may find the chamber inefficient for your needs – just something to keep in mind if you prefer the efficiency and herb-preservation that micro- units like Vapman can provide . The rapid heat up time of 30 seconds is also great, easily beating industry standards and averages for dry herb vapes, although pen vapes still take the cake in this category. The digital display is also well made, designed seamlessly into the rest of the unit so that you can't even tell it is there unless it is on. Furthermore, while the exterior is all plastic, it doesn't feel cheap. It actually feels the opposite, like a rather well-made and higher-end device, despite its budget-friendly price point, under $200.

Battery Life
The G Pen Elite has a 2200 mAh lithium ion battery that can charge in 3 hours or less. A fully charged battery should last somewhere between 6 – 12 sessions, depending on what temperature setting is used, how dry your herbs are and how much you pack in the chamber. The digital display also shows the remaining battery life in the form of bars, which is a nice extra feature offered in similar units like the ZEUS Smite Plus. It is important to note that the battery is internal and in no way removable or replaceable. Other newer portables like the Prima by Vapir or the Arizer Air have opted for batteries which are easy to use and replace, meaning you can extend the standard battery life of the unit by simply swapping it out when it dies. Furthermore, an issue with internal batteries is, if they deteriorate and die, the whole unit is useless. Considering this unit is very new to market and only comes with a 1 year warranty, it will be interesting to see if warranty issues related to the battery ( or anything else for that matter ) appear early on, or if this unit can stand alongside tried and true beasts like the Arizer Solo, which connoisseurs have reported to still be using 4+ years after purchase.

Portability
At only 4.4 inches tall, this vape is competitive with just about any other in terms of portability. It is comfortable to carry in the hand, but durable enough to carry around in a pocket or a bag. The lack of glass or easily removed components means that you are unlikely to break or lose a piece under normal circumstances. As discussed, the battery life could be better, so if you are looking for a unit that wont need to be charged for days, we encourage you to investigate units with 3 hours of vaping goodness of a single charge, like the Utillian 650.

Ease of Use
We found the G Pen Elite to be very easy to use. The buttons are intuitive, and the display leaves no doubts regarding the temperature setting or battery life. A particularly convenient feature is its pass-through charging ability, meaning that if you forget to charge it you can still use it while it is plugged in! However this unit does not come with a wall charger option so an adapter is in order, unless you always have your computer close by. The screen is a bit finicky to get out as you will need a small pin or pokey tool to slide it out of the mouthpiece and we've noticed this task does get a little more cumbersome when there is much residue built up.
Overall Experience
Grenco Science has really stepped up their game with the G Pen Elite, considering their former herbal options burned, rather than vaporized, and/or were cheap re-branded units from China. There is no doubt that it is the best vaporizer in their lineup, and it offers enough features that it can be considered as a good competitor in the $200 market. The design is awesome, the heating chamber is huge, and the precise temperature control is something more vapes need to start offering. On the other hand, the vapor is unreasonably hot, and the battery life isn't the greatest. All in all, this is an above average vaporizer that we enjoyed testing and give kudos to Grenco for, for stepping up their game. If you want to check out the latest price of the Elite, just follow the link!
However for some, the warm vapor and 1 hour battery life may be a deal breaker, so if you are looking for something in the same price range that will solve these two issues while still providing precise temperature control and a nice-sized heating chamber, we recommend checking out the ZEUS Smite Plus vaporizer.
Warning: Not Compatible with ZEUS Iceborn
This vaporizer is not compatible with the ZEUS Iceborn, a revolutionary new vapor cooling system designed to produce cooler draws and bigger clouds when connected to your vaporizer. The ZEUS Iceborn adds an additional 2 points to the vapor quality score of compatible units, so we highly recommend considering a whip-compatible vaporizer to take advantage of this stellar ZEUS accessory item. All compatible vaporizers will have a compatibility notice.
If you have questions about our Elite Vaporizer review or just want to let us know what you think, feel free to drop us a comment below! Also, don't forget to follow us on Facebook, Twitter or Instagram to keep up to date with all our contests, sales alerts and other fun stuff! Thanks for reading and as always, keep vapin'!