Joyetech has be introducing users to the vape world for years now. Their EGO One is one of the best starter units for beginners, it is simple and straight forward and a great introductory for new comers. Today we will be looking at the latest version of the EGO line, the Joyetech EGO AIO. We didn't think it was possible to create a simpler starter unit but somehow Joytech has done it again. So if you are new to vaping and looking for your first unit be sure to check out this review.
Review: Joyetech EGO AIO Review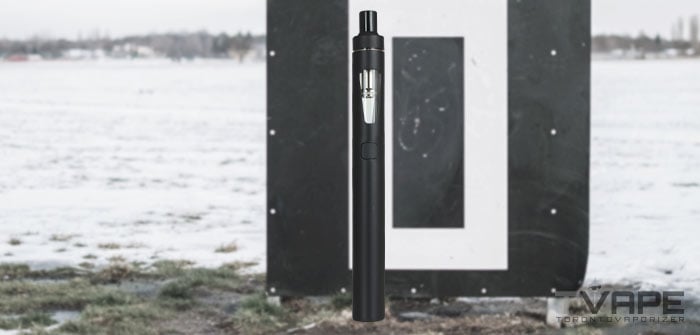 Manufacturing Quality
The name of this unit, AIO, actually has a lot to do with how this unit is constructed. AIO stands for All-in-One, meaning that unlike other units that have multiple parts like a battery and tank, with the AIO they are all built together into the unit for a uniform and hassle free experience.
The unibody construction looks really clean and features 1 button and a micro USB port for charging. In all honesty this is probably one of the best looking starter units ever released and will get you nothing but compliments.
The tank and coil is easily accessed by unscrewing the top of the unit for quick refilling and simple maintenance. The mouthpiece (also known as a drip tip), features a spiral air pathway that helps to safeguard against spitback, which is something we wished all units incorporated.
The tank of the AIO also lights up for a unique and flashy vapor experience. You have 5 colors to choose from, blue, green, teal, yellow, and red. While this adds nothing to the functionality of the unit it is a cool way to customize your unit and is something not offered by any other company. So if you are into flashy things, the EGO AIO may be right up your alley.

Flavor Quality
People usually associate starter vapes as lesser units because not as much technology gets put in them and because they are geared towards beginners who would not be able to tell if they are getting the best vapor from their unit.
We can happily say that the EGO AIO shatters this expectation providing some of the best flavor we have ever experienced from a pen vape starter unit. Not only is the flavor great but you are able to achieve some serious clouds with this unit.
So even if you are not a newbie and are just looking for a competent pen vape to take with you, the EGO AIO are certainly worth a try.
Power Flexibility
Most starter units do not include power flexibility, they do this to keep the unit simple and so the user does not have to waste time researching ohms and wattage to achieve decent vapor. The EGO AIO is no exception and only operates at a fixed wattage that is determined by the battery based on the coil you load in the unit.
The EGO AIO comes with 2 stainless steel .6ohm coils, so you do not get much variety when it comes to the type of vapor you can produce. However it does use the start EGO coils, so you could theoretically purchase a coil with either a higher or lower ohm rating to customize the type of vapor. However if you are new to vaping the coils provided are more than adequate to start, it is just nice to know you have the option.
Just because this unit does not have power flexibility does not mean it won't be able to blow big clouds. In fact for a pen vape this unit blows some of the biggest clouds we have seen from a unit this small making it a satisfying experience right out of the box.
Ease of Use
The All-in-One nature of the AIO oozes simplicity. There is no need to learn how to construct a tank or mount it on the battery. This is all taken care for you taking a lot of the stress out of vaping. All you need to do is prime your coil before installing, install the coil, and then fill with e-liquid, it really is that easy.
This unit also features a unit mouthpiece which features a spiraled air pathway. This is designed to prevent spitback, the nemesis of a vaper. Sometimes unvaped liquid hits the coil and "pops" shooting a tiny droplet of lava hot liquid at your tongue, which is no fun and can be very frustrating. To ensure beginners do not go through this traumatic ordeal Joyetech has designed this unique drip tip to combat this and leave your tongue burn free, hooray! We really wish this was something that was adopted by other companies and it can really change your experience with a unit.
Portability
The EGO AIO is considered a pen shaped unit which makes it very portable. It can easily be stored in a pocket or purse when taken out for a day and most of the time you will forget you have it on you.
The unit features a 1500mah battery which should be ample enough to last throughout a day of moderate vaping. If you do find yourself without a charge the unit has a micro USB charging port so you can easily find a spot to charge up your device.
Overall Experience
So if you are new to vaping and are having a hard time deciding where to start we highly suggest checking out the EGO AIO. It is the perfect introductory unit to the world of vaping offering a hassle-free cloud filled experience.
From its unibody design, easy top-fill tank system, and spiral "spit resistant" mouthpiece, its hard not to love the EGO AIO. Hell, we are experienced vapors and this starter unit knocked our socks off, so if it even impresses a seasoned cloud chaser it will be good enough for you as a novice.
We hope you enjoyed reading our Joyetech EGO AIO review! We would love to hear from you! Feel free to leave a comment in the section below, you can do so anonymously 😉 Don't forget to follow us on 
Facebook
, 
Twitter
 or 
Instagram
 for contests, sales alerts and other fun stuff! Thanks for reading and as always, keep vapin'! 😉