As one of the most popular wax pens on the market, you've probably at least heard of the KandyPens Galaxy before. Today we'll be reviewing this fashionable pen, giving you an insight into how it works and whether or not you should buy one.
If you're just here for the highlights, this pen vape is impressively good. The quartz atomizer puts out thick clouds with flavorful vapor, and this is one of the most attractive wax pens available on the market. One look at it and you can see how sleek it is. There is a reason that people seem to love it so much.
If this has your interest piqued, keep reading to get the full scoop on this sought-after wax pen…
Review: KandyPens Galaxy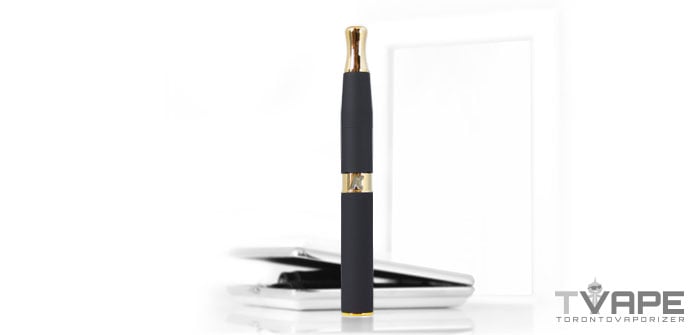 How it Works
The Galaxy has a single button and turns on with five clicks. Users can choose between three different heat settings, which are toggled by clicking the power button three times. Once a setting is selected, the device will heat whenever the button is held. There doesn't seem to be any delay at all, so you'll get nice results from even short draws.
The atomizer contains dual quartz rods wrapped in titanium coils, and the chamber is lined with quartz crystal. If you're not familiar with a setup like this, it's designed for concentrates and dried material can't be used in the Galaxy at all.
The atomizer is advertised as being able to hold up to .5 grams, but let's be honest that is a bit much even for the most seasoned connoisseurs. We found it worked best with about the amount of a grain of rice.
The battery is charged via USB with a charger that connects in the same place as the atomizer, so you won't be able to use this wax pen while it is charging. Both connections are threaded.

Temperature Flexibility
As mentioned above, the battery has three different power settings. The button that is used to turn on the device and cycle these power settings is backlit, and has different colors to correspond with each level.
Red is the lowest, green is in the middle, and blue is the highest. The difference between all of these isn't huge, but you'll definitely be able to get bigger clouds on the higher setting.
To learn more about how temperature affects your vapor check out our blog here.

Vapor Quality
Vapor quality is outstanding. When it comes to vaping concentrates, the materials used to make the atomizer make a big difference in the overall flavor of the vapor.
The quartz rods, titanium coils and quartz lining all combine to deliver a very pure flavor that is extremely pleasant.
On top of this, the Galaxy is an excellent choice if you are a fan of thick, visible clouds. 

Manufacturing Quality
Manufacturing quality is also great. The unit feels very sturdy for its size, and everything is extremely sleek and well machined.
The materials used are all excellent, and the battery portion even comes with a lifetime warranty!
A company willing to stand behind their products for that long is a great sign that they put a lot of effort into making a quality product. 

Battery Life
Once again, the Galaxy continues to impress. Dual rods tend to draw more power than units with a single rod, meaning their battery life also suffers.
This isn't a noticeable problem with this wax pen, as it lasted longer than we expected it to. While the amount of draws you'll get from it will vary considerably based off of the power setting you use and the length of your draws, you should have no problem getting over 100 draws per charge.
Keep in mind, that's at the low end. We've seen reports of people getting over 200 draws on a single charge. Even with frequent use, that could easily last several days.

Portability
You'll have no problem taking this wherever you go; it is a pen vape afterall! It's small and well built, with no moveable parts or fragile components on the exterior.
The long battery life definitely is nice in this regard, as you can take it along with you wherever you go and not worry about needing to charge it frequently.

Ease of Use
You really can't get any easier than this. All you have to do is load your preferred concentrate, turn the unit on and enjoy!
Heat is only generated when the button is held down, so you don't have to worry about something hot being left lying around.
There's also a 10-second auto shutoff, so the battery will be preserved if you turn it on and forget about it. Cleaning is even easy, as normal isopropyl alcohol is safe to use on the atomizer.
The atomizers are disposable though and will need to be changed after a few months of use or when flavor has been compromised.

Discreetness
This is a very small wax pen, and you can pretty much cover the entire thing with your hand. You should have no problem keeping attention away from the pen vape itself. The one problem regarding discretion is actually one of the Galaxy's strengths, as the big clouds may attract unwanted attention.
If you are looking to go unnoticed, you'll want to try one of the lower two power settings and take draws of about four seconds or less. Play around in a controlled environment and figure out what you are comfortable with. For more stealthy sessions we recommend the Zeus Thunder 2, which is marketed as a low temperature, low profile wax pen. 
Overall Experience
The KandyPens Galaxy is definitely a wax pen that we recommend trying if you enjoy concentrates and aren't looking for something that can handle dried material as well.
This is one of the most attractive pen vapes that we have tried, and the vapor quality is superb. The flavor is pure and the clouds are excellent, so there really isn't anything more that you could ask for.
If you are looking for a device that can handle concentrates and dry herbs, a good starting point would be the V2 Pro Series 7. If you have the money to spend, also check out the Firefly 2.
While checking out wax pens, make sure to check out our Buyers Guide which is full of helpful information so you can make an informed decision when choosing your next piece.
Compatible with ZEUS Iceborn
This vaporizer is compatible with the ZEUS Iceborn, a revolutionary new vapor cooling system engineered by Canadian vape manufacturer ZEUSArsenal. The Iceborn is designed to produce cooler draws and bigger clouds when connected to your vaporizer. The vapour produced is ultra smooth and crisp and because of ice cooling, instead of water filtration, there is no loss of efficiency. The ZEUS Iceborn adds an additional 2 points to the vapor quality score of this vaporizer and is a highly recommended vaporizer accessory.
If you have questions about our review or just want to let us know what you think, feel free to drop us a comment below! Also, don't forget to follow us on Facebook, Twitter or Instagram to keep up to date with all our contests, sales alerts and other fun stuff! Thanks for reading and as always, keep vapin'!