Today we'll be reviewing the Ooze Weeper XL kit, a concentrate vaporizer that comes with a bubbler for water filtration. This is kind of like a hybrid between a wax pen and a portable rig. It uses a small, pen-style battery with a dual quartz rod and titanium coil atomizer just like a lot of wax pens, but it has the water filtration on top like a rig. It's certainly enough to get your interest piqued, but let's find out if it performs well enough to be worth the money. And if this is your first wax vaporizer be sure to check out our Wax Pen Buyers Guide for helpful info and tips.
Review: Weeper XL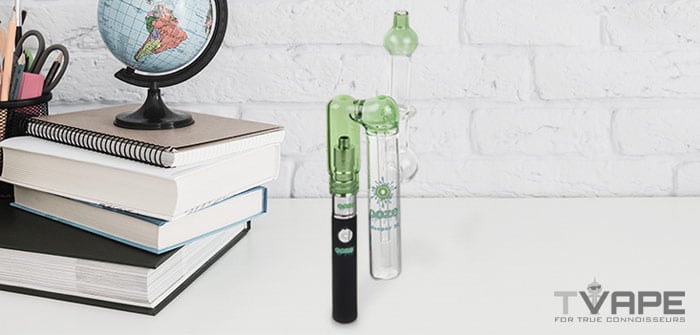 How it Works
The Weeper XL kit includes a 650mAh battery, 2 dual quartz rod and titanium coil atomizers, a USB charging adapter, a silicone container, a dab tool, and the Weeper XL glass bubbler attachment. This is everything you need to start using it.
The battery is extremely basic. There's just one button to turn it on and off, and it outputs a constant 3.7 volts to the coils. This means using it is really as simple as putting it together and turning it on.
Temperature Flexibility
This doesn't offer any temperature flexibility at all. As I mentioned above, the battery is only capable of outputting a fixed voltage, specifically 3.7 volts.
I couldn't find any indication of what the max temperature is on this, but I assume it is pretty high considering the automatic shut off doesn't kick in until 20 seconds. The longer this is on, the hotter it will be.
If you use it once and then turn it back on right away, it will almost certainly continue to get hotter. If it gets too hot, you can cause damage to the battery. I personally wouldn't recommend using this more than one or two times before letting it cool for this reason.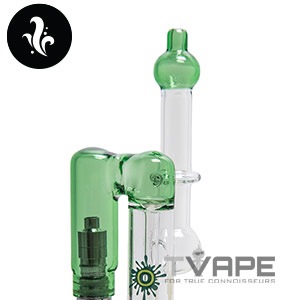 Vapor Quality
The vapor quality is okay. The setup they have going with the battery and coils isn't exactly a recipe for great flavor, but the water filtration helps to make sure that each draw is at least smooth. If you are switching over from using a flame, you'll likely enjoy this very much. If you have any experience with other vaporizers that deliver good flavor, you may find the vapor from this to be disappointing.
When it comes to actual vapor production though, the Ooze Weeper XL excels in this category, I found the capped atomizer really helps you get those milky draws. It may not taste the best but it draws fairly well.

Manufacturing Quality
The manufacturing quality is also pretty average. Like I've already mentioned, the battery is about as basic as you can get. There's a button to turn it on and that's it. Once it's on, it's going to keep pumping 3.7 volts to the coils until 20 seconds has passed.
The coils aren't bad, but they certainly aren't anything special either. Dual quartz rod and coils are the standard issue for concentrate pens now, even on the cheap end of the price scale.
The glass is the nicest part about this, although I would have liked to see more percolation in the water chamber.
Battery Life
The battery in this kit has a 650mAh capacity. This is a fairly standard battery size for pen-style concentrate vapes. While it isn't going to last you all that long time-wise, it should deliver a good amount of sessions considering each one is only 20 seconds long.
In other words, this should last you through a full day of heavy use or a few days of light use.

Portability
There is too much glass for me to call this portable. It's not just the presence of the glass though, it's also the design and location of the glass.
It bends down along the side of the battery, and there are a couple connecting areas that would be very easy to snap if you bumped it from the mouthpiece side.
You can try taking this with you places if you really want, but it will only be a matter of time before it breaks.

Ease of Use
This is very easy to use. Like I've mentioned above, there is only one button on the battery and the bubbler just slides over top of the coils.
There aren't any settings to play around with at all, which means the only thing you have to figure out is how to turn it on. Even that is as simple as clicking the button five times.
The hardest thing about using this is going to be getting water inside the small mouthpiece hole when it's time to fill it up. I'm hoping you can handle that.
Overall Experience
The Ooze Weeper XL kit is exactly what I expected it to be coming in to this review. In other words, it's a cheap way to vape concentrates with the added bonus of coming with a glass bubbler. For the price, performance is pretty good, and even though the manufacturing quality is average at best, it gets the job done.
Considering how cheap you can get it (especially if you find it during a sale), this may not be a bad deal if you just want something inexpensive and temporary.
With that being said, you can get much better units for not that much more money. Don't get too distracted by the glass bubbler. All it really does is decrease the portability and mask harsher vapor. You can get something that produces vapor that's just as enjoyable without the need for filtration, and reap all the benefits of portability as well. One option that comes to mind is the Thunder 2. You'll get much better flavor from that compared to this setup.
If you are looking for a portable e-nail that has temperature control and the bonus of having a herb attachment as well, we would encourage you to check out the Focusvape Tourist.
If you have questions about our review or just want to let us know what you think, feel free to drop us a comment below! Also, don't forget to follow us on Facebook, Twitter or Instagram to keep up to date with all our contests, sales alerts and other fun stuff! Thanks for reading and as always, keep vapin'!