Today we are happy to be reviewing the newest flagship unit from SourceVapes, the Source Orb 4. SourceVapes is known for their dedication to quality and performance in the wax pen world. This unit builds upon the triumphs of the Source Orb 3 while adding innovation in the form of new atomizers and a magnetic mouthpiece. Also if this is your first time purchasing a wax pen, be sure to check out our Wax Pen Buyers Guide which is full of helpful tips of what to look for when purchasing your first pen.
Review: Source Orb 4 Premium Kit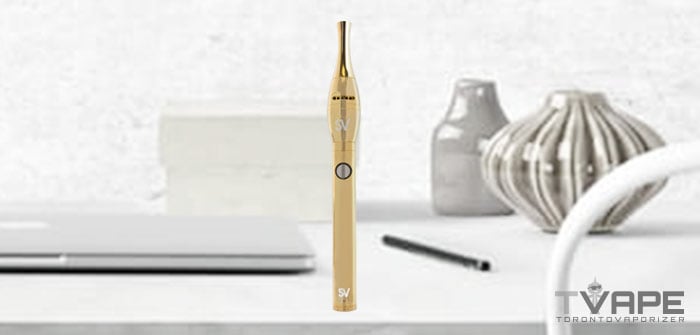 How it Works
The functionality of the Source Orb 4 premium kit is actually pretty similar to how the Source Orb 3 worked. Press the button 5 times to turn the device on and off. You can change the voltage by twisting the dial found at the bottom of the battery. The Source Orb 4 now features a magnetic mouthpiece, simply pull the top of the mouthpiece to disconnect the magnets and reveal the atomizer bay.
Choose your desired atomizer and screw it into the mouthpiece and load it with your choice of concentrate. Snap the magnetic mouthpiece back into place and you are ready to vaporize. Next just press and hold the power button while drawing from the mouthpiece.
Temperature Flexibility
Temperature on the Source Orb 4 Premium kit is controlled through a dial at the bottom of the battery that allows you to set the voltage. Voltage can be set anywhere between 3.2v to 4.8 volts with 8 settings in total. With wax pens we are used to a standard of 3 temperature settings, in fact the Linx Hypnos Zero delighted us with 4 heat settings, so the fact that the Source Orb 4 has 8 settings is impressive to say the least.
This means that you will be able to really fine tune the type of vapor you like to enjoy from your wax pen. For those who look maximum flavor we recommend a lower voltage setting and for those who want to achieve some clouds we recommend going higher. Chances are your sweet spot is somewhere in between so play around with the settings until you find something you like.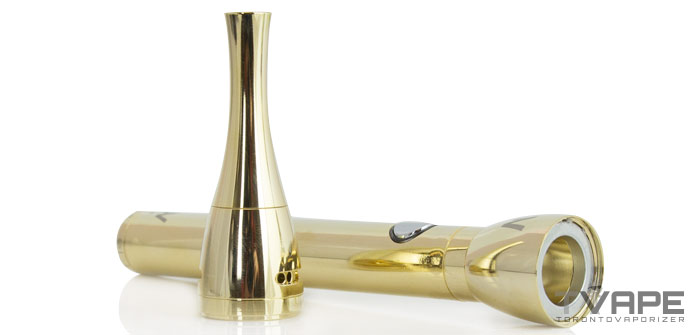 Vapor Quality
Not only does this device have 8 heat settings, it also supplies you with 6 different atomizers to further fine tune your vapor. 4 atomizers are coiled and 2 are more of a bucket design. We found that the coiled atomizers produced amazing visible vapor, while we found the buckets better for preserving flavor.
No matter which atomizer you use there is one thing that is the same, amazing vapor. Each atomizer gives you a slightly different experience but results in a great vapor experience. It is almost like having 6 different wax pens rolled into one. Who doesn't love a little variety?
Manufacturing Quality
One thing we have always liked about SourceVapes is the quality of their products. The Source Orb 4 premium looks gorgeous right out of the box, we love the titanium gloss finish and feel it gives a really quality aesthetic. Unlike most wax pens, which tend to feel cheap, the Source Orb 4 really feels like you are using a premium piece of hardware.
And that is because you are, Source prides itself on only using the best materials and it shows, literally. Source uses Grade 1 titanium for its coils; which is one of the best materials to use for a heating element. How you can tell Source actually used Gr.1 titanium and not just claiming to like some other wax pen companies is by looking at the color of the coil after its heated. Gr. 1 titanium will turn bluish purple as it anodizes and if you heat your orb 4, sure enough your coils will turn bluish purple. This really pleases us because it shows that SourceVapes really cares about their products and their users, offering truly premium products not clever marketing.
The mouthpiece of the unit is also made from titanium and now features a magnetic locking system rather than the threading seen on the Source Orb 3. The addition of a magnet is both a blessing and a curse. With threaded wax pens, threads tend to get gummed up with oil over time making them harder to unscrew and needing frequent cleaning. Using magnets instead completely eliminates this problem but introduces a new problem which is that the chamber can easily open if it is left in your pocket. So there is a bit of a trade off in terms of convenience.
Battery Life
The battery on the Source Orb 4 is pretty similar to that of the Source Orb 3 and it is probably due to the fact that they really did not change the battery size. Relative to other wax pens on the market the Source Orb 4 will require you to charge it more often. However relative to other wax pens this unit is extremely powerful which is more taxing on the battery, so I guess with great power, comes average battery life.
Portability
The Source Orb 4 is portable to the point where it is pen shaped and small enough to fit in a pocket. However it is certainly not the most portable wax pen available. It is a bit larger than most wax pens, especially with its unique mouthpiece style. As we touched upon the magnetic mouthpiece really is the bane of this units portability.
From experience we have had the mouthpiece open while it was in our pocket, luckily it wasn't loaded but if it was we would have been extremely frustrated. For this reason we really can't recommend putting it in your pants pocket, maybe a jacket pocket would work better or a backpack. It is a shame that the magnetic cap causes this issue because I really do like how the magnets work otherwise making it super simple to access your chamber, especially on the go.
Ease of Use
The Orb 4 Premium kit is very easy to use and only features 1 button. The voltage controls are easily accessed via the dial on the bottom. The hardest part of the whole unit is deciding which atomizer you want to use.
The magnetic mouthpiece though a hindrance to portability is a godsend when it comes to ease of use. It makes loading your pen or changing coils far more pleasing than to having to constantly unscrew and screw back on the mouthpiece whenever you want to use it. Not to mention how threads had a tendency to get stuck with oils.
Overall Experience
If you are looking for a versatile wax pen that gives you tons of control over your session and plenty of options, the Source Orb 4 premium kit may be the one for you.
With 6 different atomizers and 8 heat settings the combinations are endless. Each time you use the Source Orb 4 it can feel like a completely new and exciting experience.
The coiled atomizers blew us away with cloud production, while the bucket coils had us salivating over the flavor. The new magnetic mouthpiece offers convenience to loading and swapping atomizers, but hurts portability as it can separate in your pocket making it better suited for home use.
We love that SourceVapes always uses the best materials for their products ensuring reliability and performance. This unit really is one of the best wax pens currently available. If you are looking for a unit that is more portable we definitely recommend checking out the Zeus Thunder, which would be the perfect portable companion for the Orb 4.
If you have questions about our review or just want to let us know what you think, feel free to drop us a comment below! Also, don't forget to follow us on Facebook, Twitter or Instagram to keep up to date with all our contests, sales alerts and other fun stuff! Thanks for reading and as always, keep vapin'!