It was just over a year ago that Utillian launched their Utillian 720 and since then it has grown to be one of the most popular units in North America. Utillian recently launched an update to the 720 to address one crucial area, battery life. The Utillian 721 keeps all the same features we have grown to love about this little convection unit, but the battery capacity has been increased by 15%.  If you were interested in the 720 you should be even more interested in the 721 because of this improvement. Keep reading to learn all about this wonderful budget friendly convection unit and what it has to offer.
Editors Note: The Utillian 721 has been getting a lot of attention from other blogs comparing this unit to a budget Crafty, in fact Vapesterdam did a post comparing the 2 units that we believe is worth a read if you are interested in how it stacks up against one of the best.
Review: Utillian 721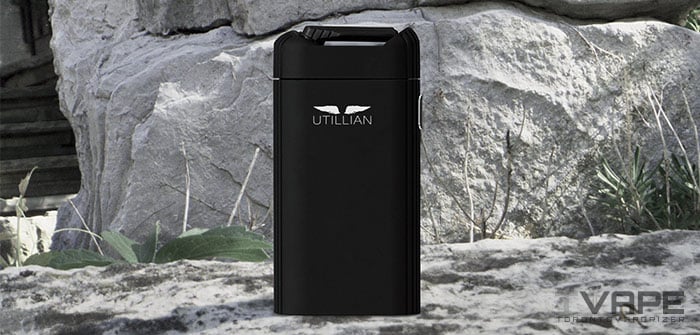 How it Works
The Utillian 721 was designed with simplicity in mind. First remove the magnetic cap to expose the heating chamber and to load your botanical.
The 721 only uses 1 button to operate the device, 5 quick clicks turns the device on and it will begin heating to the last set temperature. To cycle through the temperatures you click the button 2 times.
And pressing and holding the button will enable/disable the "enhanced" mode. When the temperature light at the top of the chamber turns solid it has reached temperature and you are ready to enjoy your vapor!
If you are a wax connoseuir you will be pleasantly suprised to know the 721 is also capable of handling waxes and concentrates. Simply load the included wax cannister with about half a bb sized amount of wax.
Heat the 721 up to the highest temperature and drop in the wax can for a tasty concentrate session. However be sure not to overload the wax cannister or you will be left with a sticky mess in your chamber.
Temperature Flexibility
Despite having just 1 button the Utillian 721 actually has pretty decent temperature flexibility. The unit has 4 pre-set base temperatures indicated by the color of the LED at the top of the device – green is 170 Celsius, Blue is 180 Celsius, purple is 190 Celsius, and red is 210 Celsius.
The unit also features an "enhanced" mode which when active bumps each of the base temperatures up by 5 degrees Celsius. To enable or disable the "enhanced" mode press and hold the button for 5 seconds, the LED will blink rapidly to signal the unit is in "enhanced mode" and a slow flash means its set to "standard mode". As previously stated once the LED has turned solid you are ready to start vaping!

Vapor Quality
One thing we absolutely love about this unit is the fact that it uses convection heating. In a convection vaporizer your herbs are being cooked by hot air as it passes your herbs, rather the direct contact with the heating element like in conduction vaporizers.
The result is smoother more flavorful draws throughout the session and more consistent vapor. You can learn more about convection vaporizing here.
Pair the convection heating of the 721 with its multiple temperature settings and the result is amazing and customizable vapor quality that can satisfy both new users and seasoned users alike. At lower temperatures draws are smooth, flavorful with nice wispy vapor. At higher temperature vapor is nice and dense, you will have no trouble getting big draws from this device.
Flavor is still very good at higher temperatures, though it can be a bit harsh at its highest temperature which is to be expected. Some users may be wary because the mouthpiece is made out of plastic, however in our testing this had virtually no effect on the flavor, similar to how the crafty' s mouthpiece also does not influence taste.
Oh and did we mention that the Utillian 721 can also handle waxes and actually excels at it? Well it does, using the included wax cannister provided seriously flavorful terpene rich draws from first to last. It seriously impressed us that the Utillian 721 is able to handle both herbs and waxes with such grace and flavor, the convection heating is on full display.
Overall vapor quality is where this unit shines and draws can easily be customized to your preference. For the price point it's really hard for any comparable unit to beat the Utillian 721's vapor quality.

Manufacturing Quality
This unit feels really nice in your hand. The shell is made out of anodized aluminum and coated with a rubberized finish and the cap is made out of heat-resistance plastic.
All parts are well machined, it has a nice large stainless steel heating chamber and cap/mouthpiece clicks snuggly into place with a magnet.
The screen, o-ring, and mouthpiece on the cap can be easily removed to access the air path for cleaning and maintenance. Utillian also backs this product with a year 1 warranty for added piece of mind.

Battery Life
The battery life on the 721 has been upgraded over the previous model now boasting up to 60 minutes of use per charge.
This means you will get to spend more time vaping and less time worrying about charging your unit. There is an indicator light on the bottom of the device that allows you to check your charge level.

Portability
The Utillian 721 was designed with portability in mind. The unit is slim and fits easily inside a pocket and is light enough that you won't even notice you are carrying it.
The mouthpiece is designed to swivel out so it can remain flush with the unit for easy storage. Couple this with the unit's excellent battery life and you've got a vaporizer that is great to bring out and about.

Ease of Use
As we touched upon earlier in the review, this unit is very easy to use. The 1 button design means interacting with this unit is a simple matter of inputting different combinations of button presses for corresponding functions; just 5 clicks within 2 – 3 seconds to turn it on, 2 clicks to change temperature, and a long press to enable and disable the enhanced mode.
All temperatures are represented by the LED at the top of the device. This vaporizer is simple, intuitive, and will be very inviting to new comers who are looking for an easy to use unit that will perform well out of the box.
Overall Experience
The Utillian 721 is a very strong showing from a manufacturer that is still in its infancy. Vapor quality is outstanding with the incorporation of convection heating and beats most units that share a similar price point. And the fact that it does impressively well at vaporizing concentrates as well is an added bonus, in fact, we would be comfortable using it just as a wax device.
The unit also has decent temperature flexibility with its "enhanced mode" function, allowing you to easily customize your session and achieve the vapor that is right for you. Battery life is excellent and outperforms even high-end units like the crafty in this category making it very appealing for people who are looking for a unit they can take with them for the day.
This unit is easy enough that it will be inviting for new comers to use right out of the box but sophisticated enough to provide more seasoned connoisseurs a truly satisfying vapor experience. Overall we were very impressed with the Utillian 721, it is a very well rounded vaporizer at a very attractive price. If you are interested in one head over to TVape to secure yours today!
Compatible with ZEUS Iceborn
This vaporizer is compatible with the ZEUS Iceborn, a revolutionary new vapor cooling system engineered by Canadian vape manufacturer ZEUSArsenal. The Iceborn is designed to produce cooler draws and bigger clouds when connected to your vaporizer. The vapour produced is ultra smooth and crisp and because of ice cooling, instead of water filtration, there is no loss of efficiency. The ZEUS Iceborn adds an additional 2 points to the vapor quality score of this vaporizer and is a highly recommended vaporizer accessory.
If you have questions about our Utillian 721 review or just want to let us know what you think, feel free to drop us a comment below! Also, don't forget to follow us on Facebook, Twitter or Instagram to keep up to date with all our contests, sales alerts and other fun stuff! Thanks for reading and as always, keep vapin'!