The process of vaporizing is (simplified) a three step process. First is the application of heat to a batch of botanicals. Second is the subsequent extraction of essential oils from the botanicals. Third is the turning of these oils into gas molecules. The result of this process is the formation of vapour.
 How do Conduction and Convection Vaporizing Differ?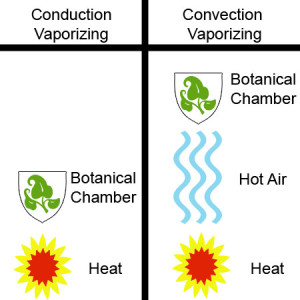 This is the best video i could find on this subject. Enjoy watching it as it is short and to the point, and after continue reading and by the end of the post you'll be an expert!
There are two types of heating styles: conduction and convection. Now, you may be thinking: "as long as steps two and three happen, the heating style shouldn't matter, right?" Wrong! These two types of heating styles greatly impact the quality of vapour produced, so it's definitely good to know not only the differences between these two styles, but more importantly, which vaporizers offer conduction vs. convection vaporizing. So, let's go through the science behind these two heating styles, the pros and cons of each and the top performing units in each style category.
The Science: Conduction vs. Convection Vaporizing
Conduction heat relies on the transfer of heat energy through direct contact. Much like a frying pan on a hot stove, botanicals will heat and release essential oils as a result of being directly in contact with (or resting on) the heating chamber. Conduction style vaporizers commonly use battery power heating chambers, open flame heating plates or butane power heating chambers. In contrast, convection heating relies on the movement of hot air in and around material. Think of blow drying your hair: there is a heating element inside the hair dryer that when turned on, pushes air through this element, ultimately making the air hot. Here, air is used as a medium to transfer heat to your hair. In the same way, the air in and around your botanicals will be heated with convection vaporizing, therefore extracting the vapour without direct contact with a heating element. This style of vaporizers typically have internal fans (forced air vaporizers), but they can also use power from the user's draws.
Pros and Cons
There are pros and cons to both heating methods, so making the choice between these two vaporizing styles will depend on what matters most to you. Conduction vaporizers are considered to be less efficient in vaporizing, since botanicals that are not directly touching the heating element will be unevenly vaporized. However conduction allows for more efficient use of energy and these units generally last longer before the battery needs to be charged. Though this can be fixed by gently stirring your botanicals every so often to ensure every part of your batch gets equal "heat attention," the botanicals directly in contact with the heating element will be at a higher risk of being over-heated, hence lowering the vapour quality. Conduction vapes were the first on the market (created in the mid 1990's), but they make up for this by being  simple. Good examples of conduction vaporizers are the Arizer Air, which ironically still has one of the best vapor quality in the market or the Smite Vaporizer which can last up to a whooping 25 sessions based on our test.
That being said, most vape connoisseurs would agree that convection heating is better for vapor quality, as it offers more even and thorough heating of your botanicals. This results in better vapour quality but at a higher energy cost to the battery. This heating style is a more recent invention in the field of portable vaporizers, so units that offer it are usually more expensive. There are currently only a few that claim to be convection vaporizers. The Firefly vaporizer was the first to the market, but the battery only lasted for 2 sessions, which is not good enough. A good example is Storz & Bickel's new portable vaporizer, the Crafty Vaporizer. This is the same company that has had great success with the iconic Volcano Vaporizer. Thier new Crafty Vape is outstanding on the Vapor Quality front, but it fails to impress on the amount of sessions you get out of the unit before you need to recharge. The auto-shut-off is set to 1 minute and one can get a decent amount of sessions that will be enough for a day outside. This is a restriction of technology at the moment however and we will need more efficient battery technology before we can fix this vapor quality/portability trade off. I recommend still checking the Crafty Vaporizer review out. Luckily there is a slightly larger Mighty Vaporizer that has one extra battery, making it effectively one of the best portable vaporizers. In fact both of these portable vaporizer ranked among the best units available!
All in all, it's up to you to decide which heating style is best for you. We hope you enjoyed reading today's conduction vs convection vaporizing post! We would love to hear from you! Feel free to leave a comment in the section below, you can do so anonymously 😉 Don't forget to follow us on Facebook, Twitter or Instagram for contests, sales alerts and other fun stuff!
Thanks for reading and as always, keep vapin'! 😉