This is a showdown between the two best budget vaporizers on the market, the Utillian 420 and the Pulsar APX Dry Herb. What makes them the best? Almost every "vaporizer" that costs less than $100 doesn't actually vape your herb, they combust it. These two deliver real vapor, putting them in the top tier of budget units by default. Today we'll find out which one is the better bet for your money.
Utillian 420 vs Pulsar APX Herb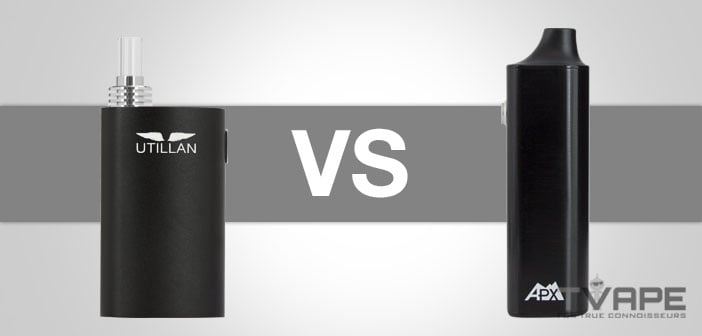 Vapor Quality
When you are getting a budget vaporizer, you have to temper your expectations. Producing good vapor is the hardest part of manufacturing a vaporizer, which means it's the most likely thing to be sacrificed when the aim is to keep costs low.
With that being said, the  Utillian 420 is actually a bit surprising in regards to the flavor it can deliver. The heating chamber is ceramic and the mouthpiece is glass, plus the vapor pathway is just long enough to give it time to cool off some. There are 4 temperature settings, and I think the sweet spot is the middle two.
The Pulsar APX also delivers real vapor, but it isn't nearly as good as the 420's. The mouthpiece is plastic and the pathway is shorter, leading to harsher vapor with less flavor. I wouldn't say that the flavor is bad, but there isn't much to it. It tastes and feels like you're just sucking in warm air. The other thing that I noticed is that the APX has a much more restricted draw compared to the 420.
Manufacturing Quality
This is another area where the 420 surprised me. It offers features that I would expect to have to pay more for, like the digital display. The display is located on the top of the unit and shows you the temperature and the battery life.
The materials used are all good as well, very little plastic, mostly metal, ceramic and glass. The finish feels nice when you run your fingers along it. Don't get me wrong, this is still obviously a budget vaporizer, but it doesn't make you feel like you are sacrificing all that much when you use it.
The manufacturing quality of the APX is average. There's more plastic and it's involved with the vapor pathway, plus the button feels loose when you press it or shake the unit.
It's much more apparent that the APX is a budget vaporizer to me. I don't mind all this that much, because budget vaporizers have their place. What I really like about the APX is that it has proven to be very durable.
Ease of Use
There really isn't any difference to using these. They both only have one button, but both still offer multiple temperature settings. All you have to do to adjust them is hold down the button and watch as they toggle through the different options.When they are displaying the temperature you want, you just let go of the button and they will heat. The APX uses lights to show what level it is at, while the 420 uses its digital display.
Portability
If you are looking for something portable, either of these are great options. For starters, they're both very small and capable of withstanding a decent amount of abuse.
Either one can be carried around in a bag or pocket with no worries at all. If you are concerned about the glass mouthpiece on the 420, you'll be happy to know that it can be stored away inside the bottom of the unit.
There's also something to be said about the portability of budget vapes in particular, because you don't have to worry so much about the financial consequences of breaking them.
Battery Life
In my experience, you're looking at an hour tops from either of these vaporizers. Both the Utillian 420 and Pulsar APX features 1600mah internal battery so you can expect relatively the same battery life.
This should deliver up to 1.5 hours of use in theory, but in practice I find that it dies much faster than that, usually around an hour. Expect 4 – 5 sessions from either of these before you need to charge.
Discreetness
The small sizes of both of these make them very discreet. You can hide them with your hand easily, meaning no one will be able to tell what you are doing. Neither is a heavy cloud producer either, which is a good thing if you want to keep a low profile.
Even though either of these are good options if you are worried about this, I think the 420 has a slight advantage thanks to how it looks. It has a similar appearance to a small flask, which may be better depending on the environment you are in.
Temperature Flexibility
The 420 has four temperature settings between 190C and 220C. The APX has 5 between 180C and 220C. While the APX technically has an additional temperature level, you won't get very much vapor out of it if you use that setting.
I'm going to give it the advantage here, but I definitely wouldn't base my decision of this factor. For almost all purposes, there is no difference between the two in this department.
SHOWDOWN
The Utillian 420 has earned the title of best budget dry herb vaporizer!
These are very similar vapes in many respects, but in the most important categories the 420 has the advantage. For starters, the vapor is much better.
If you want to taste the herb you are using, get the 420. It's also the better built vaporizer, and as I said earlier, it doesn't make you feel like you are making huge sacrifices by not spending more.
It has both a digital display and a glass mouthpiece which is usually reserved for higher tier units. So for the price you really can't find anything better.
If you think this is the right vaporizer for your first or maybe you are just looking for a reliable backup, you can pick it up from our store.
Also be sure to check out our portable ranking chart, to see how these 2 stack up against the rest of the field.