The Vaptio N1 Pro 240W mod has a variable battery configuration that allows it to be used with either two or three 18650 batteries. It has a sleek design and can deliver up to 240W. The kit comes with the FROGMAN tank and two coils. Let's take a closer look now.
Also be sure to check our
vape buyer's guides
for important information to consider before making your first purchase.
Review: Vaptio N1 Pro 240W Kit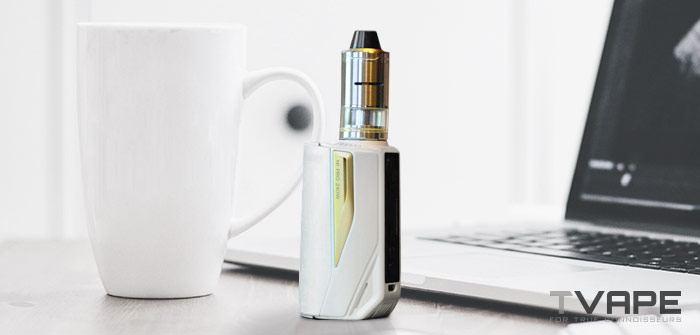 Manufacturing Quality
There are so many things to talk about with this mod, but I'll start with the thing that caught my attention right away. This thing looks great. There's only four color options, but they are slick and classy. The two base colors are black and white, and each one can be accented with either red or gold (the gold accents really make it pop in my opinion). I even like the way the venting slots look at the base of this. Excellent design work across the board.
Perhaps the more noteworthy thing is that this can be setup with either two or three 18650s, which are obviously removable. When you use two 18650s, the max power is 200W. When you use three, it bumps up to 240W. There are separate battery compartment doors for each mode.
Surprisingly, it doesn't feel bad in the hand with the three-battery setup. It doesn't feel that much bigger than with two batteries, and it's a nice size for gripping with your whole palm.
The screen is nice, but there are a couple small things I would have changed about it. What I really like is that it is colorful and crisp, plus navigating the menu is extremely intuitive. What I would have changed is making it just a little bit brighter and a little bit bigger.
The FROGMAN tank is also well built. The one I got is only 2ml because that was all that was available, but there is also supposed to be a 5ml version. They both fill from the top and have bottom airflow. The filling area is accessed with a small twist to the top of the unit. It comes with a short drip tip with a wide base that fully covers the tank top to protect your lips from heat.

Flavor Quality
The vapor quality is excellent. There are four different coils that work with the tank, two of which come in the kit. The first option is the 0.4ohm FROGMAN – W2. It is a single cylinder, parallel coil that produces extremely good flavor. The recommended vaping range is 45-65W, and I really enjoyed the vapor right in the middle at 55W. The flavor was the star of the show, but the cloud production was still great.
The second option is the 0.15ohm FROGMAN – W8. It has four coil cylinders in it and a recommended wattage range of 60-80W. Both the cloud performance and flavor were very good. 75W seemed like a good level for it.
If I had to pick a favorite, it would actually be the first option but the performance of both was actually pretty close. They're both designed for direct-lung draws, and they're just a little bit restricted.
Power Flexibility
The power flexibility is great. Remember, the max wattage depends on how many batteries you are using. With two, you get up to 200W. With three, you can get 240W.
The different modes available are wattage, temperature control, bypass, and one they call custom. The custom mode just lets you set your own power curve if you like a draw that changes over time. The temperature control options are all standard.
In other words, this will do everything you want a vape to do.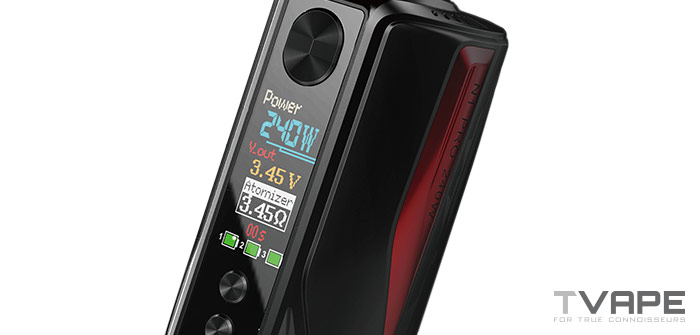 Ease of Use
The Vaptio N1 Pro is very easy to use, specifically because the menu is intuitive. This is the first time I ever used a device by Vaptio, so I was worried that their menu system would be difficult at first. Not the case at all. I'd actually consider it one of the most straightforward menus I've ever used in any three-button vape.
Changing between two and three batteries is as easy as switching out the doors and adding the third battery. If you are going to use multiple batteries, they should all be the same type and you should really charge and use them together.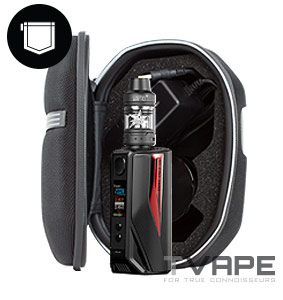 Portability
I really wouldn't consider the Vaptio N1 Pro a portable vape. I see this more as a vape that you use around the house or in the car. The size means that you can't stash it in a pocket it at all, so unless you have a bag that you carry everywhere, you'd be stuck holding it if you take it with you places.
On the plus side, the battery life is fantastic. Especially when you pop a third one inside. So if you do have a bag that you use to carry your things, then this will keep you vaping for a very long time before you need to stop and charge.

Overall Experience
I'm very impressed with the Vaptio N1 Pro 240W mod. I even like the FROGMAN tank a lot.
The ability to switch between two or three batteries is nice, although I will probably just leave mine set up with three. I like the extra battery life, and I won't be using this when I need something portable anyway. It's nice to have the option to change though, especially if you don't have multiple vapes.
The other things I really like about the mod are the slick appearance and the colorful screen.
I wish I could have found a 5ml version of the tank. I didn't expect much from it, but I actually ended up liking it a lot as far as standard tanks go. The flavor is really, really good – and you know how much I like flavor!
This isn't exactly what I would recommend for a beginner, but if you've been vaping a while and are looking to level up – definitely consider getting this.
If you are looking for something to start with we recommend the SMOK G150 and if you are looking for something more portable the Aspire Breeze is a great choice.
We hope you enjoyed reading our Vaptio 
N1 Pro 240W
review! We would love to hear from you! Feel free to leave a comment in the section below, you can do so anonymously 😉 Don't forget to follow us on
Facebook
,
Twitter
or
Instagram
for contests, sales alerts and other fun stuff! Thanks for reading and as always, keep vapin'! 😉