One of the more popular stationary vaporizers is the Arizer V Tower. Arizer has made Canadian vaporizers famous around the world. The V Tower gives you excellent quality at its relatively low price point, since it's basically a simpler version of Arizer's great Extreme Q vaporizer. Today we will review the Arizer V Tower and give you and overall view of the unit. If you want to know more detailed rating, just visit the
V Tower Vaporizer
product page.
Arizer V Tower Vaporizer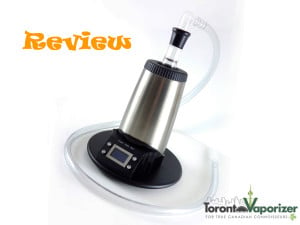 How to Use It
The V Tower is a standard whip style vaporizer. It is 100% convection as the air that flows through your botanical is heated rather than the heating chamber itself. Vapor is sent through the heating chamber to the whip as you draw. It has a very clear digital display for the temperature setting and allows for precise temperature selection. It also comes with a potpourri bowl option for use as an air freshener. This is a great option since you can put it on right after vaporizing and avoid bothering other people with the smell of your vapor. While it is widely known that vaporizing doesn't leave nearly as much odor as combustion, this option is sometimes referred to as the "stealth option".
Vapor Quality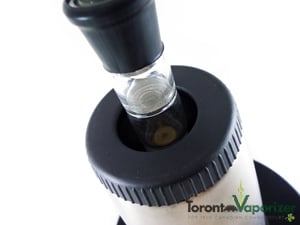 This unit has excellent vapor quality. You use the included whip to draw the vapor. We were able to extract excellent vapor with great consistency and nice flavor.  Since the unit features a high quality ceramic heating element and mostly glass components, the vapor is free of any unwanted impurities. The vertical glass heating chamber is still a signature Arizer feature that ensures heat convection is optimal. You might have noticed that the
AroMed
and Volcano (the top two vaporizers in terms of Vapor quality) also have vertical heating chambers. In this category the V Tower scores an outstanding 9 out of 10 with Arizer's signature vertical airflow and glass on glass heating chamber.
Now if you're looking to get the best vaporization experience possible with the V Tower we'd like to recommend pairing your unit with the new vapor cooling device from ZEUSArsenal, the
ZEUS Iceborn
. This revolutionary device actually increases the vapor quality of your V Tower by 2 points, dramatically cooling it down for smooth frosty draws. It's also much more efficient than other filtration devices that use water, so you can get even bigger vapor clouds! Take a look!
Manufacturing Quality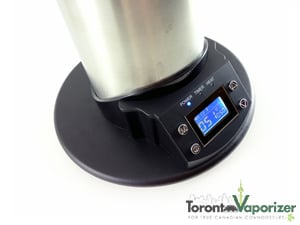 The Arizer V Tower Vaporizer is manufactured to very high quality standards. The unit features quality internal semiconductors, low defect rates, simple control panel and a beautiful stainless steel casing. In addition, it has a new quick-heating ceramic heating element. The Canadian manufacturing quality can definitely be relied upon. All Arizer's units meet the highest standards for vaporizers and are assembled in Canada, which ensure that the quality tests are being done in-house. Quality testing is of utmost importance and many vaporizer manufacturers that have assembly set up in China can't keep their defect rates below 3% like Arizer does. The warranty center of Arizer is also set up in Canada which makes any warranty process much less stressful. Unlike units bought from US distributors, units bought from TorontoVaporizer.ca do not need to be signed up for warranty (at the time writing of this blog post). All these little factors make the V Tower shine in this category with another score of 9 out of 10.
Temperature Flexibility
The
Arizer V Tower
makes it quick and easy to set your desired vaporizing temperature. It has an extremely accurate digital display that allows you to set your temperature to the nearest degree and multiple sensors that ensure the display is accurately reflecting the temperature. It performs great on both low and high heat settings and has a range of 50 to 260 degrees Celsius. It has one of the highest ranges among vaporizers, but we do recommend staying below 235 degrees Celsius when vaporizing. You can read more about temperature settings by following the link. In this category, the V Tower gets an even better score of 9.5 out of 10.
Speed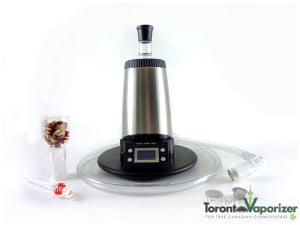 This unit takes 4 to 7 minutes to heat up to 205 degrees. This is about the industry standard for whip style vaporizers. It's also easy to fill and disassemble after use. You can also use the automatic cool down setting to vaporize some potpourri in the included potpourri bowl to freshen the surrounding area and mask any unwanted botanical odor with your essential oil of choice (lavender, lime, rose, etc.). In this category the V Tower scores an average score of 7 out of 10.
Convenience of Use
The cyclone bowl is relatively easy to fill and the glass pieces sit into each other flawlessly. While glass is widely seen to be the best material to use in vaporizers, it is sometimes not the most convenient to handle. You have to put care into handling it or they will just break on you. The replacement parts are cheap (average price of 10$), but ordering the stuff online and waiting a few days for it to be delivered is sometimes inconvenient. You can get a tuff bowl and an extra elbow adapter to avoid vaporizing downtime. The
V Tower
unlike the higher end model, the Extreme Q, does not come with a remote so you have to use the unit by pressing the buttons on the display. Overall the V Tower is a low cost, high quality unit that is convenient to use.
Cleaning and Maintenance
The parts that need cleaning are the Cyclone bowl (heating chamber where your botanical goes), Elbow adapter, medical grade tubing and glass mouth piece. I would recommend taking everything apart. In order to do so with the whip (that is what the combination of the elbow adapter, tube and glass mouthpiece is called), get a hot bowl of water and let it soak for 5 minutes. Then you can carefully take apart the glass pieces from the tube. Make sure you do this since the sticky grime of the vapor can get you to apply to much force and break your glass parts. Once every part is separate you can soak it in an
organic cleaning solution
for a day and then thoroughly rinse it. Alternatively you can soak the glass pieces in rubbing alcohol and just clean the tube with water. The tube should be replaced every two months, since its super cheap (3.99$) and makes a big difference in taste if it is dirty.
Overall Experience
Arizer's units are extremely popular because they're inexpensive and very effective vaporizers. The V Tower has slightly more limited functionality than its big brother the Extreme Q, since it doesn't have a balloon option. You can read the comparison review of the V Tower vs Extreme Q by following the link. But if all you want is a whip style vaporizer, the V-Tower is probably the best unit by far in its price category. You can find better, but it will cost more. It has outstanding manufacturing and vapor quality at an affordable price point.
Compatible with ZEUS Iceborn
This vaporizer is compatible with the ZEUS Iceborn, a revolutionary new vapor cooling system engineered by Canadian vape manufacturer ZEUSArsenal. The Iceborn is designed to produce cooler draws and bigger clouds when connected to your vaporizer. The vapour produced is ultra smooth and crisp and because of ice cooling, instead of water filtration, there is no loss of efficiency. The ZEUS Iceborn adds an additional 2 points to the vapor quality score of this vaporizer and is a highly recommended vaporizer accessory.
Hope the
Arizer V Tower
Review was helpful and feel free to leave comments or questions in the section below.
TorontoV Team