"Balloon" or "bag" style vaporizers are some of the most loved units on the market. They're the pinnacle of convenience, filling up a bag of vapor for you at the push of a button, and they're great for sharing your vapor with groups of people! When you start your balloon-style vaporizer, the fan on your unit pushes hot air through your heating chamber. The result is a bag full of vapor for you to enjoy. In this post, we'll discuss the balloon units that we carry, the Extreme Q by Arizer, and the Volcano by Storz & Bickel.
Bag Style Vaporizers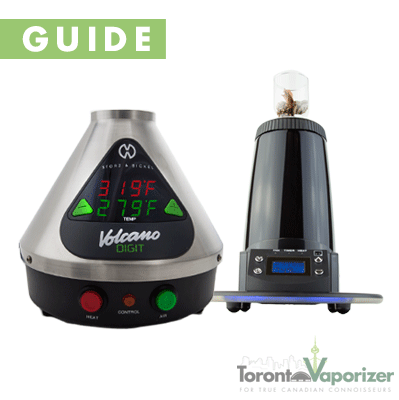 Extreme Q
The
Extreme Q
is a versatile unit, offering both whip and balloon style vaporization. The setup for using your Extreme Q's balloon option is easy. You fill your heating chamber with your dried ground botanical and attach a balloon to the top of the unit. You can activate the fan using your Extreme Q's remote control, or just by pressing the button beside the digital display.
This unit has three fan settings: Low, Medium, and High. If you're in a rush to fill up a balloon with vapor, you can use the Medium or High setting, however we always suggest using the Low setting. A lower draw speed means better vapor extraction – it may take a minute or two longer than the other settings, but filling a balloon on the Low fan speed will give you great vapor quality. Of course there are other factors that will have an effect on this as well.
Volcano
The Volcano puts balloon style vaporizers on the map, and is the favourite of many connoisseurs around the world. It operates purely with balloons, not bothering with a whip system, and it does a great job. When you're grabbing a
Volcano
, you have a few options.
Volcano Classic vs. Volcano Digital
The difference between the Classic & Digital Volcano lies in the temperature control system. The Classic favors an old-fashioned "dial" system, allowing you to select a temperature setting between 1-9. The Digital sports a digital display, showing you which temperature the unit is currently operating at, and which temperature you've selected. With the Digital, you have access to more specific temperature control. This can be very useful when you want to vaporize your botanicals at precise temperatures.
Volcano Easy Valve vs. Volcano Solid Valve
The difference between the Easy & Solid Valve is in the ease of replacing your bags. You could technically use the same bag forever, but the vapor quality will diminish as it gets more coated with residue after each use. It's recommended to replace your bags after 4-8 weeks, depending on how often you're using your Volcano.
Easy Valve bags come preassembled, all you need to do is attach it to the unit. The valve set is made of heat resistant plastic. There's no need to clean the valve set with the Easy Valve, as they are disposable. The Easy Valve is definitely the way to go if you want a unit with no clean-up fuss, but don't mind paying a bit more for replacement bags ($64.99 for a set).
Solid Valve bags come unassembled in the form of a 3 meter roll. The valve set is made of heat resistant plastic, along with some stainless steel parts that the Easy Valve doesn't have. This means there's more cleaning that goes along with the Solid Valve, but it disassembles easily and can be cleaned with alcohol. You cut your balloons from the replacement roll and attach them to the valve set manually. This is definitely more work than is needed with the Easy Valve replacement kit, but you have the option to custom-size your bags since you're making your own. If you're having a session alone you can cut a bag to a small "personal" size. If you're having a group of friends over, you can cut a large "party" sized bag. This is a great option and adds some functionality to counter the extra maintenance required. You'll certainly save money on replacing bags ($9.99 for a 3 meter roll) with the Solid Valve too, especially if you go through bags frequently.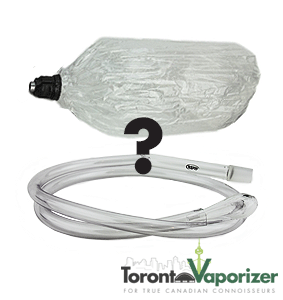 Balloon vs. Whip
You might be wondering: "Why balloons"? There are a number of reasons why many people find balloon style vaporizers to be more convenient than "whip" or "tube" style systems.
Portability: With a whip style vaporizer, you're tethered to the unit while you're using it. Most whips are 3.5' long, meaning you can't even really recline in your chair unless you're being very careful. And anyone who's used a whip style vaporizer while watching TV or playing a game knows how dangerous that whip can be – knocking over bottles or remote controls when you're not paying attention to it. There are none of these worries with a balloon. Once you've detached it from your unit, you can carry it anywhere you like. Just fill up a bag and head straight to bed, lay down and enjoy your vapor without having to sit down at your designated "vapor station".
Medical Patients: Since balloon style vaporizers are the most convenient, it makes sense that they're the best for medical patients. You can fill up a balloon and recline in your favorite chair, not worrying about being careful around glass components or keeping a whip in your hands. Someone whose dexterity has been impacted by an illness would benefit from a balloon unit, too. Once they're filled they're very easy and lightweight to carry around.
Groups: Balloons are not only about being portable and convenient; they're also great for sharing your vapor with others! Rather than having your friends stand around your whip-style vaporizer in a close circle, everyone can recline and pass the balloon around in a leisurely fashion. You also avoid the "breakability" factor if you are having a rowdy party. We want our friends to try our vaporizers, but do we really trust them around glass? Not always after a few drinks. You'll be much more comfortable handing them a balloon rather than a whip attached to an expensive glass vaporizer.

There are plenty of reasons to love balloon vaporizers. Whether you want something that's easy to use and maintain, or something that delivers great vapor in a neat and efficient way, balloon vaporizers do it all. The Extreme Q and Volcano are mighty units, and we here at
TorontoVaporizer
love both of them. Thanks for reading today's Balloon Vaporizer blog post. For the full review of the Extreme Q and Volcano, check out:
Extreme Q Vaporizer Review
and Volcano Vaporizer Review. Let us know what you think about your Extreme Q and Volcano in the comments section below, or about balloon vaping in general! Don't forget to follow us on
Facebook
,
Twitter
or
Google+
for contests, sales alerts and other fun stuff!
See you next time! And as always, keep vapin' 😉