The Eleaf iStick Tria is capable of delivering an impressive 300W of power from its three 18650 batteries. It's big, square, and very powerful. There are three different color options available, and the kit comes with the Ello S tank. Let's take a look now… Also be sure to check our vape buyer's guides for important information to consider before making your first purchase.
Review: iStick Tria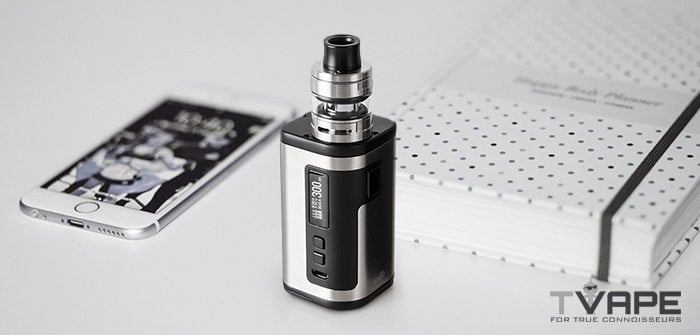 Manufacturing Quality
I'd say it's official. Vape manufacturers are in an all out race to see who can make the biggest, most ridiculously overpowered mod. This past summer saw a bunch of huge mods released, and the trend doesn't seem to be slowing down.
In this case, the focus was definitely on more power. I recently reviewed the Kanger FIVE6 – which holds five 18650s – but it had a 222W max output and seemed more geared towards battery life and extended performance.
The Tria delivers 300W max power and has just enough battery to get you there. While it can technically be used as an external battery bank for charging things like your phone, you have to get a special adapter that attaches to the 510 threading where your tank would normally sit. I can't see many people actually doing this.
There isn't much to the design. The size seems disproportionate to the amount of batteries inside. When I look at this, I expect there to be room for four 18650s, but there isn't. The screen is small, and there are three buttons. Two for adjusting the wattage or temperature and one fire button.
The Ello S is a good tank. You fill it from the top, and you can adjust the airflow using rings at the bottom. To change the coil, you just remove the top and glass sleeve, then twist the coil out and put a new one in. This has become the standard design for tanks these days.
Overall I'd say that the machining of this kit is nice, and the build quality is good.

Flavor Quality
The Ello S tank performs well in terms of both flavor and cloud size. You get two different coils with this kit, but the experience isn't all that difference between the two. One is the 0.2ohm HW3 Triple-Cylinder coil head, and the other is the 0.3ohm HW4 Quad-Cylinder coil head.
Both of these coils are designed to deliver big clouds. By big, I mean massive. Obviously the quad cylinder will deliver slightly bigger clouds, but the flavor isn't quite as good.
There are other coils that will work with this tank that are designed to deliver smaller clouds but better flavor. I would have liked to see one in this kit, but it's clear that this mod is being positioned specifically for cloud chasers.

Power Flexibility
The power flexibility is very good. With a 300W max output, it has a bigger wattage range than the vast majority of vapes out there. There are some that are bigger, but not many.
On top of having variable wattage, the Tria also offers temperature control and TCR. This works with the standard stainless steel, nickel, and titanium, and the temperature range is 200-600F.
The minimum resistance in the TC modes is 0.05ohm. When in variable wattage mode, the minimum resistance is 0.1ohm.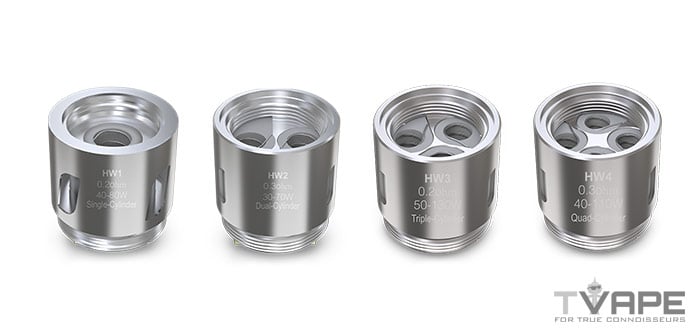 There's nothing complicated about this. I'm going to go ahead and assume that if you are considering this, you've used other vapes before. I doubt anyone is going to jump into vaping by purchasing a 300W device. More power to you if that's your decision, but you may be overwhelmed.
Anyway, my point is that this works exactly like every other vape out there. The menu is simple and you just have to remember a couple combinations of button presses to navigate it.The tank is top filling and has airflow control that adjusts with a simple twist.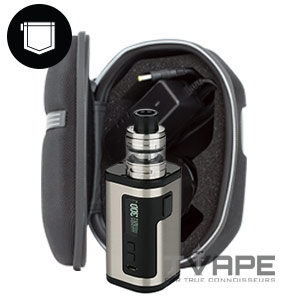 Portability
The portability of this is not great. The square shape is not conducive to carrying it in your pockets, and I personally don't find it all that comfortable to hold.
There are other big mods that I don't mind holding, but this feels bulky. I definitely wouldn't recommend taking this places where you didn't have a place to set it down.
One good thing is that you can get good battery life from this if you keep the power output low. If you have a place to carry it, this can help you go longer periods of time without needing to be near a power source to charge your batteries.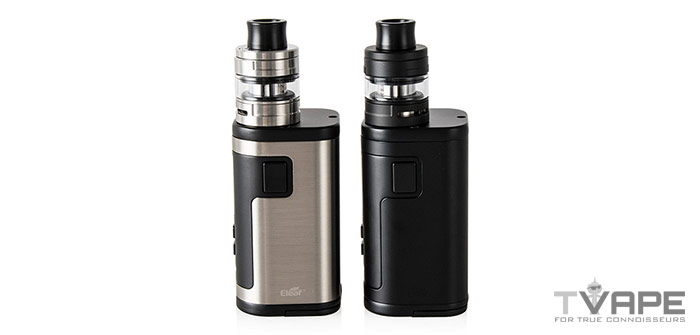 Overall Experience
The Eleaf iStick Tria is a good mod if you are looking for more power than your typical dual 18650 mod can deliver.
There's no mistaking who this is designed for. If you are a cloud chaser, there's a good chance you'll like this. If you aren't, this isn't the vape for you. From the max power to the coil choice for the Ello S, this kit is designed specifically to deliver massive clouds.
It does this very well.
Other than that, this is a fairly basic mod. There aren't any revolutionary features, and the design is simple. There are just three color choices: black, silver, and green. The size means it's not great in terms of portability, and it's functionality is pretty much identical to the majority of mods that have come out over the past year or two.
Again, it's very clear that this has a very specific target audience: experienced vapers who want the power to blow huge clouds.
Those looking for a more traditional setup be sure to check out the Coolfire IV 100W. And for those who want a more portable vape that offers wattage control, we highly recommend the Vaporesso Target Mini.
We hope you enjoyed reading our iStick Tria review! We would love to hear from you! Feel free to leave a comment in the section below, you can do so anonymously 😉 Don't forget to follow us on
Facebook
,
Twitter
or
Instagram
for contests, sales alerts and other fun stuff! Thanks for reading and as always, keep vapin'! 😉