Switching to vaporizing usually means dishing out a bit more money at the start (as compared to traditional combustion methods). This simply relates to the one-time cost of buying a vaporizer. Now it may seem like a bit of cash to shell out at the onset, but it's the long-running benefits and efficiency that comes with vaporizing, that makes the initial investment totally worthwhile.
The best thing to do is to ocassionally
check out our Vaporizer Sales
page and one of the units on liquidation. In many cases the deals are better than just settling for a cheap vape at regular price.
In fact, all vaporizers pay back for themselves within the first few months, simply because of how much less botanicals you will be using to get the same effects. That being said, many can still be put off by the price and we want to make sure everyone, regardless of budget constraints, has the opportunity to experience and reap the benefits of vaporizing. So, if you're worried about the initial cost of buying a vape, here's a list of the cheapest vaporizers that will still do the job without killing your wallet.
Top 5 Vaporizers on a Budget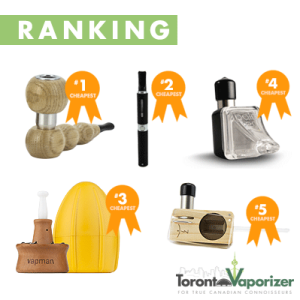 #5 MFLB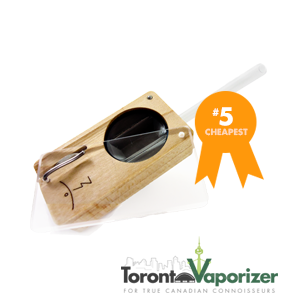 The Magic Flight Launch Box
is well known among vaping connoisseurs. It's been around for a while and is still a favourite, offering good manufacturing quality for something so small and it's hand assembled in California. The body of the unit is made of high quality wood and it uses a very simple rechargeable battery mechanism to heat the chamber. Though there is a learning curve to work with the unit, over time connoisseurs learn to develop their own system for heating the unit, to vaporize botanicals just the way they like them. To  read more detailed
review of the Launch Box Vaporizer
, follow the link. The MFLB ranks as the #5 cheapest vape on this list, costing $119.00 for the original Maple box.
#4 Palm 2.0
The Palm 2.0 is ten dollars cheaper than the Magic Flight and it operates almost the exact same way. However, it's not made of wood but rather plastic. We aren't too fond of this unit as a result, but it's very small and offers sleek in design. It has a few more flaws than other smaller units and it's not designed for durability or vapor quality, which is why we don't carry this unit. But if you want something small, discreet and cheap, this might be your unit. Coming in at $109.00, the Palm 2.0 ranks as #4  cheapest vape on this list.
#3 Vapman Basic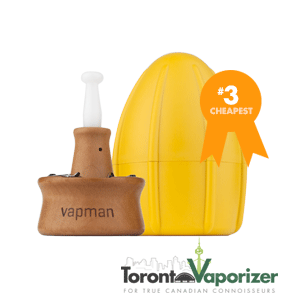 The Vapman
 gives you the best vaporization experience in its price category. Offering a gold-plated heating chamber and manufactured entirely in Switzerland, this high-quality vaporizer is super small, portable and 100% portable, operating with torch lighter for heat. Being praised as "the most efficient vaporizer on the planet," a small amount of botanical goes a long way with this tiny vape. It also comes with a hardshell carrying case for easy transportation. To  read more detailed
review of the Vapman Vaporizer
, follow the link. Surprisingly cheap for the vapour quality, craftsmanship and portability, the Vapman Basic style ranks as the #3 cheapest vape on this list, costing only $89.99.
#2 G Pen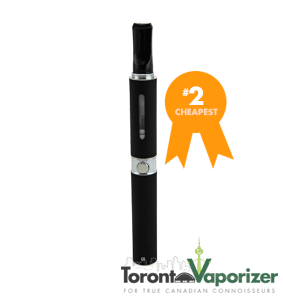 The G Pen is one of the most discreet units you can find on the market today. Despite being so small, this pen style unit still manages to produce good vapor quality, which is a big part of its appeal. However, because the heating chamber has not been optimally designed to vaporize dried botanicals, it can only be used with oils and concentrates. This unit will give you great vapor quality at a low price, and the fact that it looks like an ordinary pen makes it incredibly portable and stealthy. To  read more detailed review of the G Pen Vaporizer, follow the link. The G Pen ranks as the #2 cheapest vape on this list, costing $79.99 for the standard G Pen vaporizer.
#1 Vapor Genie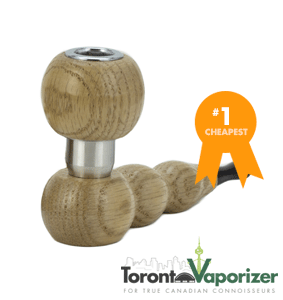 The Vapor Genie is one of the cheapest vaporizers on the market. Why is it so cheap? Because it's so simple. This unit looks and works like a pipe. All you need is a lighter lighter, making it also very portable. The vapor quality is quite low with this unit, but at this price point that is completely understandable. An advantage of its simplistic design is that there's pretty much nothing that can go wrong with it! If you're not sure about making the switch to vaporizing, the Vapor Genie could be an easy way to start moving over to the vape side of things. To  read more detailed
review of the Vapor Genie Vaporizer
, follow the link. Costing only $59.99, the Vapor Genie ranks as the #1 cheapest vape on this list.
Making the switch to vaporizing from combustion is a big step and adding a big price tag to a vaporizer might make the decision even harder. But with this list of cheap vapes, hopefully switching to vaporizing will be an easy decision! All these units give you a great start to vaporizing without a huge price tag and just like other gadgets, once you get one vape, you'll want to start collecting more as time goes on! So, getting one of these cheap vaporizers could be the beginning of a fabulous vaporizer arsenal!Before you go, if you just learned something you didn't know, please consider sharing this article using one of the sharing buttons below – thanks in advance :). If you have any questions or comments, feel free to leave them in the comment section below. We will get back to you as soon as possible.
Take care for now and as always, keep on vapin'!