A stationary vaporizer should be a powerhouse that is built to last. Since they don't have the size restrictions portable units have, stationary units can be designed to produce amazing quality vapour. That being said, there are many different styles of stationary vaporizers, so before you start shopping, think about your priorities. Is it vapour quality? Robustness? Options? Ease of use? Once you're certain of the criteria you are not willing to sacrifice, selecting a stationary becomes a breeze. Now if you don't know what your main priority is, that's ok, because that's where this guide can help explain the different aspects of a vape. Here are in-depth descriptions of some of the criteria you should evaluate before purchasing a stationary:
Buyer's Guide: Choosing a Stationary Vaporizer
Manufacturing Quality
Manufacturing Quality is the measure of how well a unit is built (quality of the components) and the longevity of the unit. If a unit has high manufacturing quality it's usually scoring high in other areas as well. This is a sign that the manufacturer has thought things through. One of the main reasons the Volcano vaporizer is so well known relates to the fact that Storz and Bickel went the extra mile to build the unit from very high quality materials. For a detailed review on the Volcano vaporizer, follow the link. Given that better units usually cost a pretty penny, you want to make sure you're getting quality you can trust.
Vapour Quality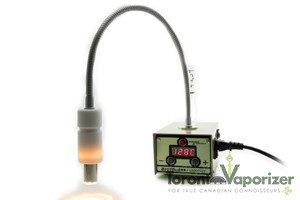 Stationary units tend to offer improved vapor quality (as compared to portables) for a variety of reasons. To read about the best vaporizers based on vapour quality, follow the link. Larger units also have the potential for convection heating, which offers more through vaporization. Convection is best seen in vapes like: the AroMed and Volcano. Convection requires heated air to move through your botanicals (as opposed to direct contact with a heated surface), requiring either a radiant heat source, available in the AroMed, or a fan, available the Volcano and Extreme Q. To get more information on convection vs. conduction vaporizing, follow the link.
Temperature Flexibility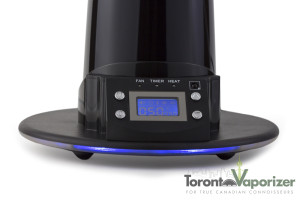 Despite the fact that lower vaporization temperatures extract fewer of the essential oils in your botanicals, they do preserve more of the flavours in your vapour. Higher temperatures extract more of the essential oils, so they're more efficient, but the heat does reduce the vapour flavour substantially. Many connoisseurs prefer to start at a lower temperature and work their way up. We also recommend this and you can choose between big temperature jumps (vapour stepping) or small temperature jumps (vapour tasting). For more information about the best temperature settings for vaping, follow the link. With a stationary vaporizer, there's usually a wider temperature range available. If temperature flexibility is important to you, you'll want to avoid a stationary where the temperature is just controlled by an unmarked or numbered dial. You might rather prefer a unit with a digital display and precise temperature control, giving you absolute control over the temperatures you want vaporize at.
Options and Reach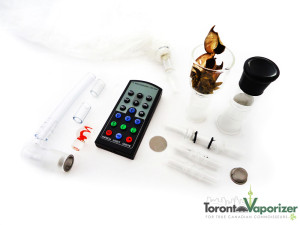 Units that offer more options and higher reach are ideal for vaping in groups or hosting parties. To read more about vaping in groups, follow the link. Units that offer more options include those that offer different vaporizing types: oils and dry botanicals, like the AroMed, and different vaporizing styles: whip and balloon, like the Extreme Q. For higher reach, balloon style vaporizers tend to be preferred for groups, since the bag can be passed around a room. The Extreme Q offers even more options as it also comes with a remote control for convenience and a potpourri bowl (the "stealth" option) for diffusing scent into the air after a vape session.
Robustness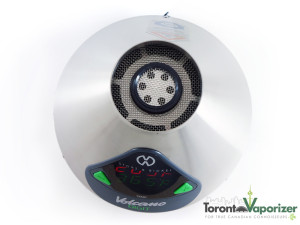 Robustness will be an important consideration if you're bull in a china shop. Glass does give you the best, purest vapour possible, but units with more glass pieces are definitely more fragile. So, the choices are limited for those wanting both the best vapour quality and the most robust unit. In fact, only the Volcano can give you the best of these two worlds. However, if you're not a balloon style vaping connoisseur, this may not be the best unit for you. The AroMed, for example, has the best vapor quality in the world, but of course to achieve this it does use quite a few glass parts. Then again, glass parts are always replaceable and units with high manufacturing quality are quite durable unless you knock them off the table!
Ease of Use
Ease of use relates to how simple and straight forward is it to vaporize with a unit. So, units with a lot of buttons, small parts and complicated instructions for example would be ranked lower in this category. The stationary unit with the highest ease of use score is the Volcano vaporizer, simply because there are so few buttons and things that could go wrong when operating it. To have a look at just how easy it is to work with the Volcano, check out the video below:
The design of the Volcano vaporizer is very sleek and clean, and as a result it's very popular amongst both young and old vaping connoisseurs alike. That being said, cheaper units like the EZ Vape are also very simple to use and only have one knob to control the temperature.
Speed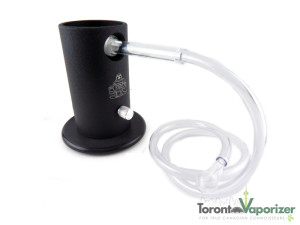 All vapes take a little time to heat up. On top of that, units which use balloons also take a few minutes to fill before you can start vaporizing. The heat up time is mentioned in our reviews. Larger heating elements found in units like the Volcano will allow you to fill balloons a lot faster. With variable fan speeds, you can turn the fan on high, but you'll get much better vapour with a lower fan speed, giving them more time to heat properly. Whip style vaporizing is faster since you only have to wait for the element to heat and then you can take draws whenever you want. The stationary with the fastest heat up time for example is the Da Buddha whip-style vaporizer. For an in depth review of the Da Buddha vaporizer, follow the link.
Conclusion
Vapour quality and manufacturing quality are great measures of a unit's durability and quality, but to get the most use out of your unit you also want to make sure that your vaporizer is best suited to the way you plan on vaporizing. Check out the different units based on their specialities and you can see which unit will fit your needs. Thanks for reading today's post on Buying a Stationary Vaporizer. We hope this buyer's guide has helped explain the criteria you should be considering before making your purchase.

Before you go, if you just learned something you didn't know, please consider sharing this article using one of the sharing buttons below – thanks in advance :). If you have any questions or comments, feel free to leave them in the comment section below. We will get back to you as soon as possible.
Take care for now and as always, keep on vapin'!
Team TorontoVaporizer