It's winter time again, Jack Frost is nipping at our nose and there is a fresh coating of snow on the slopes. For those of us lucky to live in a climate where we get lots of cold weather, a new world of sports become available around this time of year! Whether skiing, skating, ice fishing, or playing hockey, nothing makes your winter sports fun like a handy vaporizer. Check out these three portable vaporizers that you want to have when you're on the go in the winter snow!
Winter Sports Vapes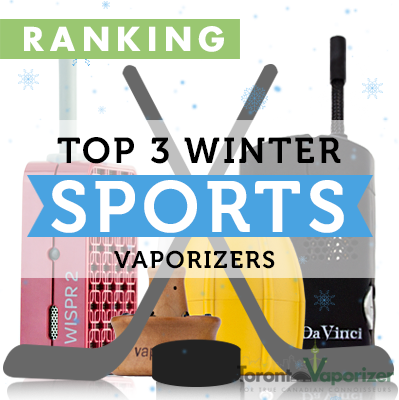 3. WISPR 2
The WISPR 2 is a great portable vaporizer that comes to us from Ireland. The Irish know a cold winter's day, and the WISPR 2 performs excellently in cold conditions. A big reason for this is the WISPR's power source – butane. Butane's performance doesn't suffer in cold temperatures, unlike rechargeable lithium ion batteries. Batteries only hold about 50% of their potential charge at temperatures below -18 degrees Celsius (0 degrees Fahrenheit). This isn't a problem with the butane-powered WISPR 2, it will produce you lots of delicious vapor even in the most frigid conditions.
The WISPR's flexible mouthpiece makes it easy to take a draw on the vaporizer when you're moving around. This mouthpiece folds and tucks away right into the vaporizer too, making it extra portable. The WISPR is great for a quick session, heating up in 35 seconds. Just whip it out at the top of the slope or when you're on the bench at the skating rink. In less than a minute you will have some great vapor ready for you to enjoy!

2. Vapman
The
Vapman
is a nifty little vaporizer, handcrafted in Switzerland. The attention to detail that goes into these units is outstanding, and it is brilliantly designed! Its gold-plated copper heating chamber vaporizes your botanical when heated up with a Zeus Torch lighter. The torch is a big part of what makes the Vapman such a great winter sports vaporizer! You don't need to charge a battery before you head out to play and you won't have any issues with reduced battery life due to cold.
The Vapman fits neatly into its handy little travel case, which is water proof and odor proof. The water-proofness is a really good feature if you end up getting some snow in your pocket – your Vapman will stay dry.
Another great thing about the Vapman is how quickly you can enjoy it. After a few seconds of applying the torch, excellent vapor will be produced for you. This means less time waiting around to enjoy your botanical and more time enjoying your winter wonderland! Want to know more about the Vapman? Check out our
Vapman Vaporizer Review
for the full specs on this awesome little vape.
1. DaVinci with Snorkel
There's not many vaporizers that you could use while playing a sport, but the
DaVinci
with the Snorkel Extended Mouthpiece is one of them! The snorkel extends the reach of your DaVinci's flexible straw, meaning you can put your DaVinci in your coat's top pocket and draw on the straw while you cruise the ski slopes. It's one of the most discreet vaporizers available too, looking more like a walkie-talkie than anything else.
Battery life would be reduced in cold temperatures, so try to keep your DaVinci cosy in your coat up next to your chest. The DaVinci has a great battery life of about 60 minutes of use with a full charge, so you will certainly have enough battery to vaporize 8 batches. Under the worst case scenario of 50% battery life loss due to frigid temperatures, you could still vaporize 4 batches during your afternoon on the slopes. More than enough for most connoisseurs!
It is a sturdy vaporizer that you don't have to worry about being extremely delicate with, being perfect for someone with an active lifestyle. Its soft exterior coating provides a solid grip that makes it easy to hold onto tightly whether you're wearing gloves or not.
One last thing that makes the DaVinci a great Winter Sports vaporizer is the option of using its oil cans. These little cans hold your oils and concentrates and allow your DaVinci to safely vaporize them. If you're looking for a quick session then oils are probably the best option, as oil vapor draws are thicker than normal draws. This way you don't have to spend lots of time in between games and get right back to the important thing – enjoying your winter! For information on the DaVinci vaporizer check out our detailed
review
.

Winter will be gone as quickly as it arrived. While it's here enjoy the snow and company of your friends and family. There are a lot of fun winter activities to choose from, but whatever you like there is a vaporizer that is perfect for you. Don't forget to follow us on
Facebook
,
Twitter
or
Google+
for contests, sales alerts and other fun stuff!
Thanks for reading and as always, keep vapin'! 😉